Well, you never can tell. They look just like you and me. Well, you.

Agent Robson works for the U.S. Immigration and Customs Enforcement (ICE). He is portrayed by actor Seth Morris.
Character History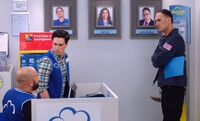 In May 2019, in retaliation for Sandra trying to form a union at Cloud 9 Store 1217, Cloud 9 Headquarters sends ICE to do an on-site enforcement at the store. In Amy's office, Agent Robson leads a team of agents and goes through the store's payroll records while Amy watches. Having reviewed the payroll records, at customer service, Agent Robson tells Amy, Garrett and Jonah they're looking for Mateo. Lying that they don't know him, Robson notices a picture of Mateo on the wall. Amy leaves while Garrett and Jonah still claim ignorance. With Amy, Cheyenne and Dina's help, Mateo tries to escape the store but is spotted by Robson and caught. Robson sits in the passenger seat of the van that drives Mateo away from the store as the staff and customers watch. ("Employee Appreciation Day")
Community content is available under
CC-BY-SA
unless otherwise noted.