Be careful. I'm gonna have to take away your Latina card.

Alex is a visitor to Cloud 9 Store 1217. He works for a beverage company that delivers to the store and is from the Dominican Republic. He is portrayed by actor Vladimir Caamano.
Character History
Alex is first seen in a restaurant where Amy is on a double date with Dina. Amy wants out of the date and recognizing Alex from his deliveries to the store, asks if he'll fake having a conversation with her. Eventually, Alex starts to bond with Amy and kids her about her bad date. Dina interrupts them and takes Amy back to their table. Later Amy sees Alex come into the store. Alex makes an excuse that he's delivering on a day he doesn't usually deliver because his boss told him to but Amy realizes he came to see her. ("Target")
Alex walks into the store on a delivery and waves at Amy which Dina and Cheyenne see. Amy tells them she's been on a few dates with Alex. Amy discusses a burrito vendor with Alex which results in him kidding her that he'll have to take her "Latina card" as she shows some ignorance where burritos are from. Later, Amy speaks to Alex in basic Spanish and when he replies in English, she kids him. Alex replies rapidly in Spanish and poses a question to Amy and when she replies "si", he exclaims in English that he is looking forward to "it". He walks away and it's apparent Amy doesn't know what she's agreed to. Later, Alex asks Amy if she's OK going out that evening and starts speaking in Spanish. Amy admits she didn't understand what he said. He indicates he wanted to take her to a BBQ place and she lies that she understood what he said earlier in Spanish about his family. ("Local Vendors Day")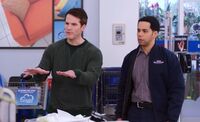 Alex overhears Amy mention being pregnant and interrupts Adam talking to Amy and Jonah and is confused who Adam is. Adam tells Alex he and Amy are having a baby, offers to move back in with her and says they are getting re-married which Amy clearly doesn't agree with. Adam then asks Alex what kind of beverages he delivers which Alex says runs the gamut. Later in the Stock Room, up to her old tricks, Carol leaves a voice mail for Alex after hearing that he and Amy broke up. She offers to take him out for drinks or give him a massage. ("Aftermath")
Trivia
Translations of the Spanish Alex speaks in "Local Vendors Day":
At the 9:50 mark it's "I'm so relieved. Look, there's a guy here. I don't know what his name is but he's very animated. He often sounds like a cat going meow, meow, meow. Do you know who he is? Anyways Amy...". The implication is that he is talking about Jonah especially as there was a deleted scene with Alex and Jonah.
At the 11:45 mark it's "I want to take you to a place I go. We'll be treated like family. There's a guy you're going to like. When I go there, the people know me and say hey, how's it going, how you doing? They're my people. Can I give you a call?".
At the 20:10 mark it's "But what will happen when we're on the way, a little music, a little ambience, the breeze blowing in the car..." before Amy cuts him off.