"All-Nighter" is the ninth episode of Season One of Superstore, and the ninth episode of the show overall.
Plot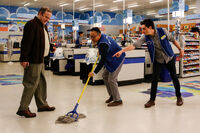 The store is closed and the staff are waiting for a customer to leave. He deliberates on the purchase of a trash can with Jonah. Amy is anxious to get home to study for a mid-term and Cheyenne is going to her high school dance recital. To push the customer out, Garrett plays loud music over the P.A. system but it doesn't work. (♫ Sepultura – Roots Bloody Roots ♫) Mopping the floor, Mateo pushes the customer out the door to everyone's cheers. Glenn arrives and tells everyone they need to stay late to hang up new signs. Staff call their loved ones to tell them they'll be late including Dina who calls her birds and sings them to sleep. (♫ Lauren Ash – Too Ra Loo Ra Loo Ral ♫)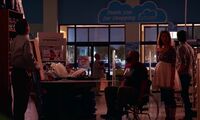 The staff hang signs that are nearly identical to the existing ones. Sandra is hanging a sign in the Garden zone and is stranded on top of a tall shelf when the ladder she is using is taken by Henry. Glenn displays his prowess with a drill and reminisces working at his father's hardware store until it was put out of business by a Cloud 9 that moved in up the street. He says he doesn't hold resentment against Cloud 9 as he doesn't waste his time being angry. Suddenly, the lights go out. Glenn says that corporate controls the lights and locks. Amy is frantic and tries without success to open the front door. Glenn and Dina go to Glenn's Office to find the lock override codes. Dina finds a memo that indicates that relationships between manager and staff are no longer forbidden. Glenn remembers he left the card with the codes in his car.
At the front door, Glenn explains to Cheyenne and Amy that they'll need to wait for his wife to arrive to get the codes from the car. However, they see a man walking by outside and wave him down. They write instructions on cards to the man but he gets a key from above a wheel on Glenn's car and steals it. The staff sit in a circle and start talking about regrets. Cheyenne wishes she'd gotten pregnant at a different time so she could have danced in her senior dance recital. As other regrets are related, Garrett is glad that the muzak that's played in the store is off. Glenn says he likes the muzak so Garrett pushes back and says Glenn likes everything in the store. Glenn starts to list some things he doesn't like which escalates until he starts yelling, rips off his shirt, shoves a cart down an aisle and runs away screaming.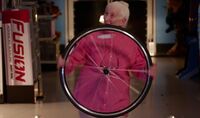 Glenn damages some alcohol bottles and declares a party. Much more relaxed, the staff drink and play "never I have ever". When Dina declares she's never had sex in the store, everyone drinks except her. Amy tells her about the Photo Lab and its unofficial name the "bang room" which gives Dina an idea. Garrett puts music on the P.A. system and Amy says it's a party. (♫ Flo Rida – G.D.F.R. ♫) The staff start dancing and playing different games including chair races, toy dog fights and obstacle courses. Next is a fashion show starring Mateo, Glenn and Myrtle and then more staff dancing. (♫ The Weeknd – Can't Feel My Face ♫)
Away from the dancing, Dina has Mateo put makeup on her. At the party, things have gone quiet as Cheyenne performs the dance routine she missed doing at her high school. (♫ Cyndi Lauper – True Colors ♫) Everyone admires her slow, graceful ballet while Jonah gets an anonymous text to go to the Photo Lab. He finds Dina there, made up and in a tight dress. Once Cheyenne is done the slow dance, she breaks into a faster, suggestive dance. (♫ Nicki Minaj - Anaconda ♫) In the Lab, Dina shows Jonah the memo from corporate and closes her eyes expecting a kiss. Jonah says he doesn't want to date his boss and lies that if she wasn't management he would. Dina is disappointed but understands.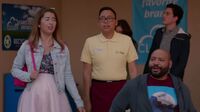 Jonah catches Amy walking on a checkout belt and she tells him she was accepted into a good college but got pregnant and had to support her family. She then throws up. Glenn tries leaving angry voice mails for corporate but doesn't send them. In the bathroom, Jonah gives Amy some water while she mentions she doesn't regret getting married. About to mention what she does regret, she throws up again while Jonah holds her hair. Morning comes and the doors unlock. Heather, Elias and Travis enjoy the morning air while Garrett says he's going home to play video games. Mateo is off to his second job at a restaurant and offers Cheyenne free coffee. Amy tells Jonah she's going to her college mid-term hung over and on no sleep.
Cast
Main cast
Featured cast
See also
Also see Season One minor employees.
Running Gags
References
Trivia
Quotes
"But you know what I hate most of all? I hate Cloud 9!"— Glenn
Gallery
v

•

e
Superstore Season One Episodes
  
"Shoplifter"
January 11, 2016
Directed by: Ruben Fleischer - Written by: Jackie Clarke

Dina tracks a shoplifter, Amy brings her daughter Emma to work even though it isn't allowed so Jonah helps out. (Viewers: 5.38 million)
  
"Secret Shopper"
January 18, 2016
Directed by: Alex Hardcastle - Written by: Lon Zimmet

Amy feels competitive when Glenn publicly congratulates Jonah on his superb employee test results. Cloud 9 employees are on their best behavior in anticipation of a secret shopper. (Viewers: 5.66 million)
  
"Color Wars"
January 25, 2016
Directed by: Andy Ackerman - Written by: Jack Kukoda

The store is divided into two sales teams competing for $100 each, Jonah meets Amy's husband Adam. (Viewers: 4.93 million)
  
"All-Nighter"
February 8, 2016
Directed by: Christine Gernon - Written by: Eric Ledgin

After working overtime to put up new signs, the staff are locked in the store. They find unique ways to amuse themselves and bond in the process. (Viewers: 5.19 million)
  
"Demotion"
February 15, 2016
Directed by: Linda Mendoza - Written by: Matt Hubbard and Lon Zimmet

Dina asks for a demotion in order to date Jonah, Amy and Glenn deal with finding a replacement. (Viewers: 3.09 million)
  
"Labor"
February 22, 2016
Directed by: Beth McCarthy-Miller - Written by: Owen Ellickson

Cheyenne is having her baby in the store but won't stop working because Cloud 9 doesn't offer paid maternity leave. To help her Jonah proposes a walkout. (Viewers: 4.68 million)