Amber is a visitor to Cloud 9 Store 1217. He is portrayed by actor Jolene Purdy.
Character History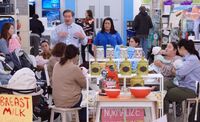 As Glenn and Sandra assert their authority around the store so as not to be treated like doormats anymore, they see Amber sitting in a store display breastfeeding her baby. They force Amber to vacate the chair since the display has a sign forbidding sitting. Amber returns with a group of breastfeeding mothers to protest her rude treatment. Glenn and Sandra try unsuccessfully to have the mothers move. Dina arrives with news that her implantation has worked which starts Glenn blubbering since he's going to be a father. As he mentions that he's going to call Jerusha with the good news, Amber and the other mothers express confusion with Glenn and Dina's situation. ("Video Game Release")
Community content is available under
CC-BY-SA
unless otherwise noted.