They're like two little robin eggs bundled up in a bird's nest.

Arthur is an employee at Cloud 9 Store 1217. He is a sales associate who is a store greeter. He is portrayed by actor Bernie Kopell.
Character History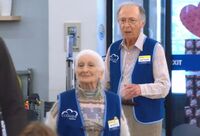 Amy sees Arthur silently pining for fellow octogenarian Myrtle and asks if he has a crush on her. He admits it and says he imagines them feeding ducks in the park together. Amy finds out that Myrtle isn't dating anyone and changes the shift assignments so that Arthur can work with Myrtle in the women's wear section. To heat things up, Amy and Glenn plant a number of Valentine's gifts in Myrtle's locker which they say are from Arthur. Myrtle bursts into tears and says Arthur won't leave her alone and that he has been saying filthy things. Amy thinks this is a misunderstanding but her persistence results in Myrtle filing a sexual harassment complaint. A training session for all staff on the subject featuring a video starring Corporate Woman is held. After the session, Amy gets Arthur to explain his side of the story but in doing so, he says inappropriate things about Myrtle. He offers to quit and Myrtle says she'd like him to. ("Valentine's Day")
Community content is available under
CC-BY-SA
unless otherwise noted.