"Black Friday" is the tenth episode of Season Two of Superstore, and the twenty-first episode of the show overall.
Summary
Jonah films a hectic day, the staff get food poisoning, Mateo and Cheyenne accept bribes.
Plot
It's 3:00am and Amy and Garrett look with dread at the full parking lot and line-up of customers – it's Black Friday. Inside, the associates are eating pot-luck while Jonah films his first Black Friday. Glenn gives a motivation speech with emphasis on calmness and Dina talks about crisis management. The staff get to work while Elias stretches and Sandra motivates herself. (♫ Yogi - Burial ♫) In the parking lot, Cheyenne and Mateo crowd control and receive a bribe if they'll set aside an item for a customer. At the Pharmacy, Glenn seeks advice from Tate on taking some relaxation pills to cope with the stress. Jonah films Amy taking inventory when she becomes nauseated and leaves.
Amy calls her husband Adam indicating she might be pregnant. With the customers milling at the front door, Glenn starts to read from the Bible and the doors burst open. Chaos ensues as the customers pour in and start grabbing items. Amy tells Glenn she feels sick and needs to go which prompts him to take a pill. Dina orders Garrett to man a check-out but he refuses until he finishes an announcement about tablets and "Halo Fog". He then proceeds to drag it out by naming movies that can be watched on the device. Mateo and Cheyenne try to solicit a bribe from a customer who wants them to check for an item in the back. Amy goes to the Pharmacy to get a pregnancy test from Tate who is teasing her when Jonah happens to film and overhear them. Glenn encounters a woman who takes a toy from a child which prompts him to take another pill.
Garrett is still listing movies to get out of working a register. Jonah is waiting for Amy when she comes out of the bathroom. She's not pregnant and he doesn't know how to react. Suddenly Jonah runs to the bathroom and Dina is close behind. At the Coffee & Bakery, Glenn informs the staff that the potluck gave them food poisoning and half the employees are gone. Two customers fight. (♫ Anita Baker – Caught Up In the Rapture ♫) Garrett tries to take a break but Dina is there so he goes back to listing movies. Jonah runs into the bathroom and finds Amy is in the next stall. Jonah tries to make conversation but Amy tells him they don't have to. Both sit uncomfortably on the toilet. Cheyenne has bought all the Pepto and gouges Mateo for a bottle. Amy tells Jonah she's relieved she's not pregnant. They are both waiting for the other to go to the bathroom.
Garrett is finally too sick and stops announcing. Jonah films the staff in the Break Room nursing their sickness until Brett throws away his camera. Glenn isn't angry that everyone is in the Break Room but wonders what is happening in the store. With no one at the check-out, customers are trying to leave without paying. Dina is on the floor trying to maintain control. Everyone in the Break Room starts arguing over who poisoned them and as Jonah tries to rally everyone, Glenn very uncharacteristically curses at him and everyone and tells them to shut up. Glenn then can't remember if he said anything. Garrett suggests everyone leave and when Glenn agrees, he can't believe it. Garrett inspires everyone by saying he may do the bare minimum but he's not going to do less than that and that he's going back to work.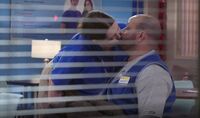 The staff follow Garrett into the store where bedlam is reining. (♫ Jungle – Busy Earnin' ♫) Garrett mans the check-out he's been avoiding all day and Dina helps bag. The staff start stocking items and helping customers. At day's end, the staff aren't kind in getting customers to leave. Glenn operates a fork lift festooned with brooms to sweep the customers out. Exhausted, the staff collapse at the store front. (♫ Cyndi Lauper – Time After Time ♫) Glenn asks if someone can check if Myrtle is alive. Having few Pharmacy customers all day, Tate walks by full of energy. Amy is by herself and calls Adam to tell him she's not pregnant but she makes a slip and says she's not happy. In the Break Room, Dina is impressed that Garrett came through in the end. She kisses him and says to get all the breath mints in the store and meet her in the Photo Lab for sex.
Cast
Main cast
Featured cast
See also
Also see Season Two minor employees.
Running Gags
References
Trivia
Quotes
"I have a terrible headache, Mateo. Can you please barf quieter?"— Amy
Gallery
Video
v

•

e
Superstore Season Two Episodes
  
"Olympics"
August 19, 2016
Directed by: Ruben Fleischer - Written by: Jonathan Green

Amy gets the opportunity to meet her childhood idol; Glenn struggles to balance his excessive patriotism; Jonah discovers a secret about Mateo's past; Dina works to create a memorable closing ceremony. (Viewers: 9.67 million)
  
"Strike"
September 22, 2016
Directed by: Victor Nelli, Jr - Written by: Jackie Clarke

A full-fledged strike ensues when a group of Cloud 9 employees walk off the job to protest the firing of Glenn. Jonah tries to help Amy negotiate with corporate; Garrett meets a gorgeous woman on the picket line. (Viewers: 5.45 million)
  
"Back to Work"
September 29, 2016
Directed by: Michael McDonald - Written by: Eric Ledgin

A workplace accident threatens Amy's plan to impress the district manager; Glenn tries to come off as a strict boss; Jonah tries to help Dina win over the co-workers she betrayed in the strike. (Viewers: 4.39 million)
  
"Guns, Pills, and Birds"
October 6, 2016
Directed by: Matt Sohn - Written by: Matt Hubbard

Jonah is assigned to the gun section of the store and refuses to sell to anyone he deems suspicious. Glenn tries to buy the store's entire stock of morning-after pills. (Viewers: 5.18 million)
  
"Spokesman Scandal"
October 13, 2016
Directed by: Ken Whittingham - Written by: Gabe Miller

When the company's spokesperson is accused of a crime, Glenn begins to worry he should know more about his employees; Amy and Jonah challenge each other to a series of dares; Cheyenne annoys Garrett and Sandra with her baby talk. (Viewers: 4.39 million)
  
"Dog Adoption Day"
October 20, 2016
Directed by: Betsy Thomas - Written by: Josh Malmuth

Cheyenne and Bo fight, prompting Amy and Glenn to give them advice in very different forms; Mateo and Jonah oversee dog adoption at the store; Garrett taunts Dina when she refuses to adjust his time card. (Viewers: 4.18 million)
  
"Halloween Theft"
October 27, 2016
Directed by: Alisa Statman - Written by: Karey Dornetto

After an apparent theft, Dina launches a store-wide investigation interrupting everyone's Halloween plans; Jonah and Cheyenne attempt to bond; Garrett tries to defend himself in Dina's theft probe. (Viewers: 4.21 million)
  
"Seasonal Help"
November 10, 2016
Directed by: Geeta V. Patel - Written by: Jackie Clarke

Glenn hires Amy's husband, Adam for extra help during the holidays; Jonah and Garrett grow frustrated with the seasonal temps; Glenn looks for the perfect store Santa. (Viewers: 5.19 million)
  
"Black Friday"
November 10, 2016
Directed by: Victor Nelli, Jr - Written by: Eric Ledgin

The staff comes down with food poisoning; Jonah documents the day with home video; Glenn's disposition changes; Mateo and Cheyenne discover a lucrative Black Friday side business. (Viewers: 3.79 million)
  
"Lost and Found"
January 5, 2017
Directed by: Jay Chandrasekhar - Written by: Sierra Teller Ornelas

Amy walks away with a huge wad of cash from the lost and found bin and is pressured to spend the money various ways; Dina and Garrett deal with their fling; Glenn tries to stave off staff depression. (Viewers: 4.43 million)
  
"Rebranding"
January 12, 2017
Directed by: Bill Purple - Written by: Matt Hubbard

VP Rex brings a rebranding and is part of Jonah's past, Dina hunts a snitch, Cheyenne hides discounted products. (Viewers: 4.33 million)
  
"Ladies' Lunch"
February 2, 2017
Directed by: Todd Biermann - Written by: Vanessa Ramos

Glenn accidentally tells the employees the real reason Amy has been late to work lately. Meanwhile, Dina tries to cheer up Amy by kidnapping her for a "ladies' lunch". Jonah and Garrett invent a game to pass the time, tricking Glenn and Mateo in the process. Cheyenne helps Amy take a fearless step with a dramatic new look. (Viewers: 3.99 million)
  
"Valentine's Day"
February 9, 2017
Directed by: Tristram Shapeero - Written by: John Kazlauskas

A well-intentioned Amy and Glenn get caught up in the Valentine's Day spirit, quickly learning what happens when you try and force love. Meanwhile, Jonah goes undercover to try and catch a serial shoplifter and ends up getting closer to her than Dina would like; Mateo begins to unravel as Sandra's relationship with Jeff takes a new turn. (Viewers: 3.54 million)
  
"Super Hot Store"
February 16, 2017
Directed by: Michael Spiller - Written by: Joe Barrasas

A store-wide heater malfunction magnifies angry tensions between Amy, Jonah and the Warehouse employees after both sides refuse to clean up a spill; Dina and Garrett get close. (Viewers: 3.67 million)
  
"Wellness Fair"
February 23, 2017
Directed by: Alex Reid - Written by: Owen Ellickson

Amy sees Mateo out on a secret date with Jeff; Glenn resents Jonah for outshining him on the store's Wellness Fair; Dina tries to prove Amy faked being sick; many relationship secrets are revealed. (Viewers: 3.51 million)
  
"Integrity Award"
March 16, 2017
Directed by: Linda Mendoza - Written by: Gabe Miller

Jonah accompanies Amy on a trip to help her mom and dad move out of her childhood home. Glenn desperately wants to win the new Cloud 9 Integrity Award but starts to worry that Garrett has a better chance of winning. Dina tries to take advantage of Mateo's relationship with Jeff to fix problems in the store and Cheyenne gets caught up in Glenn's self-serving campaign. (Viewers: 4.17 million)
  
"Mateo's Last Day"
March 23, 2017
Directed by: America Ferrera - Written by: Jonathan Green

When Mateo faces complications with his transfer to a Cloud 9 Signature store, he becomes desperate to resolve his undocumented status. Amy helps Glenn battle an Internet troll, Jonah and Cheyenne try to give Mateo legal counsel, and Dina and Garrett take issue with corporate over their relationship. (Viewers: 4.15 million)
  
"Glenn's Kids"
April 6, 2017
Directed by: Ruben Fleischer - Written by: Sierra Teller Ornelas

Glenn invites all of his kids to the store causing disorder among the employees. Jonah develops a romantic interest in Glenn's 25-year-old daughter, and Amy gets caught in the middle. Garrett, Dina and Cheyenne struggle to keep track of one of the toddlers and Mateo tricks the kids into working for him as he grapples with life after Jeff. (Viewers: 3.08 million)
  
"Spring Cleaning"
April 20, 2017
Directed by: Geeta V. Patel - Written by: Josh Malmuth

Amy and Garrett embark on an investigation as they sift through abandoned photos during the store's spring cleaning. Jonah goes out of his way to befriend Glenn in hopes of gaining his approval in dating his daughter. Cheyenne's fiancé Bo starts working at the store for some fast cash, taking advantage of Dina and Mateo's store knowledge. (Viewers: 3.15 million)
  
"Cheyenne's Wedding"
April 27, 2017
Directed by: Michael Weaver - Written by: Vanessa Ramos, Bridget Kyle, Vicky Luu

It's Cheyenne and Bo's dream wedding, but not everything goes according to plan. Relationships unravel as Amy and Jonah confront their feelings. Glenn tries to change Jeff's mind after learning of upcoming layoffs, Dina talks her way into the wedding party and Mateo dodges Jeff throughout the wedding. (Viewers: 2.77 million)
  
"Tornado"
May 4, 2017
Directed by: Matt Sohn - Written by: Justin Spitzer

Everyone in the store is on edge as Glenn tries to figure out which employees to lay off. Jonah struggles with the fallout of an admission he made to Amy, Garrett and Dina spar, and Mateo forms alliances to keep his job. A tornado warning goes into effect at the worst possible time, forcing the staff into uncomfortable groups. (Viewers: 2.91 million)