Adam got with that? Guy's fighting above his weight class. Good for him.

Bridgett Kornberg is Adam Dubanowski's ex-girlfriend. She is a single mom and met Adam as their daughters are friends. She is portrayed by actress Lauren Plaxco.
Character History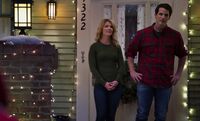 Bridgett and Adam catch Amy, Cheyenne and Dina outside Bridgett's house. They are invited in and Bridgett serves coffee which Dina loves but criticizes in order to please Amy. Amy makes an excuse that they are at her house to get Adam to confirm that Amy stole a car in tenth grade. After Adam confirms it, Dina confronts Adam as to why he's at Bridgett's and he announces that they are seeing each other. Amy is uncomfortable and wants to leave but their scooters are charging. Later, leaving Bridgett's house, Amy is embarrassed to have gone there in the first place. The ladies hear music start up inside the house so Amy grabs a Christmas lawn ornament which Cheyenne and Dina copy. As they ride off on their scooters, Adam and Bridgett come outside and watch them leave. ("Christmas Eve") Amy reveals that Bridgett and Adam broke up and Dina thinks that Adam was dumped. ("Gender Reveal")
Community content is available under
CC-BY-SA
unless otherwise noted.