Anyways, I'm at lunch with you-know-who. Awkward!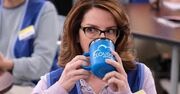 Carol was an employee of Cloud 9 Store 1217. She is a sales associate and has many allergies. She is a schemer and has a habit of stealing men from other women. When in a relationship, she is domineering and demanding. She is portrayed by actress Irene White.
Character History
Carol is first seen when Mateo takes over shift assignments from Amy and hands out undesirable duties to those that annoy him. Carol asks where Amy is and Mateo assigns her to freezer duty. Later, when Jonah is in the Break Room dressing up a sex doll to look like Amy, Carol is among those that walk in on him. When Mateo asks Jonah if he owns sex dolls of each of the employees, Carol uses her vest to cover up her chest. ("Mannequin")
Carol is part of the group with Cheyenne writing their biggest dream on a card. Her dream is to eat lobster which Amy says she should fulfill. Carol says she is allergic to it. ("Olympics") She is part of the group of employees that Amy rounds up to search for the container of guacamole that contains Marcus' severed thumb. She asks if the guacamole has nuts in it as she is allergic to nuts. Amy asks why this matters. ("Back to Work")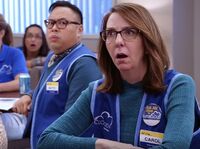 After Dina accuses Sandra of sleeping with district manager Jeff Sutin, Sandra lies that she is and starts spinning stories. Carol is in the Break Room listening and asks Sandra if the coffee maker in Jeff's hotel room has decaf. Later, she is in a group of staff watching Sandra flirt with Jeff. ("Rebranding") Carol is in the Break Room when Glenn announces that the store's computer is down and only cash can be accepted. After learning Amy and Adam are in marriage counselling, she leaves Adam two voice mails and when at lunch with the ladies from work, she stops Sandra's flirting with Jerry by asking about her fake relationship with Jeff. She then dances with Jerry while the ladies karaoke to Don't You Forget About Me and annoyingly rubs her butt in a woman trying to eat lunch. ("Ladies' Lunch")
After Myrtle files a sexual harassment complaint against Amy, Glenn and Arthur, Jeff gathers all the staff in the Break Room to watch a training video which Carol watches. ("Valentine's Day") Later it is revealed she is dating Jerry but he leaves Carol for Sandra. ("Cheyenne's Wedding") She attends the staff meeting when Glenn talks about the raccoon and the meeting where Glenn asks the employees to decide who should be laid off. She suggests all sluts should be fired and mentions Sandra. Later, in front of Sandra, she leaves a voice mail for Jerry and lies that Sandra has herpes. When the tornado hits, Sandra ushers customers into the Photo Lab but locks Carol out. Both survive the tornado and are seen glaring at each other. ("Tornado")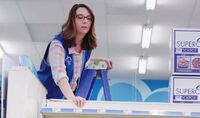 Carol is seen helping to prepare the store for the re-opening. She drops a crock pot box and narrowly misses hitting Sandra with it and then insincerely apologizes. ("Grand Re-Opening") She attends the memorial service for Brett, is seen in the Storm Shelter and in the Break Room, complains that Sandra tried to murder her during the tornado. ("Brett Is Dead") In the Warehouse, Carol helps Kelly on her first day and then tells her creepy plan to steal Jerry away from Sandra which causes Kelly to recoil. When Scott flirts with Carol and asks for her employee card, she puts it down her blouse. ("Part-Time Hires") Carol is in the Break Room as Mateo gives Amy "gay man tough love". She says Amy is probably out of practice sexually and Mateo rates her a "4". She watches Amy's confrontation with Marcus and Tate and says Amy should take a break from dating and get tested. ("Groundhog Day")
In Glenn's Office in order to receive amnesty for past wrong doings, Carol admits to doing things to Sandra's lunch to Dina and Glenn. In the hallway, Carol approaches Kelly and tells her she supports her over Amy in any troubles with Jonah. She then offers to do something to Amy's car or her daughter Emma which scares Kelly causing her to back away. Carol is part of the session with Pastor Craig and hears details about how Sandra wants to kill her. She knows about Sandra's decoy lunch which concerns Sandra. ("Amnesty")
Carol is in the Break Room and hears that Amy is pregnant and she's in the group photo. Later in the Stock Room, up to her old tricks, she leaves a voice mail for Alex after hearing that he and Amy broke up. She offers to take him out for drinks or give him a massage. ("Aftermath") Carol's in the Break Room to hear Laurie announce the store will be hosting the town hall which she attends. As they stock a shelf, Carol gives her sympathies to Kelly for Jonah dumping her. Carol suggests several dirty ways to get back at Jonah but turning the tables, Kelly suggests retributions that are much stronger which scares Carol into leaving. She's among the staff that Jeff and Glenn approach after the town hall is over. ("Town Hall")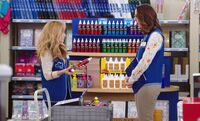 Carol approaches Kelly hoping she's upset Amy and Jonah are back at work but is disappointed to find she is fine with it. She doesn't react as Amy hands out work assignments while making sexual entrendres. At the sexual harassment meeting, Carol asks if it was illegal when Amy forced Jonah to have sex with her but Jonah insists it wasn't forced. She then asks if Amy had an orgasm. ("Back To School")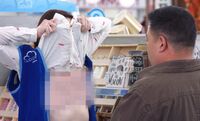 As Sandra and Jerry shop, Carol interrupts and they tell her they are moving in together. She snidely says she's given Jerry herpes. Seeing Jerry shopping alone, Carol fawns over him and makes excuses to lift her shirt up several times, revealing her breasts. Sandra crashes a cart into Carol's cart and threatens her to stay away from Jerry. As Kelly asks Glenn if he's signed her transfer papers, he asks her not to go and points out the love in the store just as Sandra pushes Carol and her cart into a display. At the toxic workplace meeting, Carol makes an insulting impression of Sandra. Sandra fires one back but in the course of her monologue, realizes she may have stolen Jerry from her and be part of the reason for Carol's erratic behavior. Carol still wants Jerry back so Dina and others pressure Sandra into a coin toss to decide, which she loses to Carol's delight. ("Toxic Work Environment")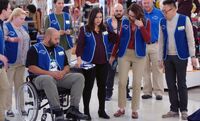 Carol's among the staff as Dina and Glenn head to the hospital and Amy's water breaks onto Carol's shoes. She's in the Break Room as Garrett discusses what to write in the cards for Amy and Dina's babies. He says that the message she wrote, "welcome to the world" is offensive. ("Delivery Day") During a snowstorm, Jerry arrives at the store front, having been ordered by Carol to bring him vape juice. Sandra's happiness at seeing him turns into sorrow as Carol rebukes Jerry for bringing the wrong type of juice. Laying next to a tent that Carol and Jerry are in, Sandra can't stand to hear Carol scolding Jerry and gets up. For fun, Sandra put makeup on Jerry and they laugh until Carol arrives and insults Jerry and his sister. ("Blizzard")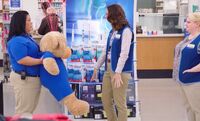 Justine asks Sandra to go to an anti-Valentine's part with her and Carol. As Carol indicates that her boyfriend Jerry is working late, Dina questions why, knowing that Jerry and Sandra have been hooking up behind Carol's back. Sandra receives a large teddy bear with balloons and is caught by Carol and Justine. While trying to explain, Carol sees the card on the bear is from a ridiculous pseudonym. She and Justine believe that Sandra sent herself the bear but pretend it's from a legitimate valentine. At Coffee & Bakery, Carol and Justine watch with pity as a barbershop quartet sings for Sandra. Leaving for the day, Justine can't convince Sandra to come to the party and Carol makes fun of her. Behind Sandra in disguise, Jerry emerges. They both profess their hatred for Carol and kiss. ("Lovebirds")
In the Surveillance Office, Amy watches as Mateo and Carol make fun of her. She tries to fix their criticisms of her by acting differently, Carol comments on her odd behaviour. She joins in making fun of Amy as Frankenstein and is there when Cheyenne catches Amy spying. Jerry spends the day in a bunny costume so he can be with Sandra without Carol knowing. When Amy apologizes in the Break Room, Carol is worried that Amy has been spying on her masterbating in the bathroom and tries to high five Cheyenne. She's in the group of staff Amy apologizes to when Cheyenne sends Mateo a text about Amy. ("Easter") She's on Jonah's "Team Soup" for the scanner duel and hides in a dress rack. She sees that Jerry is fooling around on her with Sandra. ("Scanners")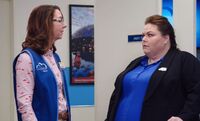 Asking Carol to cover for him, Glenn learns that she knows that Sandra has been fooling around with Jerry and she plans revenge. Carol does a creepy father-daughter exchange with Glenn, making him uncomfortable. After corporate sends Luanne from HR to find an employee who's sending tweets critical of the store, Carol exacts her revenge on Sandra by lying to Luanne that Sandra told her that she is the tweeter. Carol then feints concern for Sandra. The staff praise Sandra, thinking she really is the tweeter, which exasperates Carol. ("CLOUD9FAIL") Carol is in the Break Room as Amy tries to get staff to work after punching out and asks why Sandra's there, since she was fired. ("Sandra's Fight") In the Break Room, she tells Sandra and the staff that she knows that Sandra and Jerry are sleeping together. Later in the store, seeing Sandra and Jerry express their love for each other, she tries to get them in trouble by lying to an ICE agent that they're human traffickers. ("Employee Appreciation Day")
Trivia
Quotes
"So what are we going to do to him? Revenge porn on the Internet? Give his credit card info to a bum?"— Carol to Kelly, "Town Hall".
Gallery