He's weird, I'm not attracted to him, and when you mentioned that he "worked" in insurance, you could've mentioned it was horse insurance.

Castor is Mateo's cousin. He's very stiff in his mannerisms and speaks robotically. He is portrayed by actor Randy Bautista.
Character History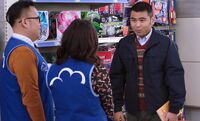 After watching Amy have difficulties when a man asks her out, Mateo offers to set her up with one of his cousins which she refuses. He ignores her and under the pretence that a customer wants to speak to a manager, he introduces Amy to Castor. Castor compliments Amy's looks and when she asks what she can help him with, Mateo interrupts and mentions Castor works in insurance. Robotically, Castor says he used to work in textiles but dreamed of working in insurance which Mateo praises. From the way they are looking at each other, Amy asks if Mateo and he know each other. Castor says they are cousins which Mateo tries to explain away. Amy realizes she's being set up and leaves. Later, Amy tells Mateo and Cheyenne why she's not interested in Castor. Cheyenne thinks that in her current state, Castor would be fine for Amy to date which leads her to drastic actions to prove she is attractive. ("Groundhog Day")
Community content is available under
CC-BY-SA
unless otherwise noted.