"Cloud 9 Academy" is the tenth episode of Season Four of Superstore, and the sixty-fourth episode of the show overall.
Summary
Amy and Cheyenne attend Cloud 9 Academy to advance their careers. Dina Fox and Garrett get roped into babysitting Glenn's daughter while he childproofs his office, and Jonah and Mateo become political activists.
Plot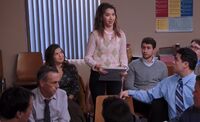 Believing they're at a Cloud 9 management course, Amy and Cheyenne introduce themselves to the class until the instructor points out they're in the wrong room as he's leading an embalming conference. Entering the management course, which has already started, they meet the instructor, Gary, and Cheyenne disrupts the class by moving her chair to sit near Amy. In the Break Room, Mateo complains about the difficulties of applying for asylum in the US, while Sayid points out applying to be a refugee is even harder. Looking at the application, Jonah suggests that becoming an outspoken critic of the Philippines president, Duterte, may help Mateo's application. In the store, Glenn asks Garrett and Dina to watch his baby daughter Rose for a little bit while he baby-proofs his office.
Dina refuses, even though she's Rose's surrogate mother, so Glenn forces Garrett to. During a break in the management course, Terence tells Amy that he previously failed the class. Her anxiety raised, she bothers Gary until he angrily ends the break and throws his danish into the garbage. After Mateo shows Jonah some memes he's posted on-line maligning Duterte, Jonah says he'll have to show his opposition in a stronger fashion, such as leading an activist group. Agreeing, Mateo recruits Marcus. Amy continues to get on Gary's bad side by talking during class when Cheyenne asks for help and then laughing at a non-joke Gary tells as part of his lesson. After Cheyenne gives a ridiculous answer to one of Gary's questions, he tells the class to pair up and design a program to increase customer satisfaction. Amy is distressed when she's stuck with Cheyenne as her partner.
As Mateo ponders a name for his activist group, Glenn pads the desk in his office and tests it with his head, knocking himself to the floor. Seeing that the extent of Garrett's care for Rose is putting her in a shopping cart, Dina takes Rose who begins to cry. Working on their assignment, Cheyenne's ideas are inane and she becomes frustrated when Amy won't accept them. Reluctantly, Amy includes Cheyenne's ideas in their presentation along with good ideas she has. Dina creates a play area for Rose which results in a customer leaving his baby there, thinking the store is offering child care. Glenn puts a child proof cover on his office door handle and unable to remove it, he's trapped inside. Calling the store on his cell phone, Janet answers and transfers Glenn's call to his desk phone. In the store, Jonah and Mateo hand out flyers for the activist group and recruit Sandra to come to a meeting.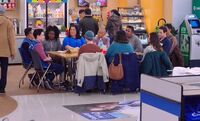 After giving their presentation, Gary points out the good ideas, which are all Amy's. Cheyenne responds to the compliments which Amy sees as her trying to take credit for them. As Gary critiques the bad ideas, Amy makes it clear they were all Cheyenne's, which embarrasses her. Asked by Gary to role play, Cheyenne gets back at Amy by embarrassing her and faking hurt reactions to Amy's questions. Parents keep dropping their kids off at the play area despite Garrett protesting they aren't providing daycare. At Coffee & Bakery, Jonah and Mateo have a meeting of the activist group which Marcus, Sandra and six customers attend. Suggestions such as a letter-writing campaign and a protest march are discussed. Glenn slides a message asking for help under his office door which flies across the hallway and goes under the door across from his office.
The play area is full of kids and out of control. Rose starts crying and Garrett has to convince Dina to breast feed her. Cheyenne continues to malign Amy during their role-playing which results in Amy responding in kind. At the activist meeting, Sandra suggests having a bake sale while Marcus wants to take more drastic action against Duterte. Mateo wants a rally in the parking lot which one of the activists says she can get a TV station to do a news story on. With the rally underway, Sayid tells Mateo that he'd never be seen on TV critisizing his country's government as he'd be tortured and killed if deported. Mateo's mood goes from jubilant to terrified. Glenn escapes his office by smashing the door with a golf club which Janet and Sarah watch.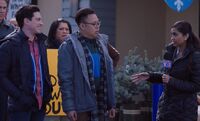 At the management class, Gary tells everyone they passed and to pick up their diplomas. Amy and Cheyenne make up and one of their classmates, Sheila, tells them the embalmists have invited them out for drinks and to look at the cadavers. In the parking lot, a news reporter questions Mateo about his opposition to Duterte but scared, he gives neutral answers that Jonah supports. Marcus interrupts and speaking to the camera, identifies Mateo and says that Mateo is going to kill Duterte. At the play area, Dina sings Rose to sleep and Garrett teases her that she likes Rose. Glenn arrives and after thanking them, mistakenly takes the wrong baby.
Cast
Main cast
Featured cast
See also
Also see Season Four minor employees.
Running Gags
Amy's name tag: Amy wears a different name tag in every episode. For this one it's "Amy."
Crazy Customers and music: There were no customer interludes nor music in this episode.
Glenn's tie: Large cartoon clouds.
References
Trivia
Glenn's Office, Coffee & Bakery and a Cloud 9 Delivery Truck make an appearance.
The news broadcast is the same TV station and nearly the same on-screen labeling as in "Strike".
The course Amy and Cheyenne graduate from is "Retail Management Introductory Course 1" according to their certificates.
Quotes
"I finally thought to myself, forget that blue vest, you better get that cloud tie, girl."— Amy
Gallery
Video
v

•

e
Superstore Season Four Episodes
  
"Back To School"
October 4, 2018
Directed by: Matt Sohn - Written by: Jonathan Green

On their first day back from suspension, Amy and Jonah steel themselves for a barrage of jokes and snide comments about their sex video, while Jeff goes to extreme lengths to win back Mateo.
  
"Toxic Work Environment"
October 18, 2018
Directed by: Jay Karas - Written by: Aaron Lee

Amy and Jonah get combative to keep their new relationship hidden from their co-workers. Meanwhile, Glenn spirals when he learns Kelly wants to transfer to a new store, and Cheyenne struggles to organize a Cloud 9 carpool.
  
"Costume Competition"
October 25, 2018
Directed by: Todd Biermann - Written by: Justin Shanes

When an employee costume competition is announced, Amy and Mateo aren't afraid to play dirty to win first prize, a paid day off. Meanwhile, Glenn is preoccupied by Cloud 9's new automatic cart collector, and Garrett is tormented by an annoying Halloween novelty song.
  
"Delivery Day"
November 1, 2018
Directed by: Daniella Eisman - Written by: Gabe Miller

Amy and Dina are both in labor! But while Glenn's manager status gets Dina the royal treatment at a fancy hospital, Amy and Jonah have a far different experience at a cheaper clinic. At the store, Garrett struggles to express his best wishes for the new parents.
  
"Maternity Leave"
November 8, 2018
Directed by: Jackie Clarke - Written by: Jackie Clarke

Amy faces a nightmare day at work when she learns she doesn't have maternity leave, made worse by Cheyenne and Mateo campaign to change her baby's name. Meanwhile, Jonah and Garrett take on hiring the new seasonal help.
  
"New Initiative"
November 15, 2018
Directed by: Ken Whittingham - Written by: Ben Dougan

When a new Cloud 9 initiative forces employees to be friendlier to their customers, Amy ends up getting to know Jonah's parents, and learns he hasn't been completely truthful with them. The new policy also inspires Garrett and Dina to find out who can hold a smile longer.
  
"Managers' Conference"
December 6, 2018
Directed by: Phil Traill - Written by: Brian Gatewood & Alessandro Tanaka

Jonah and Amy take Glenn's tickets to a managers' conference in Chicago so they can enjoy a free night on the town, but their plan hits a few bumps. At the store, Cheyenne helps Mateo damage control after his undocumented status is leaked, and Dina and Garrett struggle at gift-wrapping.
  
"Shadowing Glenn"
December 13, 2018
Directed by: Geeta V. Patel - Written by: Matt Lawton

Glenn drives Amy crazy with a new, over the top training system. Cheyenne and Mateo brainstorm a new business, while Dina recruits Jonah to help her when she starts second-guessing her own future.
  
"Cloud 9 Academy"
March 7, 2019
Directed by: Jeffrey Blitz - Written by: John Kazlauskas

Amy and Cheyenne attend Cloud 9 Academy to advance their careers. Dina and Garrett get roped into babysitting Glenn's daughter while he childproofs his office, and Jonah and Mateo become political activists.
  
"Steps Challenge"
March 14, 2019
Directed by: Todd Biermann - Written by: Bridget Kyle and Vicky Luu

Corporate introduces a friendly step-tracking challenge between Cloud 9 branches, and Amy, Jonah, and Dina create a fake rivalry to inspire Store #1217's laziest employees. But healthy competition gets increasingly chaotic when the fake rivalry becomes real.
  
"Blizzard"
March 21, 2019
Directed by: Amy York Rubin - Written by: Dayo Adesokan

With a massive snowstorm beating down on St. Louis and an unsympathetic home office, the Cloud 9 employees and customers get snowed in, leading to escalating tensions and in-fighting.
  
"Lovebirds"
March 28, 2019
Directed by: Mark McKinney - Written by: Aaron Lee

Jonah and Amy's first Valentine's Day together gets derailed when Dina brings her birds to work, which also causes trouble for Garrett. Meanwhile, Cheyenne offers to give Marcus a sentimental tattoo, and Glenn makes videos for his daughter to watch while he's at work.
  
"Minor Crimes"
April 4, 2019
Directed by: Ross Novie - Written by: L.E. Correia

Amy jumps at an amazing career opportunity, only to run up against an exec with a major grudge against her. Jonah and Mateo help Glenn with a financial problem, while Garrett and Cheyenne struggle to spend a day without cell phones.
  
"Salary"
April 11, 2019
Directed by: James Renfroe - Written by: Ben Dougan & Matt Lawton

Amy finds herself at odds with her coworkers when some salary numbers get leaked, while Dina worries that Jonah is coming between her and Amy. Mateo tries to give himself a promotion, and Garrett attempts to sabotage Glenn's positive attitude.
  
"Quinceañera"
April 25, 2019
Directed by: Rebecca Asher - Written by: Justin Shanes

Jonah struggles to find his place at Amy's daughter Emma's quinceañera. Dina proves very popular with some teenage boys. Cheyenne and Mateo are obsessed with seeing Amy cry.
  
"Cloud Green"
May 2, 2019
Directed by: Heather Jack - Written by: Jonathan Green & Gabe Miller

Despite Dina's protests, Amy lets Glenn's pastor host an Earth Day booth at the store, but things quickly unravel when Glenn won't recognize Amy's authority. Jonah spearheads Cloud 9's green initiative, but is met with apathy from his coworkers.
  
"Scanners"
May 9, 2019
Directed by: Victor Nelli Jr. - Written by: Dayo Adesokan & L.E. Correia

Dina agrees to play the bad guy when corporate forces Amy to cut everyone's hours. Meanwhile, Jonah and the other employees play an elaborate game of laser tag with the store's new scanners, and Mateo makes a startling discovery about Marcus.
  
"CLOUD9FAIL"
May 9, 2019
Directed by: Betsy Thomas - Written by: John Kazlauskas & Josh Malmuth

When a photo of a mess at store 1217 goes viral, Amy and Jonah try to use it to their advantage, while Dina starts hunting for the anonymous tweeter. And with money tight now that their hours have been cut back, Mateo, Cheyenne, Garrett, and Glenn sell their personal items in the store.
  
"Sandra's Fight"
May 16, 2019
Directed by: America Ferrera - Written by: Sean Lee & Jen Vierck

Amy and Dina visit Cloud 9 corporate to fix problems caused by Sandra's misguided activism, while Jonah tries to sabotage an employee meeting and Garrett tries to prove to his co-workers that he's a good person.
  
"Employee Appreciation Day"
May 16, 2019
Directed by: Jeffrey Blitz - Written by: Justin Spitzer

Amy and Jonah find themselves on opposing sides as corporate tries to win over employees by showering them with treats. But when the company's tactics grow more extreme, everyone must band together to save one of their own.