Excuse me, I just remembered I have to leave early. I have a thing...at the place.

Cody works in the Stock Room at the Cloud 9 Store #1217. He is extremely laid back and is suspected by manager Glenn Sturgis and assistant manager Dina of being on drugs. He was one of the six employees who was fired when the store was hit by a tornado but was re-hired. He is portrayed by actor Felipe Esparza.
Character History
Cody is first seen working in the Stock Room putting cardboard into the disposal unit. After Glenn learns from Tate that many of the employees may be on drugs, he enters the Stock Room and says he values Cody while sniffing him. After getting permission to do drug testing on the employees, Dina taunts Cody. Later in the Break Room, after Dina announces the drug testing, Cody tries to excuse himself. When Glenn decides against the testing and pours the employee's urine samples down the drain, Cody is clearly relieved. ("Spokesman Scandal") During Christmas time, Cody competes to be the store Santa. When the other candidates learn there is no pay for the position, Cody is happy to do it for free. ("Seasonal Help")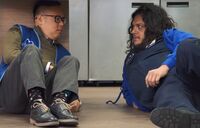 Cody is a 42.5 on Glenn's scale of employee ratings out of 10 despite Amy pointing out that he is growing cannabis in the garden center. Later before the tornado strikes, he is seen hiding under a table with Mateo and is angry at him. Mateo formed a Catholic alliance with Cody so that if one of the employees in the alliance was laid off, they would all walk out. Cody is laid off, Mateo isn't and Mateo won't uphold the alliance. Cody says that nobody loves Mateo and he is going to die alone. ("Tornado")
Cody is in the Break Room as the staff discuss the existence of mermaids and evolution. He points out that the human eye is too complicated to be have created by evolution. He raptly listens to Kelly's story about being saved from drowning by an angel. After Cheyenne and her mother Brandi have resolved their differences and are critisizing Amy for being meddlesome, Cody joins in and insults Amy's hair. ("Angels and Mermaids") As Mateo and Cheyenne guess who Amy hooked up with, Mateo guesses Cody. ("Groundhog Day") Cody is part of the staff Glenn puts through safety training including how to mop and lift boxes. ("Safety Training") Laurie asks about Cody as part of her personnel file review with Amy. ("District Manager")
Cheyenne's plan for a store carpool includes Heather and Cody riding together until Dina points out they are separated by a river. ("Toxic Work Environment") Glenn mentions that Cody pinned him against a wall in the Warehouse when learning to drive a forklift. ("Minor Crimes")
Trivia
When Dina gets permission from Glenn to do drug testing on the employees, she taunts Cody and says "I'm coming for you Tommy Chong". This refers to half of the stoner comedy duo "Cheech and Chong". ("Spokesman Scandal")
Community content is available under
CC-BY-SA
unless otherwise noted.