I'll make tamales!

Connie Sosa is Amy's mother. She is a housewife and loves to cook. She is portrayed by actress Marlene Forte.
Character History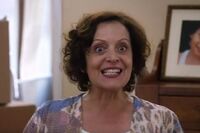 Amy brings Jonah to her parent's house to help move boxes to their new home believing that her parents aren't home. They are home and Connie is going through Amy's old school items and photo albums instead of packing. Jonah joins her in looking at the photos and becomes Facebook friends with her. Jonah notices that Connie has a lot of necklaces made out of coins. When Ron says he's hungry, Connie rejects Amy's offer of pizza and starts opening boxes so she can make tamales. Amy can't take any more delays and runs off to her old room. ("Integrity Award")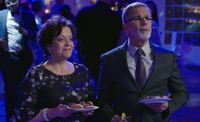 At Emma's quinceañera, as Jonah feels uncomfortable and keeps to himself, Amy calls Connie and Ron over. Jonah's compliments to them fall flat and he excuses himself to go buy some ice for the party. Delving further into Honduran culture, Glenn tries some spicy food in front of Connie and Ron and coughs violently. Jonah rudely shoos Connie away when she tries to sit with Emma. When Jonah intercedes in the father-daughter dance to keep secret that Emma is high, Connie yells at Jonah to let Emma go. ("Quinceañera")
Trivia
When Amy and Jonah find over $900 in a pair of cargo shorts, one of the first things Amy wants to do with the money is fix her Mom's refrigerator crisper drawer. ("Lost and Found")
Amy admits that she once stole money her Mom, then broke a window and flushed her jewelry down the toilet to make it look like a robbery. ("New Initiative")
Community content is available under
CC-BY-SA
unless otherwise noted.