Who's Craymie?

Corey is an employee at Cloud 9 Store 1217. He is friends with Marcus and likes to drink. He is portrayed by actor Travis Coles.
Character History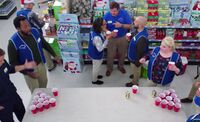 On Christmas Eve, Marcus and Corey are hiding in an aisle taking drinks from a flask and Amy happens upon them. Corey calls her the "fun police" while Marcus says she's going to write them up. Earlier, Amy told everyone she wanted to be crazier in the new year (crazy Amy or "Craymie") so to follow through on this, she takes a sip from the flask. Corey says it's a tiny sip so Amy takes a long drink. With Corey and Marcus in tow, Amy spikes an urn of cocoa while Corey and Marcus repeat Amy's catchphrase "Craymie". Corey asks Marcus who Craymie is but Marcus doesn't know. A party breaks out and Corey plays cups and cheers on Marcus. He is among the staff who disbelieve Amy was crazy in high school and hear her phone call to Adam which reveals he is dating Bridgett. ("Christmas Eve")
In the Break Room, Corey and the staff watch a video loop of Amy kissing Jonah. Corey teases Amy and Jonah by pointing out where the condoms are located in the store. He admits to smoking weed, drinking on the job and he goes nuts at Cinnabon on Saturdays. He teases Amy and Jonah that he can leave them alone with a bed but they go along with the teasing and end up accidentally kissing. He's at the session with Pastor Craig and asks Amy and Jonah if they still love each other. He's in the group of staff pondering whether Jonah should be with Amy or Kelly and says he's "Team Amy". ("Amnesty")
Corey finds Amy and asks her if the Zephra tablet is compatible with air play, but before she can answer Jonah interrupts. Jonah gives a sarcastic speech about Zephra being compatible with everything and that they don't question Zephra, ending with "All hail Zephra". Corey asks if that's a yes and Amy tells him to ignore Jonah, because he is just upset that the tablet wont do everything he wants it to, and Jonah argues that it never will if he can't ask. Corey rolls his eyes and asks if they can just get together already, and as he's leaving Amy looks confused and says that they are together. ("Cereal Bar")
Community content is available under
CC-BY-SA
unless otherwise noted.