"Costume Competition" is the fourth episode of Season Four of Superstore, and the fifty-ninth episode of the show overall.
Summary
When an employee costume competition is announced, Amy and Mateo aren't afraid to play dirty to win first prize, a paid day off. Meanwhile, Glenn is preoccupied by Cloud 9's new automatic cart collector, and Garrett is tormented by an annoying Halloween novelty song.
Plot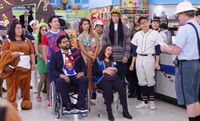 In Glenn's Office, Amy is on speaker phone with corporate, unsuccessfully trying to reduce her hours due to her swollen feet from being pregnant. Glenn gets uncomfortable when personal questions are asked and then seeks advice on swallowing a watermelon seed. In the store, Glenn announces that a pilot program for an automatic cart collector is underway and, that a costume competition for a paid vacation day will be held. In a wheelchair due to her feet, Amy laments not dressing up while Mateo, dressed as a baseball player, insults her. Dina boasts how much better her pregnancy is going than Amy's. Various Halloween decorations are shown and Freddy is using the store phone. (♫ Rockwell - Somebody's Watching Me ♫)
Wanting to win the paid day off, Amy changes into a Mario costume which she shows Jonah. He tries to get validation for his intelligent costume which Amy doesn't care about. In the parking lot, Sandra is leading the automatic cart collector around using its fob while Dina, Marcus and Isaac watch. It follows her into the cart collection area and pins her there. The virtual Myrtle store greeter advertises a sale on batteries. As Jonah tries to get Garrett interested in his costume, he points out that a Halloween novelty song has been playing over the store's P.A. system constantly. (♫ Rowan and Hastings - Halloween Surfboard ♫) Garrett indicates he's able to block annoying things out and does so to Jonah which offends him. Glenn catches Isaac, Marcus and Sandra playing with the collector, takes the fob and orders them back into the store. Not knowing the collector follows the fob, he puts it in his bag and is confused when it starts following him.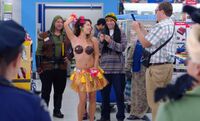 Amy and Mateo eye each other competitively with Mateo now in an elaborate movie character costume. Dina points out Cheyenne's sexy hula dancer outfit which she thinks will easily win the competition. In the garden centre, Amy and Mateo compliment Cheyenne on her costume but seeing her as a threat, they try to discourage her from wearing it. They fake worry that she's being objectified which Cheyenne doesn't care about and, that it might offend Sandra, who's Hawaiian. Garrett rebukes Jonah for pointing out the novelty Halloween song which has started to drive him crazy. Amy and Mateo work on Sandra until they convince her that Cheyenne's costume is offensive to Hawaiians. In the parking lot, Glenn frantically runs around with the collector following him. Calling Jonah to witness, he puts the bag with the fob down beside the collector, runs back and forth and is confused when it doesn't follow him.
Garrett hears the novelty song while with a customer which causes him to exclaim and brings a concerned Dina over. Seeing Cheyenne excluded from the contest and back in her work clothes, Sandra feels guilty but is selfishly supported by Amy and Mateo. Sandra comments that Janet is fine with Marcus' costume even though she's part Jamaican. Seeing an opportunity to knock more competition out of the contest, they convince Janet to take offence. At the store entrance, Jonah brings Glenn his bag with the fob which he forgot in the parking lot. As Glenn walks into the store, the collector follows him inside. (♫ John Carpenter – Halloween Theme ♫) Flush with success, Amy and Mateo manipulate Sayid, Gary, Paul and Tyler into taking offence to other's costumes.
On the phone with corporate in Glenn's office, Garrett tries to get them to stop playing the novelty song so much. Trying to transfer him, he explodes that he's been transferred many times. He's put on hold and the novelty song plays on the phone speaker. While helping a customer, Glenn sees the collector paralleling his movements in another aisle. He panics, tips over an item holder in its path and runs. Dina tells Amy that she's going to have to take off her costume due to a complaint. In the Break Room, Amy accuses Mateo of complaining to win the competition. Mateo lies that he was genuinely offended so Amy gets Marcus, who is Italian, to sort of say he's OK with her costume. Mateo doesn't agree and as Isaac says people need to stop being so easily offended, he then makes a racist comment. The automatic doors won't open for a customer dressed as a ghost. (♫ Whodini - Freaks Come out at Night ♫)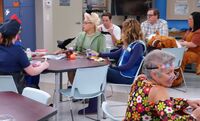 As Cheyenne and Marcus rue not being able to wear their costumes, they're told it's because the costumes objectify cultures. When Amy justifies being able to dress as Mario, some of the staff take her to mean that dressing up as a specific character from a culture is OK. This confuses some and when Jonah can't explain why it's OK, he turns to Janet for help which she declines. Mateo disagrees and uses an extreme example which causes arguments and leads Dina to threaten to cancel the contest. Faced with this, Mateo retracts his complaint which leads Marcus and Cheyenne to believe that it's OK to wear their costumes as long as they honor the cultures they're from. The contest back on, Cheyenne takes off her jacket to reveal her coconut bra which she thinks Sandra wears all the time.
Dina kicks off the competition and introduces Marcus while Brett plays "Monster Mash". He sets the tone for all the contestants by launching into a speech honoring Jamaicans. Glenn sees Garrett making a mess of a pile of sweaters, looking for thick ones to block the store's speakers. Panicking because of the collector, he asks if robots are now sentient and Garrett's reply sends Glenn fleeing. At the competition, Amy honors Italians, Justine cites events and heroes from the Mexican War of Independence and Tyler lauds Transylvania. Mateo names famous white women, Elias discusses several Smurf characters and Cheyenne makes a soap volcano. Chris does an exotic dance to Arabian music and Jonah lectures on gerrymandering. A teenage customer thinks Jonah is Spider-Man.
To stop any music from playing, Garrett makes deranged announcements on the store's P.A. A customer takes her medication from Dougie in a box at the Pharmacy. (♫ Classics IV - Spooky ♫) Waiting for the competition winner to be announced, Amy and Mateo fake nice but when Amy wins, she rubs her victory in his face. She then accepts the award on behalf of Italy. A customer throws his trash into a display cauldron. (♫ Warren Zevon - Werewolves of London ♫) Glenn is seen driving home in his car with the cart collector following him. He calls Jerusha and instructs her to be waiting for him at home with a go-bag and a shotgun to flee. Leaving for the evening, Amy finds out from Jonah that Cheyenne actually won the competition as one of her boobs fell out of her costume. However, Jonah rigged the results which he points out is ironic given that his costume is about gerrymandering.
Cast
Main cast
Featured
See also
Also see Season Four minor employees.
Running Gags
Amy's name tag: Amy wears a different name tag in every episode. Amy wears "Harriet" when in Glenn's Office and "Louise" when in a wheelchair before donning a Mario costume with no name tag for the rest of the episode. She previously wore "Louise" in "Back to Work".
Crazy Customers and music: For all customer interludes and music see Costume Competition (music).
Glenn's tie: Large cartoon clouds at the episode beginning and then Glenn is dressed as a postal worker for the rest of the episode and wears no tie.
References
Trivia
Quotes
"Let her wear the coconut boobs, you monsters."— Isaac about Cheyenne
Gallery
Video
v

•

e
Superstore Season Four Episodes
  
"Back To School"
October 4, 2018
Directed by: Matt Sohn - Written by: Jonathan Green

On their first day back from suspension, Amy and Jonah steel themselves for a barrage of jokes and snide comments about their sex video, while Jeff goes to extreme lengths to win back Mateo.
  
"Toxic Work Environment"
October 18, 2018
Directed by: Jay Karas - Written by: Aaron Lee

Amy and Jonah get combative to keep their new relationship hidden from their co-workers. Meanwhile, Glenn spirals when he learns Kelly wants to transfer to a new store, and Cheyenne struggles to organize a Cloud 9 carpool.
  
"Costume Competition"
October 25, 2018
Directed by: Todd Biermann - Written by: Justin Shanes

When an employee costume competition is announced, Amy and Mateo aren't afraid to play dirty to win first prize, a paid day off. Meanwhile, Glenn is preoccupied by Cloud 9's new automatic cart collector, and Garrett is tormented by an annoying Halloween novelty song.
  
"Delivery Day"
November 1, 2018
Directed by: Daniella Eisman - Written by: Gabe Miller

Amy and Dina are both in labor! But while Glenn's manager status gets Dina the royal treatment at a fancy hospital, Amy and Jonah have a far different experience at a cheaper clinic. At the store, Garrett struggles to express his best wishes for the new parents.
  
"Maternity Leave"
November 8, 2018
Directed by: Jackie Clarke - Written by: Jackie Clarke

Amy faces a nightmare day at work when she learns she doesn't have maternity leave, made worse by Cheyenne and Mateo campaign to change her baby's name. Meanwhile, Jonah and Garrett take on hiring the new seasonal help.
  
"New Initiative"
November 15, 2018
Directed by: Ken Whittingham - Written by: Ben Dougan

When a new Cloud 9 initiative forces employees to be friendlier to their customers, Amy ends up getting to know Jonah's parents, and learns he hasn't been completely truthful with them. The new policy also inspires Garrett and Dina to find out who can hold a smile longer.
  
"Managers' Conference"
December 6, 2018
Directed by: Phil Traill - Written by: Brian Gatewood & Alessandro Tanaka

Jonah and Amy take Glenn's tickets to a managers' conference in Chicago so they can enjoy a free night on the town, but their plan hits a few bumps. At the store, Cheyenne helps Mateo damage control after his undocumented status is leaked, and Dina and Garrett struggle at gift-wrapping.
  
"Shadowing Glenn"
December 13, 2018
Directed by: Geeta V. Patel - Written by: Matt Lawton

Glenn drives Amy crazy with a new, over the top training system. Cheyenne and Mateo brainstorm a new business, while Dina recruits Jonah to help her when she starts second-guessing her own future.
  
"Steps Challenge"
March 14, 2019
Directed by: Todd Biermann - Written by: Bridget Kyle and Vicky Luu

Corporate introduces a friendly step-tracking challenge between Cloud 9 branches, and Amy, Jonah, and Dina create a fake rivalry to inspire Store #1217's laziest employees. But healthy competition gets increasingly chaotic when the fake rivalry becomes real.
  
"Blizzard"
March 21, 2019
Directed by: Amy York Rubin - Written by: Dayo Adesokan

With a massive snowstorm beating down on St. Louis and an unsympathetic home office, the Cloud 9 employees and customers get snowed in, leading to escalating tensions and in-fighting.
  
"Lovebirds"
March 28, 2019
Directed by: Mark McKinney - Written by: Aaron Lee

Jonah and Amy's first Valentine's Day together gets derailed when Dina brings her birds to work, which also causes trouble for Garrett. Meanwhile, Cheyenne offers to give Marcus a sentimental tattoo, and Glenn makes videos for his daughter to watch while he's at work.
  
"Minor Crimes"
April 4, 2019
Directed by: Ross Novie - Written by: L.E. Correia

Amy jumps at an amazing career opportunity, only to run up against an exec with a major grudge against her. Jonah and Mateo help Glenn with a financial problem, while Garrett and Cheyenne struggle to spend a day without cell phones.
  
"Salary"
April 11, 2019
Directed by: James Renfroe - Written by: Ben Dougan & Matt Lawton

Amy finds herself at odds with her coworkers when some salary numbers get leaked, while Dina worries that Jonah is coming between her and Amy. Mateo tries to give himself a promotion, and Garrett attempts to sabotage Glenn's positive attitude.
  
"Quinceañera"
April 25, 2019
Directed by: Rebecca Asher - Written by: Justin Shanes

Jonah struggles to find his place at Amy's daughter Emma's quinceañera. Dina proves very popular with some teenage boys. Cheyenne and Mateo are obsessed with seeing Amy cry.
  
"Cloud Green"
May 2, 2019
Directed by: Heather Jack - Written by: Jonathan Green & Gabe Miller

Despite Dina's protests, Amy lets Glenn's pastor host an Earth Day booth at the store, but things quickly unravel when Glenn won't recognize Amy's authority. Jonah spearheads Cloud 9's green initiative, but is met with apathy from his coworkers.
  
"Scanners"
May 9, 2019
Directed by: Victor Nelli Jr. - Written by: Dayo Adesokan & L.E. Correia

Dina agrees to play the bad guy when corporate forces Amy to cut everyone's hours. Meanwhile, Jonah and the other employees play an elaborate game of laser tag with the store's new scanners, and Mateo makes a startling discovery about Marcus.
  
"CLOUD9FAIL"
May 9, 2019
Directed by: Betsy Thomas - Written by: John Kazlauskas & Josh Malmuth

When a photo of a mess at store 1217 goes viral, Amy and Jonah try to use it to their advantage, while Dina starts hunting for the anonymous tweeter. And with money tight now that their hours have been cut back, Mateo, Cheyenne, Garrett, and Glenn sell their personal items in the store.
  
"Sandra's Fight"
May 16, 2019
Directed by: America Ferrera - Written by: Sean Lee & Jen Vierck

Amy and Dina visit Cloud 9 corporate to fix problems caused by Sandra's misguided activism, while Jonah tries to sabotage an employee meeting and Garrett tries to prove to his co-workers that he's a good person.
  
"Employee Appreciation Day"
May 16, 2019
Directed by: Jeffrey Blitz - Written by: Justin Spitzer

Amy and Jonah find themselves on opposing sides as corporate tries to win over employees by showering them with treats. But when the company's tactics grow more extreme, everyone must band together to save one of their own.