You are a journalist and a rapist and those are the two worst things any person can be.

Cynthia is a reporter for the Cloud 9 magazine "Stratus". She is attractive and out-going. She is portrayed by actress Eliza Coupe.
Character History
At the morning meeting, Glenn announces that a reporter from Cloud 9's magazine will be coming to do an article on the store. Cynthia is the reporter and arrives with a photographer. Before she can meet Glenn and staff, Dina intercepts her and threatens her, saying she'll be watching her every move. Glenn is extremely nervous and awkward around Cynthia but Jonah is very engaging and has many good ideas that impress Cynthia. Glenn is distressed when Cynthia doesn't remember his name and Cynthia walks off with Jonah.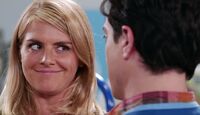 Amy tries to make Glenn feel better by implying that Cynthia isn't attracted to Jonah's ideas but to his looks. Later in the Stock Room, Cynthia makes advances on Jonah which Dina sees on the store's surveillance cameras. Dina calls a staff meeting in the Break Room to show the tryst where surprisingly, her opinion is that Jonah has been sexually assaulted by Cynthia. As Cynthia tries to leave the store, Mateo tries to promote himself for the article and Dina tells her to never enter the store again. Then, Cheyenne and Bo play a demo of a Cloud 9 jingle Bo wrote for her which she says "isn't terrible". To her relief, after this she is able to leave the store. Amy catches Jonah in the parking lot getting into Cynthia's car to go to her hotel. ("Magazine Profile")
Trivia
Community content is available under
CC-BY-SA
unless otherwise noted.