"Demotion" is the tenth episode of Season One of Superstore, and the tenth episode of the show overall.
Summary
Dina takes a demotion in order to date Jonah, Glenn and Amy interview staff for her replacement.
Plot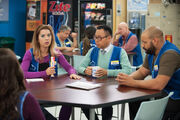 At the store front, Glenn has a morning meeting with the staff. Garrett asks Jonah about the glances Dina keeps giving him. Jonah confides that Dina propositioned him in the Photo Lab and he turned her down by saying he doesn't feel comfortable dating a manager. Dina announces she is stepping down as assistant manager to pursue "personal matters" and Jonah realizes his rejection excuse has backfired. In the Break Room, Garrett loudly asks Jonah if he knows what Dina's personal matters are. He fakes ignorance and as everyone speculates, Mateo wonders who should be assistant manager and suggests himself. A man eats many samples while Elias looks at him in disgust. (♫ The Fixx - One Thing Leads to Another ♫)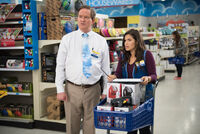 Cheyenne is uncomfortable when Dina shows up to work at the makeup counter. In Glenn's Office, Amy guesses that Glenn wants her to be assistant manager but she declines as she is too busy with night college. Jonah approaches Dina at the makeup counter but before he can say he's not interested in a relationship, she asks him to her place for dinner. She then says her grandma died and before Jonah can interject she confesses that she thought he was stringing her along and that he'd be crazy if he did. Jonah laughs uncomfortably but can't muster the courage to let her how he really feels. Glenn's first choice for assistant manager is elderly Myrtle but Amy talks him out of this and offers to assist him with interviews.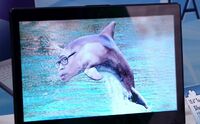 At customer service, Jonah explains to Garrett that he can't tell Dina how he feels because he has a hard time giving people bad news. To toughen him up, Garrett asks him to continually say no to a customer with a return. The customer is totally reasonable and has everything required but Jonah won't give him a refund. The customer storms off and Garrett admits it was just a lark. Cheyenne watches with concern as Dina manhandles the makeup customers. A customer walks out of a dressing room naked from the waist down. (♫ The Carpenters - Rainy Days and Mondays ♫) Garrett sees Mateo creating a presentation for assistant manager and decides to have some fun with him. In Glenn's office, the interviews start with pharmacist Tate. He says he's stressed out working at the Pharmacy, makes wildly unreasonable demands and tries to control the interview.
Amy is impressed Sandra has applied but when she tries to high-five her, Sandra cowers and leaves meekly. Marcus thinks he's there because of stolen headphones and starts to chant that the surveillance tapes should be checked. Sal takes a very creepy interest in pictures of Glenn's children and Amy won't let Glenn tell Sal the kid's names. Myrtle says when she was a girl, she crashed her father's car and blamed it on an Asian. When Amy tells Marcus they will check the surveillance tapes, he can't believe they are watched at work. Brett just stares and doesn't speak in his interview. Tate makes an ultimatum and starts a countdown. In the Break Room, Mateo's presentation has turned into a life story that Garrett says needs "sizzle".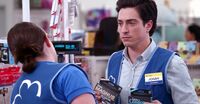 Jonah is working a checkout counter when Dina shows up with items to buy for their date. They include risotto, chocolate and two boxes of condoms. Jonah stares at her in shock. Glenn and Amy look at pictures of the assistant manager candidates. Amy doesn't see anyone qualified which leads Glenn to imply she should take the position but she walks out. Dina continues to treat the makeup customers roughly with gruesome results. (♫ Iggy Azalea - Fancy ♫) Jonah asks Dina for a talk in private. Mateo's presentation now has a rap portion which Garrett says can go bigger. In the dressing rooms, Jonah tries to play a recorded message on his phone to tell Dina how he feels. He plays the wrong file and Dina kisses him. He drops his phone which then plays the breakup message and Dina walks out.
Garrett stops Jonah from trying to go to the makeup counter to talk to Dina about the breakup. Amy sees Glenn trying to do his job and the assistant manager job and reluctantly agrees to be assistant manager. In the parking lot, Jonah catches Dina at her truck and apologies but Dina isn't bothered by what happened. Jonah is surprised but then Marcus shows up, he's going to Dina's apartment for dinner. Glenn mentions to Amy some of the perks that come with the assistant manager position, one of which is that the company will pay for half of her college courses. She wonders why he didn't mention this in the first place. They enter the Break Room to find Mateo dressed as Uncle Sam with sparklers and his presentation playing. Glenn says Amy has taken the job and that he didn't know that Mateo was interested.
Cast
Main cast
Featured cast
See also
Also see Season One minor employees.
Running Gags
Amy's name tag: Amy wears a different name tag in every episode. For this one it's "Molly".
Crazy Customers and music: For all customer interludes and music see Demotion (music).
Glenn's tie: Realistic clouds.
Raccoon: Glenn mentions they haven't caught the raccoon yet but are beginning to understand his patterns.
References
Trivia
Quotes
"I like just about everyone I meet. I have virtually no standards."— Glenn
Gallery
v

•

e
Superstore Season One Episodes
  
"Shoplifter"
January 11, 2016
Directed by: Ruben Fleischer - Written by: Jackie Clarke

Dina tracks a shoplifter, Amy brings her daughter Emma to work even though it isn't allowed so Jonah helps out. (Viewers: 5.38 million)
  
"Secret Shopper"
January 18, 2016
Directed by: Alex Hardcastle - Written by: Lon Zimmet

Amy feels competitive when Glenn publicly congratulates Jonah on his superb employee test results. Cloud 9 employees are on their best behavior in anticipation of a secret shopper. (Viewers: 5.66 million)
  
"Color Wars"
January 25, 2016
Directed by: Andy Ackerman - Written by: Jack Kukoda

The store is divided into two sales teams competing for $100 each, Jonah meets Amy's husband Adam. (Viewers: 4.93 million)
  
"All-Nighter"
February 8, 2016
Directed by: Christine Gernon - Written by: Eric Ledgin

After working overtime to put up new signs, the staff are locked in the store. They find unique ways to amuse themselves and bond in the process. (Viewers: 5.19 million)
  
"Demotion"
February 15, 2016
Directed by: Linda Mendoza - Written by: Matt Hubbard and Lon Zimmet

Dina asks for a demotion in order to date Jonah, Amy and Glenn deal with finding a replacement. (Viewers: 3.09 million)
  
"Labor"
February 22, 2016
Directed by: Beth McCarthy-Miller - Written by: Owen Ellickson

Cheyenne is having her baby in the store but won't stop working because Cloud 9 doesn't offer paid maternity leave. To help her Jonah proposes a walkout. (Viewers: 4.68 million)