What the hell? Why did you do that?

Dom was an employee at Cloud 9 Store 1217. He works in the Warehouse, is tall and muscular and is a stereotypical working class guy right down to his Brooklyn accent. He is portrayed by actor Dominic Pace.
Character History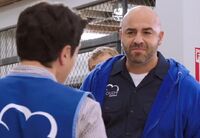 Dom is first mentioned by Marcus just before he cuts his thumb off in a meat slicer. Marcus is covering for Dom whose pug dog "Elmo" fell down a sink hole in a park. ("Back to Work") Dom is first seen in the Warehouse on election day as Amy and Jonah hand out their own pamphlets to encourage workers to vote for a pro-worker candidate. Dom echos Jonah's Brooklyn accent and that he is sick of corporate fat cats and takes a pamphlet. ("Election Day") Dom is next seen when Mateo believes it is his last day at work. Mateo is trying to find a way to stay in the country and believes if he gets beat up badly he'll qualify for a special visa. In the Warehouse, he provokes Dom by pushing a box over. Dom approaches Mateo menacingly but doesn't hit him. Instead, he says he'll write a "32-50" report on Mateo that'll go in his file. ("Mateo's Last Day")
Community content is available under
CC-BY-SA
unless otherwise noted.