All I'm saying is that, from a hetero male perspective, the female breast is a beautiful thing.

Earl is a sales associate at Cloud 9 Store 1217. He is outspoken and a misogynist. He is portrayed by actor Will McLaughlin.
Character History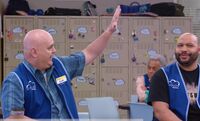 Earl is first seen helping to prepare the store for the re-opening. Glenn berates him for stocking a shelf when it needs to be moved and tells him to empty the shelf to which Earl sighs. ("Grand Re-Opening") On the day the store releases "Barbarians Gate 3", Glenn and Sandra make a breastfeeding mother stop sitting in a store display. She brings many breastfeeding mothers to the store to protest. Glenn discusses the situation in the Break Room with the staff. Earl says breasts are beautiful but when milk comes out it is a "boner-killer". He thinks women should breastfeed in private and seeks support from Garrett which he doesn't get. When Garrett opines that men shouldn't be drinking breast milk or eating cheese made out of it, Earl doesn't support him. ("Video Game Release") Earl carries in a couch for Jonah and Kelly's living room display and questions why it's being set up in the middle of the store. ("Target")
Character History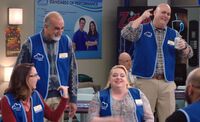 Earl's in the Break Room as Garrett discusses what to write in the cards for Amy and Dina's babies. He suggests writing something funny and starts laughing which causes the staff to join in but frustrates Garrett. ("Delivery Day") Earl is in the Break Room as Amy announces the store's plans for Earth Day. At Coffee & Bakery, Glenn holds a Bible study with Sandra, Sarah and Elias which Earl attends. When Amy stops the study, Earl complains that people aren't allowed to say "Merry Christmas" anymore. He's part of the environmental group which Jonah starts up which Marcus dubs the "Green Posse" with Sandra, Marcus, Heather, Ted and Roxy. ("Cloud Green") He's on Jonah's "Team Soup" for the scanner duel and gets knocked out of the game by Sayid. ("Scanners")
Gallery
Community content is available under
CC-BY-SA
unless otherwise noted.