'Superstore' Profile: Emma Dubanowski
Play Sound

I got my first period!

Emma Dubanowski is the daughter of Amy and Adam Dubanowski. She was born in 2003. She is portrayed by actress Isabella Day.
Character History
Emma is first mentioned when Jonah thought Amy was a single mother. Amy corrects Jonah and said she has a husband. ("Mannequin") She was first seen when Amy had to bring her to work even though that isn't allowed. Jonah offers to watch Emma when Amy is pulled away on other matters. She has her first period and has to rely on Jonah for help. ("Shoplifter")
Amy calls Emma from her car looking forward to going trick or treating with her but Emma wants to spend Halloween with her friends, disappointing Amy. ("Halloween Theft") Amy mentions to Glenn that she and Adam are having marital problems and that things are "weird and tense" which upsets Emma. ("Lost and Found") Amy plays hooky from work to take Emma to the movies and they discover Mateo is dating Jeff. ("Wellness Fair") After a tornado hits the store, Emma and Adam meet Amy outside the store and are relieved she's OK. ("Tornado")
In the Break Room, Glenn welcomes Emma as the newest part-time employee. Cheyenne plays a video presentation of Emma that Glenn narrates. Emma is embarrassed and questions Amy who had nothing to do with providing the pictures. Jonah tries to converse with Emma until Amy orders Emma to clean up the dressing rooms. Emma groans as she leaves which prompts Jonah to warn Amy that if she's tough on Emma, this will make her ex Adam the "good guy". Amy believes it is her role as a parent to instill discipline in Emma. Amy discovers that Emma and Adam have been spending a lot time together which prompts jealousy so she decides to be nicer to Emma.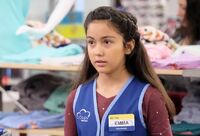 While mopping, Emma shares a secret so Amy lets her leave the floor wet which causes Justine to have an accident. Feeling guilty, Amy allows Jonah to be tough on Emma. He yells at her for stocking items wrong until Glenn interjects, yells at Jonah and tells him to stay away from Emma while she smiles behind Glenn's back. Glenn helps Amy realize Emma's churlish behaviour is normal for a teenager. ("Part-Time Hires") Emma posts a comment on one of Amy's Instagram videos asking her to stop. ("Viral Video") Cheyenne calls Emma a dud and while trying to leave a voice mail for Adam, Amy says he can Venmo her the money for Emma's tap shoes. ("Gender Reveal")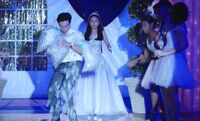 Jonah greets Emma at her quinceañera and mistaken for her father by a photographer, Emma says "ew." As the DJ announces Emma's formal entrance, Jonah comes through the presentation arch with bags of ice. Emma bumps into him, he fumbles the bags and one spills open, ruining Emma's special moment. Glenn gives Emma a traditional quinceañera doll which he and Jerusha made. However, the doll is creepy and adorned with Jerusha's hair, causing Emma and Amy to thank Glenn through clenched teeth. Emma has many relatives give speeches encouraging her to remain a virgin. Jonah is asked to speak but after several mishaps, he declines and makes it sound like he doesn't care about Emma.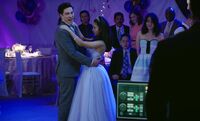 Using mics, Cheyenne and Mateo sing a sad song for Amy, interspersed with comments about Emma leaving her soon, hoping to make Amy cry. Jonah sits alone at a table until Emma sits beside him and stares into space. As Jonah apologizes, she stops him and confesses that she's high. Asking for help and to keep this from her parents, Jonah rudely shoos Connie away when she tries to sit with Emma. Afraid Adam will discover she's high, Emma refuses to get up for the father-daughter dance until reassured by Jonah. However, walking strangely to Adam, she turns back and Jonah intercedes, saying he'd like to have a dance with her first. Adam, Amy, the DJ and Connie protest, but Jonah refuses to let Emma go. The party over, Jonah apologizes to Amy who reveals that Emma confessed to being high. ("Quinceañera")
Trivia
Gallery