"Employee Appreciation Day" is the twenty-second episode of Season Four of Superstore, and the seventy-sixth episode of the show overall.
Summary
Amy and Jonah find themselves on opposing sides as corporate tries to win over employees by showering them with treats. But when the company's tactics grow more extreme, everyone must band together to save one of their own.
Plot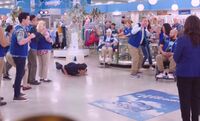 In the store, Amy announces it's "Employee Appreciation Day" with perks for the staff such as free ice cream and massages. Jonah derides Amy's announcement as an attempt to stop staff from submitting union cards. Justine and Marcus wonder if they should be naked for various events. Using a t-shirt cannon, Dina accidentally smashes the holographic Myrtle. After Garrett makes an announcement on the P.A., Amy and Jonah watch the staff get ice cream. Jonah derides the attempts to squash the union while Amy defends her actions, having saved the store from being shut down. As Marcus wonders if he should get a massage, due to the tattoo Cheyenne gave him being infected, Mateo and Sandra look forward to forming a union, citing its benefits. An artist draws a caricature of Brett on a motorbike. (♫ Phil Collins - You Can't Hurry Love ♫)
Concerned that the staff are signing union cards, in the Break Room, Amy and Dina show the staff an anti-union video starring MC Cool Cloud and Ashley. Amy and Jonah argue their positions in front of the staff. In the store, a goat passes by a raccoon. (♫ Divinyls - I Touch Myself ♫) Amy points out that unions aren't always the answer but when Jonah reminds her of the lack of maternity leave, she touts she's never having children again, which makes Jonah wonder about their future. Carol reveals that she knows Sandra is sleeping with Jerry and Cheyenne calls Amy a hypocrite for siding with "the enemy", corporate.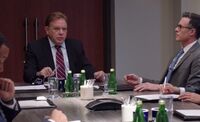 At Cloud 9 Headquarters, CEO Neil asks how the union situation at Store 1217 is going. Receiving a report from Dan, who indicates among other actions that ICE will be doing an on-site enforcement, Jeff excuses himself. Elias drops ice cream in a customer's bag and then throws the whole cone in. (♫ Spin Doctors - Two Princes ♫) As Glenn, Sayid, Cheyenne and Mateo discuss Jerry, Amy gets a Skype from Jeff warning her about ICE's arrival. Running into the store, Amy yells at Mateo to get out of the store. Everyone with Mateo individually knew about his illegal alien status but are surprised to find each other knew. ICE agents enter the store and Mateo and Cheyenne run into the back. Garrett makes a P.A. announcement about ICE while the agents watch.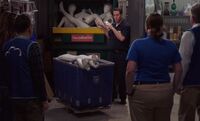 In the Stock Room, Glenn and Dina report that ICE has blocked all the exits. Marcus proposes that Mateo hide in the compactor which Mateo thinks is crazy. Citing that as the reason ICE won't look there, Marcus accidentally activates the compactor which crushes a pile of mannequins. Sayid shows an agent overwhelming proof of his refugee status. In Amy's office, ICE Agent Robson goes through the store's payroll records while Amy watches. Leaving her office, Amy runs into Jonah and says she's done being loyal to corporate. ICE agents wait in line for free ice cream. (♫ Chumbawamba - Tubthumping ♫)
In the Warehouse, Amy gathers a number of staff and asks for ideas to get Mateo out of the store. Sandra and Justine have inane suggestions while Marcus admits he's been living in the store. Dina doesn't think it's possible to have Mateo escape and points out that technically, he is breaking the law. After arguing about the justice of Mateo's status, Glenn points out Jesus was an immigrant from heaven and Marcus wonders if they can get Mateo back into the US if he's deported. Sayid describes what it took to get his refugee status. Finally, Jonah suggests they get the staff to call everyone they know to the store and hope that the crowd will allow Mateo to slip out.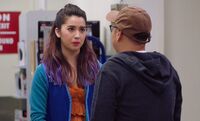 The store is soon packed with people, including Jerry, whose hands Sandra holds. Jealous, Carol tries to get them in trouble by lying to an ICE agent that they're human traffickers. Amy gives direction to Heather and Marcus where to send their friends and is surprised to find Kelly there. Having brought many of her fellow associates from the Fenton store, Amy is concerned that Jonah and Kelly still keep in touch. Bo distracts an agent by asking if he can shoot his gun. Outside the Break Room, Cheyenne regrets how much she's going to miss Mateo and points out to him that even if he escapes ICE, he can't come back to the store. An ICE agent shops. (♫ Elle King - Ex's and Oh's ♫)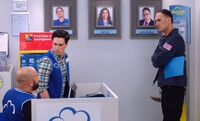 Kelly distracts an agent by telling a beauty pageant story of a contestant who was attacked by a strangler. Having reviewed the payroll records, at customer service, Agent Robson tells Amy, Garrett and Jonah they're looking for Mateo. Lying that they don't know him, Robson notices a picture of Mateo on the wall. Amy leaves while Garrett and Jonah still claim ignorance. Finding Cheyenne and Mateo walking through the store, Amy warns them that ICE knows what Mateo looks like. Trapped, Amy gets a call her walkie from Dina, who is in the Surveillance Office. Using the monitors of the store's cameras, Dina starts to guide them away from the agents. Bo continues to distract the agent by asking if he'd turn in an illegal girlfriend.
Dodging the agents, Mateo is spotted by Robson. Jerry asks Sandra to marry him and she accepts. Dina tries her best to guide Amy, Cheyenne and Mateo away from ICE but there's too many agents. Kelly continues to distract an agent by performing a rap she did in a pageant of the Central American countries and their capitals, in Spanish. Continuing to run from ICE, Mateo is soon surrounded. Amy and Cheyenne propose a last-ditch scheme to distract the agents but Mateo stops them and gives himself up. Outside the store, the staff and customers watch as Mateo is driven away by ICE. (♫ Haux - Homegrown ♫) As Glenn puzzles what to do, Jonah can't think of anything. Amy proposes they start a union.
Cast
Main cast
Featured cast
See also
Also see Season Four minor employees.
Running Gags
References
Trivia
Quotes
"Yes, everybody keep their clothes on. It's ridiculous how often I have to say that."— Amy
Gallery
Video
v

•

e
Superstore Season Four Episodes
  
"Back To School"
October 4, 2018
Directed by: Matt Sohn - Written by: Jonathan Green

On their first day back from suspension, Amy and Jonah steel themselves for a barrage of jokes and snide comments about their sex video, while Jeff goes to extreme lengths to win back Mateo.
  
"Toxic Work Environment"
October 18, 2018
Directed by: Jay Karas - Written by: Aaron Lee

Amy and Jonah get combative to keep their new relationship hidden from their co-workers. Meanwhile, Glenn spirals when he learns Kelly wants to transfer to a new store, and Cheyenne struggles to organize a Cloud 9 carpool.
  
"Costume Competition"
October 25, 2018
Directed by: Todd Biermann - Written by: Justin Shanes

When an employee costume competition is announced, Amy and Mateo aren't afraid to play dirty to win first prize, a paid day off. Meanwhile, Glenn is preoccupied by Cloud 9's new automatic cart collector, and Garrett is tormented by an annoying Halloween novelty song.
  
"Delivery Day"
November 1, 2018
Directed by: Daniella Eisman - Written by: Gabe Miller

Amy and Dina are both in labor! But while Glenn's manager status gets Dina the royal treatment at a fancy hospital, Amy and Jonah have a far different experience at a cheaper clinic. At the store, Garrett struggles to express his best wishes for the new parents.
  
"Maternity Leave"
November 8, 2018
Directed by: Jackie Clarke - Written by: Jackie Clarke

Amy faces a nightmare day at work when she learns she doesn't have maternity leave, made worse by Cheyenne and Mateo campaign to change her baby's name. Meanwhile, Jonah and Garrett take on hiring the new seasonal help.
  
"New Initiative"
November 15, 2018
Directed by: Ken Whittingham - Written by: Ben Dougan

When a new Cloud 9 initiative forces employees to be friendlier to their customers, Amy ends up getting to know Jonah's parents, and learns he hasn't been completely truthful with them. The new policy also inspires Garrett and Dina to find out who can hold a smile longer.
  
"Managers' Conference"
December 6, 2018
Directed by: Phil Traill - Written by: Brian Gatewood & Alessandro Tanaka

Jonah and Amy take Glenn's tickets to a managers' conference in Chicago so they can enjoy a free night on the town, but their plan hits a few bumps. At the store, Cheyenne helps Mateo damage control after his undocumented status is leaked, and Dina and Garrett struggle at gift-wrapping.
  
"Shadowing Glenn"
December 13, 2018
Directed by: Geeta V. Patel - Written by: Matt Lawton

Glenn drives Amy crazy with a new, over the top training system. Cheyenne and Mateo brainstorm a new business, while Dina recruits Jonah to help her when she starts second-guessing her own future.
  
"Steps Challenge"
March 14, 2019
Directed by: Todd Biermann - Written by: Bridget Kyle and Vicky Luu

Corporate introduces a friendly step-tracking challenge between Cloud 9 branches, and Amy, Jonah, and Dina create a fake rivalry to inspire Store #1217's laziest employees. But healthy competition gets increasingly chaotic when the fake rivalry becomes real.
  
"Blizzard"
March 21, 2019
Directed by: Amy York Rubin - Written by: Dayo Adesokan

With a massive snowstorm beating down on St. Louis and an unsympathetic home office, the Cloud 9 employees and customers get snowed in, leading to escalating tensions and in-fighting.
  
"Lovebirds"
March 28, 2019
Directed by: Mark McKinney - Written by: Aaron Lee

Jonah and Amy's first Valentine's Day together gets derailed when Dina brings her birds to work, which also causes trouble for Garrett. Meanwhile, Cheyenne offers to give Marcus a sentimental tattoo, and Glenn makes videos for his daughter to watch while he's at work.
  
"Minor Crimes"
April 4, 2019
Directed by: Ross Novie - Written by: L.E. Correia

Amy jumps at an amazing career opportunity, only to run up against an exec with a major grudge against her. Jonah and Mateo help Glenn with a financial problem, while Garrett and Cheyenne struggle to spend a day without cell phones.
  
"Salary"
April 11, 2019
Directed by: James Renfroe - Written by: Ben Dougan & Matt Lawton

Amy finds herself at odds with her coworkers when some salary numbers get leaked, while Dina worries that Jonah is coming between her and Amy. Mateo tries to give himself a promotion, and Garrett attempts to sabotage Glenn's positive attitude.
  
"Quinceañera"
April 25, 2019
Directed by: Rebecca Asher - Written by: Justin Shanes

Jonah struggles to find his place at Amy's daughter Emma's quinceañera. Dina proves very popular with some teenage boys. Cheyenne and Mateo are obsessed with seeing Amy cry.
  
"Cloud Green"
May 2, 2019
Directed by: Heather Jack - Written by: Jonathan Green & Gabe Miller

Despite Dina's protests, Amy lets Glenn's pastor host an Earth Day booth at the store, but things quickly unravel when Glenn won't recognize Amy's authority. Jonah spearheads Cloud 9's green initiative, but is met with apathy from his coworkers.
  
"Scanners"
May 9, 2019
Directed by: Victor Nelli Jr. - Written by: Dayo Adesokan & L.E. Correia

Dina agrees to play the bad guy when corporate forces Amy to cut everyone's hours. Meanwhile, Jonah and the other employees play an elaborate game of laser tag with the store's new scanners, and Mateo makes a startling discovery about Marcus.
  
"CLOUD9FAIL"
May 9, 2019
Directed by: Betsy Thomas - Written by: John Kazlauskas & Josh Malmuth

When a photo of a mess at store 1217 goes viral, Amy and Jonah try to use it to their advantage, while Dina starts hunting for the anonymous tweeter. And with money tight now that their hours have been cut back, Mateo, Cheyenne, Garrett, and Glenn sell their personal items in the store.
  
"Sandra's Fight"
May 16, 2019
Directed by: America Ferrera - Written by: Sean Lee & Jen Vierck

Amy and Dina visit Cloud 9 corporate to fix problems caused by Sandra's misguided activism, while Jonah tries to sabotage an employee meeting and Garrett tries to prove to his co-workers that he's a good person.
  
"Employee Appreciation Day"
May 16, 2019
Directed by: Jeffrey Blitz - Written by: Justin Spitzer

Amy and Jonah find themselves on opposing sides as corporate tries to win over employees by showering them with treats. But when the company's tactics grow more extreme, everyone must band together to save one of their own.