This is cool. I'm so glad we're doing this.

Erick Evans is a video game voice artist who's worked on games such as Barbarians Gate 1, 2 and 3, Eagle Battalion, SWAT Team 5, Alpha Strike, Fire & Fury and Cannibal Gods. He's very easy going and is one of Garrett's idols. He is portrayed by actor Phil LaMarr.
Character History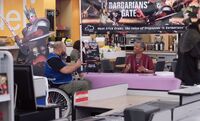 Garrett, an avid gamer, meets Erick Evans who does voices on many video games. He's uncharacteristically nervous around Erick and is too strong in his admiration for him. Garrett sees Mateo talking to Erick and wants to know everything they said. Mateo repeats their small talk in a mocking manner. Garrett gets a coffee for Erick and tells personal details about him which results in an awkward silence. At the Pharmacy, Garrett butters up Mateo and asks for help becoming friends with Erick. In the Break Room, Mateo has arranged for he and Garrett to have a beer with Erick. Erick says the situation is cool but Garrett breaks down and rants that it's not cool as he isn't comfortable with his own hero-worshiping of Erick. He insults Erick and leaves. ("Video Game Release")
Community content is available under
CC-BY-SA
unless otherwise noted.