Life is fine at Cloud 9! Life is great, hello sir! Work starts at eight.

Eugene is an employee at Cloud 9 Store 1217. He is overly cheerful and obedient but is a toad. He is promoted quickly and becomes store manager Glenn's assistant. He is portrayed by actor Dave Ferguson.
Character History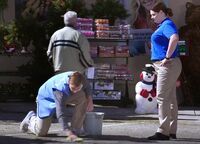 Eugene is first seen as a temporary seasonal worker. The sales associates have a betting pool to see which temp will quit and are actively pushing their picks over the edge. Dina picks Eugene and tasks him to "clean the floor" with a sponge, but it is actually the parking lot. After initial surprise, Eugene tackles the task. Dina walks away in disbelief. Later, Eugene can be seen still scrubbing the lot. ("Seasonal Help") He is next seen re-stocking many rebranded, discounted items that Cheyenne had hidden away, much to her distress. He worked very hard and stayed 2 hours past his shift to gather all the items. Cheyenne tries to talk him out restocking them but he cheerfully tackles the task much to her chagrin. ("Rebranding")
Eugene then becomes Glenn's assistant after Glenn and Jonah have a falling out. He is seen doing menial tasks such as sharpening pencils and answering Glenn's phone. After he answers a call from district manager Jeff and puts it on speaker phone, he learns that 10% of the staff have to be let go. He asks Glenn if he should tell everyone the news. ("Spring Cleaning") Eugene attends the meeting where Glenn asks the employees to decide who should be laid off. He reminds Glenn that he has 3 minutes to call Jeff with his decision on who will be let go. He's among the group who ride out the tornado in the Stock Room with Glenn and survives. ("Tornado")
Community content is available under
CC-BY-SA
unless otherwise noted.