"Groundhog Day" is the twelfth episode of Season Three of Superstore, and the forty-fourth episode of the show overall.
Summary
Still fresh from her divorce, Amy doesn't feel ready to start dating again. But when Mateo tries to set her up with his loser cousin, she gets determined to show everyone she can do better and breaks some hearts in the process. Dina takes advantage of her pregnancy to scam Glenn into accommodating her every whim.
Plot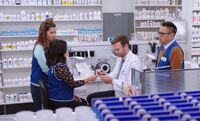 The store has a live groundhog on display which Amy finds delightful. She talks to the animal's handler Devon while Mateo and Cheyenne look on. When Devon finds out Amy is divorced, he asks her out but Amy is so shocked she stammers and then accidentally puts her hand in the groundhog cage. The groundhog bites her and the cage is knocked over. Heather puts a "cancelled" notice on the "Greet Gary the Groundhog" sign. At the Pharmacy, Tate treats Amy's groundhog bite while Cheyenne gives Amy kudos for Devon flirting with her. Tate makes derogatory comments on Amy getting back into dating and Mateo offers to set Amy up with one of his five single cousins. Amy declines as she is focusing on herself and mentions some of her activities which leads Tate to conclude she is boring.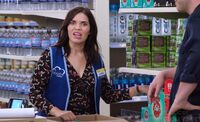 Glenn shows a picture of the embryo implanted in Dina to Jonah and Garrett which Garrett thinks looks like Elias. When Glenn sees Dina is working (against doctor's orders), he brings her to the garden center and makes her relax in a lounging chair over her protests. Hearing that Amy is back on the market, Marcus invites Amy to his apartment which she refuses under the pretence that she won't date anyone from work. Marcus offers to quit. Since Dina is relaxing, Glenn asks for a volunteer to be assistant manager for the day. Garrett takes the job when he finds out he can hook up an Xbox in the Surveillance Office and Jonah offers to take over announcements. Dina forces herself to relax. Mateo pretends that his awkward cousin Castor wants to speak to Amy as a customer but Amy quickly gathers that it is a setup and leaves.
In the Break Room, Amy objects to Mateo trying to set her up with Castor and suggests his more attractive cousin Rogelio is in her league and asks for Cheyenne's confirmation which she doesn't give. Jonah tries to announce like Garrett but feels he needs a co-host to riff off of which Kelly is happy to try. In the Surveillance Office, Garrett is playing video games and allows Sandra to leave work without considering the consequences. Mateo tells Amy that she's not a "10" due to her age, being divorced and having a child. Carol opines that Amy is out of practice sexually while Amy derides the attractiveness rating system. As Cheyenne and Mateo rate various employees including Tate as a "10" and Justine as a "3", Amy is aghast when Mateo says that Amy rates just a little higher than Justine.
Kelly and Jonah banter about tomatoes being on sale. Glenn is happy that Dina is relaxing but when he suggests Dina can do light work, she asks for more rest and for him to get her a complicated snack. Amy helps a handsome customer named William with a suit and hypothetically asks him if he'd date her and what rating she'd be. He's married and believes he's being asked out for real, gets uncomfortable and leaves. Soft lines is a mess which Garrett realizes is because he let Sandra leave. Glenn tells him to take care of it. Amy approaches Jonah to ask what rating he thinks she is but leaves when she realizes he and Kelly are happily doing announcements together. A bearded man tries to take a selfie while sticking his head through a groundhog photo cut out. (♫ Vicky Sue Robinson - Turn the Beat Around ♫)
In disgust, Amy listens to Kelly and Jonah sing an announcement. She commiserates with Tate who dismisses the opinions of Amy's low rating as coming from idiots and tells her to hold out for someone good. Amy recognizes Tate is buttering her up but she can't resist when he invites her to a bar. Next, they're both seen making out and drinking heavily at the bar. (♫ SZA - Love Galore ♫) Early the next day, Glenn enters the store to find Dina asleep on a couch in a costume. He's glad she's rested but when he tells her it's going to be a busy day and to get up, she fakes having pregnancy symptoms so Glenn tells her to rest. As Amy enters the store, Tate approaches her enthusiastically which Amy does not reciprocate. He's very happy about their night together while Amy wants to keep it a secret. Over his protests, Glenn tells Garrett he is once again acting assistant manager and that Jonah and Kelly will do announcements.
Glenn runs off to take care of Dina's birds. Mateo tries to set Amy up with another cousin and when Amy passes, Cheyenne says she needs to start dating again. Amy reveals she hooked up the night before which prompts them to guess who which includes Brett, Elias, Marcus, Cody and Mary before she reveals it was Tate. Since they rated Tate a "10" she says they should "do the math" on her rating. Sandra joins Jonah and Kelly on the announcements which has now turned into a talk show. A man takes a bottle of gluten free SuperCloud Spring bottled water. (♫ Freak Nasty - Da' Dip ♫) Tate approaches Amy at electronics and asks her out again. Amy says no and admits that she went out with Tate because she was feeling down and that going out with a "10" would improve things.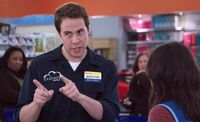 Tate is indignant and loudly expresses that he feels used. Staff and customers hear the exchange, gather 'round and Marcus confronts Amy. Marcus says he has "dibs" on Amy (see Ladies' Lunch) and believes that Amy has to have a one-nighter with him since Tate had one. Amy says she doesn't want to date anyone which William contradicts. This makes Amy look promiscuous which angers Mateo since she turned down dating his cousins. Marcus proposes a dating schedule while Cheyenne brings Jonah up to speed on the confrontations. Jonah expresses his surprise to Amy while Tate compares himself to a human vibrator. Glenn gives Dina a foot massage which makes him uncomfortable. Garrett is taking his manager duties seriously and snaps at Sandra. He gives her the job and she smiles. Jonah is shaken by the news of Amy sleeping with Tate and can't get into doing an announcement impersonating Al Pacino that Kelly sets up for him. However, her bad impressions make him laugh and forgetting about Amy, he launches into his own bad impressions.
Cast
Main cast
Featured cast
See also
Also see Season Three minor employees.
Running Gags
Amy's name tag: Amy wears a different name tag in every episode. For this one she wear two name tags, "Lynda" then "Charlotte".
Crazy Customers and music: For all customer interludes and music see Groundhog Day (music).
Glenn's tie: Large cartoon clouds and then many clouds.
Shut up Sandra!: Flustered as acting assistant manager, Garrett delivers Dina's line to Sandra.
References
Trivia
The Pharmacy, Surveillance Office, Stratus and Coffee & Bakery make an appearance.
Goof: Glenn arrives at work in the cartoon clouds tie and finds that Dina has slept over night in the store. He's then in a rush to leave and take care of Dina's birds but is now wearing the many clouds tie.
Quotes
"I guess sometimes Kermit goes home with Beaker."— Marcus
"Oh, so you're just tossing that cat around but Nestor can't get a turn?"— Mateo
Gallery
v

•

e
Superstore Season Three Episodes
  
"Part-Time Hires"
October 12, 2017
Directed by: Todd Biermann - Written by: Josh Malmuth

Emma gets a job at the store and Amy asks Jonah for parenting advise. Garrett and Dina argue over who broke up with whom, a cute construction worker flirts with Mateo, Cheyenne and Carol for store perks; Kelly has a rough first day. (Viewers: 4.33 million)
  
"Workplace Bullying"
October 19, 2017
Directed by: Tristram Shapeero - Written by: Bridget Kyle and Vicky Luu

After an attempted robbery, tensions arise between Dina and Jonah. Glenn has a tough time firing a store security guard and Amy discovers her coworkers have been hanging out without her. (Viewers: 4.20 million)
  
"Sal's Dead"
October 26, 2017
Directed by: Geeta V. Patel - Written by: Gabe Miller

A dead body is discovered in the store on Halloween, throwing Glenn and Dina into a panic and confusing the shoppers. Amy and Garrett get into big trouble using a dating app on Jonah's phone, Mateo is transformed in more ways than one by Cheyenne. (Viewers: 4.61 million)
  
"Health Fund"
November 2, 2017
Directed by: Victor Nelli, Jr - Written by: Jackie Clarke

As Mateo turns to stranger and stranger home remedies for an ear infection, Amy and Jonah decide to offer an alternative to Cloud 9's terrible health insurance plan. Glenn enlists Dina to help him get medical attention for his own embarrassing condition. (Viewers: 3.54 million)
  
"Christmas Eve"
December 5, 2017
Directed by: Todd Biermann - Written by: Eric Ledgin

Trying to prove how wild she can be, Amy turns a boring Christmas Eve at the store into a holiday adventure. Jonah and Garrett's roommate issues boil over and Glenn tries to prove to Mateo that Christmas is more than just fine. (Viewers: 4.41 million)
  
"Viral Video"
January 4, 2018
Directed by: Ken Whittingham - Written by: Jonathan Green

After an employee posts a controversial video online, Dina enlists Cheyenne to help police the rest of the staff's social media accounts. Amy learns something about Jonah that drives her to desperately pursue Instagram views, and Glenn suspects Mateo of rewards card fraud. (Viewers: 3.90 million)
  
"Golden Globes Party"
January 11, 2018
Directed by: Victor Nelli, Jr - Written by: Vanessa Ramos

When Amy throws a party to prove how great she's doing post-divorce, she's forced to enlist Dina and Jonah's help, and Dina ends up making the ultimate sacrifice. Glenn and his wife Jerusha are forced to conduct some personal business at Amy's home. (Viewers: 3.85 million)
  
"High Volume Store"
January 18, 2018
Directed by: Jay Hunter - Written by: Owen Ellickson

When Jeff announces that the store could be getting an upgrade, Amy, Jonah and Dina set out to discover the pros and cons. Cheyenne accidentally volunteers to be a surrogate mother for Glenn's baby and tries to get out of it. (Viewers: 3.71 million)
  
"Angels and Mermaids"
January 25, 2018
Directed by: Michael Spiller - Written by: Justin Shanes

Amy finds herself caught in the middle of a conflict between Cheyenne and her ex-convict mom, Brandi. A personal agreement between Glenn and Dina gets heated when Glenn brings in a lawyer. When Jonah finds out that Kelly believes in angels, Garrett's perfect weekend plans of having the apartment to himself are threatened. (Viewers: 4.22 million)
  
"Groundhog Day"
February 1, 2018
Directed by: Jaffar Mahmood - Written by: Sierra Teller Ornelas

Still fresh from her divorce, Amy doesn't feel ready to start dating again. But when Mateo tries to set her up with his loser cousin, she gets determined to show everyone she can do better and breaks some hearts in the process. Dina takes advantage of her pregnancy to scam Glenn into accommodating her every whim. (Viewers: 3.46 million)
  
"Video Game Release"
March 1, 2018
Directed by: America Ferrera - Written by: Jackie Clarke

When gamers invade the store for the release of a hot new video game, Jonah tries to help Amy secure herself a copy of the game, which takes them on an unexpected adventure. Mateo helps Garrett make a good impression on one of his heroes. Glenn and Sandra try to stand up for themselves with customers and end up instigating a breastfeeding "nurse-in." (Viewers: 3.38 million)
  
"Safety Training"
March 8, 2018
Directed by: Rebecca Asher - Written by: Bridget Kyle and Vicky Luu

When Mateo gets injured, Jonah tries to help him avoid Cloud 9 compensation for fear of his immigration status being revealed. Meanwhile, Amy attempts to convince everyone that she likes Kelly. (Viewers: 3.37 million)
  
"Amnesty"
March 15, 2018
Directed by: Keith Powell - Written by: Eric Ledgin

Glenn and Dina offer amnesty to all the employees for any bad things they confess so Garrett and Cheyenne try to decide how to take advantage of it. Meanwhile, Jonah and Amy try to defuse an awkward situation that has the whole store gossiping. (Viewers: 3.93 million)
  
"Target"
March 22, 2018
Directed by: Daniella Eisman - Written by: Jonathan Green and Gabe Miller

When Jeff leaves Cloud 9 to work at Target, Garrett leads Glenn to believe that he's poaching other employees to go with him. In return Glenn tries to poach employees from Target. Amy goes on a double date with Dina and, Kelly and Jonah discuss moving in together. (Viewers: 3.85 million)
  
"District Manager"
March 29, 2018
Directed by: Alex Reid - Written by: John Kazlauskas

Laurie, the new district manager, visits the store and decides to make some cuts to save money by firing Myrtle. Amy and Jonah plead with her to not fire anyone and search for other ways to make up the money. Mateo struggles to prove his skills on the cash register. (Viewers: 2.94 million)
  
"Local Vendors Day"
April 5, 2018
Directed by: Geeta V. Patel - Written by: Josh Malmuth

When local small businesses set up shop inside Cloud 9, Glenn tries to help his wife Jerusha sell her handmade needlepoint, despite Jonah's concerns that he's pressuring his employees. Meanwhile, Amy doesn't feel Latina enough when a guy flirts with her in Spanish, and Garrett tries to uncover the truth behind a beer vendor's product. (Viewers: 3.17 million)
  
"Lottery"
April 12, 2018
Directed by: Ben Feldman - Written by: Vanessa Ramos

As lottery mania sweeps the store, Dina incentivizes the employees to sell as many tickets as possible. Jonah helps Amy track down the new district manager to lobby for a raise. (Viewers: 3.08 million)
  
"Gender Reveal"
April 19, 2018
Directed by: Tristram Shapeero - Written by: Lauren Ash

The store hosts a gender reveal party for Glenn and his wife Jerusha, just as Dina is freaking out at the realities of having to deliver a baby. Amy receives some unsettling news. (Viewers: 2.76 million)
  
"Aftermath"
April 26, 2018
Directed by: Ryan Case - Written by: Justin Shanes and Owen Ellickson

Amy and Jonah deal with the consequences of their kiss. Glenn and Dina enlist Garrett's help to win the store a visit from Cloud 9's CEO. (Viewers: 2.85 million)
  
"Town Hall"
May 3, 2018
Directed by: Matt Sohn - Written by: Justin Spitzer

As the store prepares to host a company-wide Town Hall meeting, Amy and Jonah are forced to put their conflicts aside and rally their co-workers to confront the CEO. Glenn struggles with the pressure of speaking to a global audience. (Viewers: 2.97 million)