"Halloween Theft" is the seventh episode of Season Two of Superstore, and the eighteenth episode of the show overall.
Plot
At the store front, Dina instructs the staff to be extra vigilant and it isn't apparent why until Glenn stands beside her in a hot dog costume – it's Halloween. All the staff are in costume except for Dina who they make fun of and call a "Booge" (Boo + Scrooge). Dina doesn't care until she sees that Sandra is dressed like her right down to the name tag. Everyone's delighted and when Sandra offers to stand next to Dina all day, Dina grabs a costume. She returns to continue her speech in a sexy policewoman outfit that reveals a lot, including her large breasts. The staff cannot stop staring at her and barely respond when she asks if anyone is listening to her. Halloween signs and decorations around the store are shown. (♫ Louis Edwards and Henry Parsley – Halloween Funk ♫)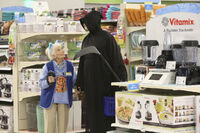 Back at work, Jonah and Garrett are talking about Dina's costume, trying not to mention the obvious when Amy comments on Dina's breasts and how hot she looks. Garrett says you have to factor in Dina's personality but he still seems drawn to her. Mateo is ordering lunch from Taylor when he is surprised by Jeff Sutin who is in town because of a stabbing in another Cloud 9 store. He asks Mateo on a date. Myrtle cozies up to a man dressed as the Grim Reaper. (♫ Anita Baker – Caught Up in the Rapture ♫) Amy, Jonah and Glenn are handing out candy to kids when Dina interrupts and gives a wildly excessive warning to the parents about their kids accepting candy from strangers. Jonah and Amy distract her by lying that they saw "sketchy types" heading for the Warehouse.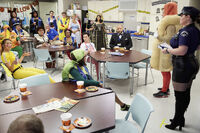 In the Warehouse, Dina finds the storage cage unlocked and asks Janet who did it. Janet just shrugs. Jonah is assigned to the jewelry counter with Cheyenne and they start to bond by gossiping about staff members. Dina marches to customer services where Garrett is giving an announcement. Seeing her, he becomes distracted. Dina grabs the mic and tells the staff they can't leave the store due to a theft. Her breasts are at Garrett's eye level and she comments that he looks sick. All staff are gathered in the Break Room where Dina announces that the irregular produce has been stolen and no staff may leave until she's found the culprit. She intends to interrogate everyone. Soda cans are stacked to look like a pumpkin. (♫ John Carpenter – Halloween Theme ♫)
In succession, Dina questions Amy, Glenn (who can't sit down in his hot dog costume despite numerous attempts), Mateo (who is sweating because of his secret relationship with Jeff), Sandra (who Dina says doesn't have the courage or smarts to steal), Jonah (who questions himself), Cheyenne (who makes an inane comment) and Brett (who is dressed as a robber prompting Dina to say she doesn't trust him). (♫ Gnarls Barkley – Gone Daddy Gone ♫) The staff sans Dina meet in the Warehouse and Amy tries to get the thief to confess so they can all go home. To ease things, she recalls how she shoplifted as a kid which prompts others to reveal secrets. However, no one confesses to the theft. A man with a painted face rubs a towel against his cheek. (♫ Gary Wright – Dream Weaver ♫)
Garrett asks Jonah to cover for him as he can't be around Dina anymore. He's torn between her hot outfit and her abrasive personality. Amy tells Mateo and Glenn that the Chesterfield Store hasn't thrown out their irregular produce so they can collect it and pass it off as being misplaced in their store. They arrive at Chesterfield and Glenn is immediately critical of the store and wanders off while Amy and Mateo go to produce. Dina corners Garrett in the men's bathroom and asks why he's been avoiding her and acting weird. Amy and Mateo collect irregular produce while Glenn runs into the store manager Bobby. Glenn watches Bobby interact cheerfully with his assistant manager Kelly and is amazed, then jealous. Cheyenne tells Jonah that the staff thinks he has a crush on Amy which he tries to deny.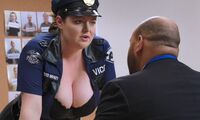 While driving back to the store, Amy gets a call from her daughter Emma. Emma wants to go to a friend's house instead of trick or treating with her Mom. Dina interrogates Garrett and leans over the table so that her cleavage is right in his line of sight. Garrett breaks down and admits to stealing the fruit (even though he didn't) so he can leave. Amy meets Jonah in the Break Room and is depressed that Emma isn't going trick or treating. Behind Amy's back, Elias is making suggestive hand gestures at Jonah. Glenn interrupts Dina and Garrett with the fruit. Dina is suspicious and since Garrett admitted to stealing it, she says no one is leaving until she finds out the truth. Glenn over-rides her and says the investigation is over. A man in a Kyle costume shops. (♫ Kool and the Gang – Get Down On It ♫) At the loading dock, Mateo meets Jeff in his car for their date. As they pull away, Cheyenne sees them leave. Amy, Dina and Garrett agree to go with Jonah to see "Nosferatu".
Cast
Main cast
Featured cast
See also
Also see Season Two minor employees.
Running Gags
Amy's name tag: Amy wears no name tag in this episode.
Crazy Customers and music: For all customer interludes and music see Halloween Theft (music).
Glenn's tie: Glenn doesn't wear a tie, instead he's in a hot dog costume.
Shut up Sandra!: Sandra beats Dina to the punch line as she is dressed up as Dina for Halloween. Mateo thinks this is cool which prompts Dina to put on a very revealing costume.
References
Trivia
Amy and Jonah did not wear name tags during this episode.
The Warehouse makes an appearance.
The cauldron BBQ that Myrtle was supposed to light in "Olympics" can be seen in the Warehouse behind a pallet as Dina confronts Janet.
Goof: After Glenn gets angry at Dina for ruining his candy game with some children, Glenn turns to Amy for help. Amy is holding a sucker in her left hand and a bowl of candy in her right. The camera quick cuts to Dina for no more than a second and when it cuts back to Amy, she is holding the sucker and candy bowl in opposite hands.
Quotes
"I'm having the weirdest day."— Garrett
Gallery
v

•

e
Superstore Season Two Episodes
  
"Olympics"
August 19, 2016
Directed by: Ruben Fleischer - Written by: Jonathan Green

Amy gets the opportunity to meet her childhood idol; Glenn struggles to balance his excessive patriotism; Jonah discovers a secret about Mateo's past; Dina works to create a memorable closing ceremony. (Viewers: 9.67 million)
  
"Strike"
September 22, 2016
Directed by: Victor Nelli, Jr - Written by: Jackie Clarke

A full-fledged strike ensues when a group of Cloud 9 employees walk off the job to protest the firing of Glenn. Jonah tries to help Amy negotiate with corporate; Garrett meets a gorgeous woman on the picket line. (Viewers: 5.45 million)
  
"Back to Work"
September 29, 2016
Directed by: Michael McDonald - Written by: Eric Ledgin

A workplace accident threatens Amy's plan to impress the district manager; Glenn tries to come off as a strict boss; Jonah tries to help Dina win over the co-workers she betrayed in the strike. (Viewers: 4.39 million)
  
"Guns, Pills, and Birds"
October 6, 2016
Directed by: Matt Sohn - Written by: Matt Hubbard

Jonah is assigned to the gun section of the store and refuses to sell to anyone he deems suspicious. Glenn tries to buy the store's entire stock of morning-after pills. (Viewers: 5.18 million)
  
"Spokesman Scandal"
October 13, 2016
Directed by: Ken Whittingham - Written by: Gabe Miller

When the company's spokesperson is accused of a crime, Glenn begins to worry he should know more about his employees; Amy and Jonah challenge each other to a series of dares; Cheyenne annoys Garrett and Sandra with her baby talk. (Viewers: 4.39 million)
  
"Dog Adoption Day"
October 20, 2016
Directed by: Betsy Thomas - Written by: Josh Malmuth

Cheyenne and Bo fight, prompting Amy and Glenn to give them advice in very different forms; Mateo and Jonah oversee dog adoption at the store; Garrett taunts Dina when she refuses to adjust his time card. (Viewers: 4.18 million)
  
"Halloween Theft"
October 27, 2016
Directed by: Alisa Statman - Written by: Karey Dornetto

After an apparent theft, Dina launches a store-wide investigation interrupting everyone's Halloween plans; Jonah and Cheyenne attempt to bond; Garrett tries to defend himself in Dina's theft probe. (Viewers: 4.21 million)
  
"Seasonal Help"
November 10, 2016
Directed by: Geeta V. Patel - Written by: Jackie Clarke

Glenn hires Amy's husband, Adam for extra help during the holidays; Jonah and Garrett grow frustrated with the seasonal temps; Glenn looks for the perfect store Santa. (Viewers: 5.19 million)
  
"Black Friday"
November 10, 2016
Directed by: Victor Nelli, Jr - Written by: Eric Ledgin

The staff comes down with food poisoning; Jonah documents the day with home video; Glenn's disposition changes; Mateo and Cheyenne discover a lucrative Black Friday side business. (Viewers: 3.79 million)
  
"Lost and Found"
January 5, 2017
Directed by: Jay Chandrasekhar - Written by: Sierra Teller Ornelas

Amy walks away with a huge wad of cash from the lost and found bin and is pressured to spend the money various ways; Dina and Garrett deal with their fling; Glenn tries to stave off staff depression. (Viewers: 4.43 million)
  
"Rebranding"
January 12, 2017
Directed by: Bill Purple - Written by: Matt Hubbard

VP Rex brings a rebranding and is part of Jonah's past, Dina hunts a snitch, Cheyenne hides discounted products. (Viewers: 4.33 million)
  
"Ladies' Lunch"
February 2, 2017
Directed by: Todd Biermann - Written by: Vanessa Ramos

Glenn accidentally tells the employees the real reason Amy has been late to work lately. Meanwhile, Dina tries to cheer up Amy by kidnapping her for a "ladies' lunch". Jonah and Garrett invent a game to pass the time, tricking Glenn and Mateo in the process. Cheyenne helps Amy take a fearless step with a dramatic new look. (Viewers: 3.99 million)
  
"Valentine's Day"
February 9, 2017
Directed by: Tristram Shapeero - Written by: John Kazlauskas

A well-intentioned Amy and Glenn get caught up in the Valentine's Day spirit, quickly learning what happens when you try and force love. Meanwhile, Jonah goes undercover to try and catch a serial shoplifter and ends up getting closer to her than Dina would like; Mateo begins to unravel as Sandra's relationship with Jeff takes a new turn. (Viewers: 3.54 million)
  
"Super Hot Store"
February 16, 2017
Directed by: Michael Spiller - Written by: Joe Barrasas

A store-wide heater malfunction magnifies angry tensions between Amy, Jonah and the Warehouse employees after both sides refuse to clean up a spill; Dina and Garrett get close. (Viewers: 3.67 million)
  
"Wellness Fair"
February 23, 2017
Directed by: Alex Reid - Written by: Owen Ellickson

Amy sees Mateo out on a secret date with Jeff; Glenn resents Jonah for outshining him on the store's Wellness Fair; Dina tries to prove Amy faked being sick; many relationship secrets are revealed. (Viewers: 3.51 million)
  
"Integrity Award"
March 16, 2017
Directed by: Linda Mendoza - Written by: Gabe Miller

Jonah accompanies Amy on a trip to help her mom and dad move out of her childhood home. Glenn desperately wants to win the new Cloud 9 Integrity Award but starts to worry that Garrett has a better chance of winning. Dina tries to take advantage of Mateo's relationship with Jeff to fix problems in the store and Cheyenne gets caught up in Glenn's self-serving campaign. (Viewers: 4.17 million)
  
"Mateo's Last Day"
March 23, 2017
Directed by: America Ferrera - Written by: Jonathan Green

When Mateo faces complications with his transfer to a Cloud 9 Signature store, he becomes desperate to resolve his undocumented status. Amy helps Glenn battle an Internet troll, Jonah and Cheyenne try to give Mateo legal counsel, and Dina and Garrett take issue with corporate over their relationship. (Viewers: 4.15 million)
  
"Glenn's Kids"
April 6, 2017
Directed by: Ruben Fleischer - Written by: Sierra Teller Ornelas

Glenn invites all of his kids to the store causing disorder among the employees. Jonah develops a romantic interest in Glenn's 25-year-old daughter, and Amy gets caught in the middle. Garrett, Dina and Cheyenne struggle to keep track of one of the toddlers and Mateo tricks the kids into working for him as he grapples with life after Jeff. (Viewers: 3.08 million)
  
"Spring Cleaning"
April 20, 2017
Directed by: Geeta V. Patel - Written by: Josh Malmuth

Amy and Garrett embark on an investigation as they sift through abandoned photos during the store's spring cleaning. Jonah goes out of his way to befriend Glenn in hopes of gaining his approval in dating his daughter. Cheyenne's fiancé Bo starts working at the store for some fast cash, taking advantage of Dina and Mateo's store knowledge. (Viewers: 3.15 million)
  
"Cheyenne's Wedding"
April 27, 2017
Directed by: Michael Weaver - Written by: Vanessa Ramos, Bridget Kyle, Vicky Luu

It's Cheyenne and Bo's dream wedding, but not everything goes according to plan. Relationships unravel as Amy and Jonah confront their feelings. Glenn tries to change Jeff's mind after learning of upcoming layoffs, Dina talks her way into the wedding party and Mateo dodges Jeff throughout the wedding. (Viewers: 2.77 million)
  
"Tornado"
May 4, 2017
Directed by: Matt Sohn - Written by: Justin Spitzer

Everyone in the store is on edge as Glenn tries to figure out which employees to lay off. Jonah struggles with the fallout of an admission he made to Amy, Garrett and Dina spar, and Mateo forms alliances to keep his job. A tornado warning goes into effect at the worst possible time, forcing the staff into uncomfortable groups. (Viewers: 2.91 million)
Community content is available under
CC-BY-SA
unless otherwise noted.