I was smoking something I did not know was meth.

Hank Sivieri is a visitor to Cloud 9 Store 1217. He is a soldier who is involved with Samantha. He is portrayed by actor Corey Craig.
Character History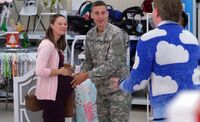 As Glenn tries to convince Mateo that Christmas is more than just "fine", he spots a soldier kissing a pregnant woman. He drags Mateo over to them hoping to demonstrate what Christmas is all about. The soldier, Hank, apologies for the public display of affection which Glenn says is OK as the memories will help Hank get through his next tour. The pregnant woman, Samantha, says there'll be no next tour and forces Hank to explain why. Hank admits that he accidentally smoked meth and shot a service animal. Glenn tries to save the situation by mentioning that they must be happy about the impending birth of their child but Hank points out that he doesn't believe the child is his but is his brother's. Mateo drags Glenn away as Hank and Samantha argue about a "delayed fetus". ("Christmas Eve")
Community content is available under
CC-BY-SA
unless otherwise noted.