Find yourself a vest and a name tag and go help Leonard in produce.

Howie Mandel is a visitor to Cloud 9 Store 1217 in St. Louis, Missouri. He is hired for an appearance during the store's grand re-opening. He is portrayed by actor Howie Mandel.
Character History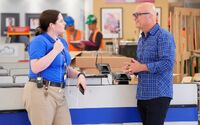 Dina is on the phone when Howie Mandel walks into the store. She doesn't know who he is and thinks he's a new hire. She won't listen to his protests and assigns him to work in produce. Later, Howie is eating carrots when Dina comes to apologize for not knowing who he is. He's OK with it until she orders him to straighten up the registers. At the opening, Glenn makes a short, nervous speech so Jeff goes to cut the ribbon and let customers in the store. To stall, Glenn asks Howie to perform but he indicates he's only been paid to appear. Glenn asks if Howie can perform other comedians' material and he says no. Glenn asks if he can do material and Howie says "I guess so" but Glenn doesn't know any material. ("Grand Re-Opening")
Community content is available under
CC-BY-SA
unless otherwise noted.