20 bucks on Isaac the Ginger Giant.

Isaac is an employee at Cloud 9 Store 1217. He was a temporary seasonal worker who became an associate. He is easily agitated and excitable. He is portrayed by actor Steve Agee.
Character History
Isaac is first seen in the Break Room as manager Glenn welcomes all the temporary seasonal workers to the store. Jonah and Garrett devise a betting pool to see which temp worker will quit first. Jonah chooses Isaac as he finds him on the floor, cursing and struggling to put panties on a mannequin. Isaac expresses his frustration and says he is close to quitting. Jonah then actively starts to try and make him quit. When a tower of Christmas tins Isaac is stacking collapses, he does quit and Jonah wins the pool. Jonah then finds out that the temps are part of Glenn's church's "last chance" work program. He feels bad and finds Isaac in the parking lot. Jonah gives Isaac his $200 betting winnings and Isaac seems genuinely moved. Jonah than overhears Isaac calling his uncle and asking how much crystal (meth) he can buy with the money. ("Seasonal Help")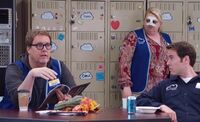 In the Break Room, Mateo is groaning due to an ear infection. This starts the staff offering home remedies for various illnesses. Isaac advocates the use of breast milk but indicates it is difficult to find. As Jonah proposes starting a health fund to a group of employees, Isaac says he smells socialism which will lead to the government watching everyone on the toilet. He is convinced though and pulls a very wet $20 bill from a wallet he keeps under his shirt and gives it to Jonah. Isaac is looking forward to a cholesterol test. He is one of those that Amy and Jonah try to take out of the fund.
At the meeting to improve the health fund, Marcus accuses Amy and Jonah of theft and benefiting from the fund. As the plan becomes hopelessly complicated, Marcus proposes that the fund be restricted to those that can pass "Ninja Warrior" type tests. He pares this down to jumping on a table and Isaac takes him up on the challenge. He ends up falling into the glass of a vending machine and is badly cut. Isaac is seen at the Pharmacy where Tate is using super glue to seal his cuts but Tate's surgical glove becomes glued to Isaac's face. ("Health Fund")
In the Break Room, Isaac and the staff watch a loop of Amy kissing Jonah. He jokes that Amy and Kelly are going to have a cat fight. Later, he kids Amy and Jonah with "porn music" sounds. When Dina announces that amnesty will be given for a fireable offense, Isaac asks how they will know if any offenses committed is the one Dina is referring to. He admits to stealing shopping carts to stage homeless fights which he films. When Corey teases Amy and Jonah that he can leave them alone with a bed, they go along with the teasing which annoys Isaac but they end up accidentally kissing. Isaac is freaked out by Pastor Craig silently looking at the staff and when it's revealed that Amy and Jonah had crushes on each other, he says "this" is "wow". He's in the group of staff pondering whether Jonah should be with Amy or Kelly and says he is "shipping" Amy and Jonah. ("Amnesty"). His name is on the whiteboard list of those who'd like to have sex with Amy. ("Gender Reveal")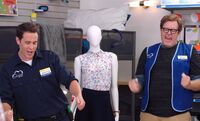 Isaac introduces Noam to Jonah, calls him "J-Bone" and advises Noam to see Jonah for sexual advice. Marcus asks how sex with Amy was and goads Jonah into admitting it was good which results in them dancing lewdly. They continue to tease Jonah who insists Amy was an equal partner in the act. During the harassment meeting, Isaac says that if Amy had sex with Noam, it would be double illegal. He thinks a woman can't take advantage of a man and believes it's a trick when Amy challenges everyone to ask any question about the sex tape. ("Back To School")
Isaac is dressed as a nerd for Halloween. In the parking lot, he watches Sandra lead the automatic cart collector around using its fob and laments that humans haven't been to the Sun. Glenn catches Isaac, Marcus and Sandra playing with the collector, takes the fob and orders them back into the store. He takes pictures of Cheyenne dancing in her hula costume and later in the Break Room, calls everyone monsters for making her cover up the costume due to a racial complaint. As the staff argue over what makes a racially appropriate costume, Isaac says people need to stop being so easily offended and then makes a racist comment. ("Costume Competition")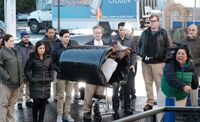 Isaac is in the Break Room as Glenn announces the steps challenge. Jonah tells Isaac that upping his steps per day will increase his lifespan which Isaac doesn't care about and shocks Jonah that he's under 30 years old, even though he looks much older. After the store front is spray-painted, seemingly by Bel-Ridge, Isaac yells that the competition has become personal. Finding Sandra, Isaac and Marcus trying to fix a broken price scanner, Amy is able to convince them that Bel-Ridge is responsible for breaking the scanner and for other woes in their lives. The next morning, Glenn reports that Bel-Ridge's Break Room was sprayed with hot deer urine which Isaac did with Marcus. After Bel-Ridge trashes the Break Room, Marcus wants to hit Bel-Ridge again and tries to get anthrax. ("Steps Challenge")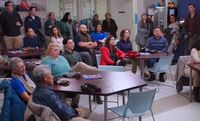 As Glenn gathers the staff and customers in the Break Room and breaks the news that they're all stuck in the store for the evening, Marcus and Isaac rue that they'll miss their chili night. He's part of the staff that sit in a circle and tell how they lost their virginity. At Coffee & Bakery, he relates that the most embarrassing way he was injured was when he caught his penis in a friend's zipper. Garrett criticizes Isaac for calling him "brother" all the time. ("Blizzard")
Community content is available under
CC-BY-SA
unless otherwise noted.