Well, it's Halloween, so everything's kind of out of the ordinary.

Janet Woods is an employee at Cloud 9 Store 1217. She is a sales associate and is curt, with deadpan responses to questions. She is portrayed by actress Carla Renata.
Character History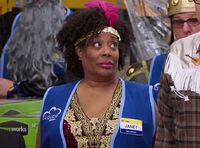 Janet is first seen when the staff return to work after going on strike to get Glenn his job back. Glenn is with regional manager Jeff Sutin who Glenn is trying to impress by being a hard-ass. Janet asks to leave as she has a sharp pain in her side, Glenn says no. Jeff says it might be appendicitis and tells her to go to the hospital. Glenn says he wants to see her appendix first thing in the morning. ("Back to Work") On Halloween 2016, she's dressed as a flapper and is in the Warehouse when asked where the irregular produce is by Dina who calls her "Jan-ay". Later, she admits she doesn't pay taxes. ("Halloween Theft") In order to combat seasonal depression, Glenn asks Janet what balloon animal he can make for her. Janet asks for a clown fish on a bike. ("Lost and Found")
Janet is in the Break Room as Jeff announces that Roger has been fired for posting a video of himself farting in coffee cups at the store. She is seen watching one of Kelly's Instagram videos on her phone with Marcus, Jonah and Amy. ("Viral Video") Heather watches the ultrasound of the baby Dina is carrying for Glenn and Jerusha. Later, she tells Dina that she bore her twins in a car and that they had to cut her from "hole to hole". ("Gender Reveal") Janet is in the Break Room and hears Amy is pregnant. She's in the group photo and complains to Amy and Jonah that they are holding up the photo and she has to pee. Later in the Break Room after hearing Amy says she turned down Adam moving in, Janet says she wouldn't turn down a man who wanted to support her and her baby. After Amy turns down Marcus, she says that Amy is running out of sympathy points. ("Aftermath")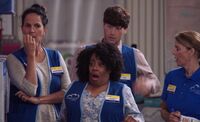 Janet's in the Warehouse with Heather, Gabbie and Ted and hears, but doesn't see the mock fight Amy and Jonah stage. At the toxic workplace meeting, Carol and Sandra fight over Jerry with Justine siding with Sandra and Janet with Carol while Jonah thinks Jerry should decide. Dina and others pressure Sandra into a coin toss, which she loses to Carol's delight. As Cheyenne presents her comprehensive carpool plan, Janet doesn't want to be part of it as her commute is her only alone time. ("Toxic Work Environment")
Wanting to win the store costume contest, Amy and Mateo eliminate the competition by finding staff who'll be offended with other's costumes. They manipulate Janet into asking Marcus to stop wearing his Rastafarian costume since Janet is part Jamaican. Later in the Break Room, after Mateo complains about Amy's Mario costume, some of the staff think that wearing a costume of a specific person from a culture doesn't make it racist. Jonah is asked to explain why this is OK and struggling, he asks Janet for help but she doesn't care. Janet attends the costume competition. ("Costume Competition")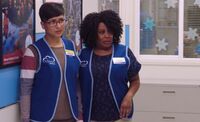 Trapped in his office, Glenn calls the store phone. Janet answers and thinking it's someone asking for Glenn, transfers the call to Glenn's office. Later, she and Sarah witness Glenn breaking his office door with a golf club to escape and see that Glenn has pooped in his waste paper basket. ("Cloud 9 Academy")
After the staff's hours are cut back, Janet complains to Amy that she won't be able to afford her son, Jackson, getting into an academic program. In the Break Room, after Marcus tries to get more hours from Dina, Janet complains that everyone is asking her what the acronym for Jackson's program means. Seeing Dina relent and give Myrtle more hours, Janet is able to guilt Dina into giving her more too. ("Scanners")
Community content is available under
CC-BY-SA
unless otherwise noted.