Jerry meets a number of the female employees of Cloud 9 Store 1217 at the The Charhouse. He ends up in relationships with Carol and Sandra.Eventually marrying Sandra in season 5. He is portrayed by actor Chris Grace.
Character History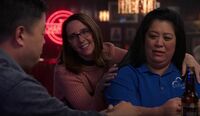 Jerry is drinking at the Charhouse bar and meets Sandra trying to order a drink. The bartender ignores both of them and Jerry offers her the seat next to him so Sandra can wait. They hit it off over a mutual interest in the "Vampire Diaries". Jerry asks if Sandra has a boyfriend or husband and Sandra says no just as Carol shows up. Sandra has been lying that she's dating Jeff Sutin to get attention and Carol tells Jerry that Sandra is dating Jeff. Sandra walks away heartbroken and Carol sits next to Jerry. He is seen dancing with Carol as the girls from Store 1217 (including a stony Sandra) sing karaoke. ("Ladies' Lunch")
Jerry attends Cheyenne's wedding as Carol's plus one and runs into Sandra. Sandra can see how domineering Carol is towards Jerry and gives him longing looks during the ceremony. Sandra and Jerry exchange greetings and later are seated at the same table. He asks about Jeff and Sandra admits she made the relationship up. Jerry doesn't seem to mind and later, they dance. Carol demands that she and Jerry leave even though he doesn't want to. Sandra is seen sadly eating cake on the stairs and looks up to see Jerry standing there. She asks if he forgot something and he says he forgot to do "this". They share a kiss. ("Cheyenne's Wedding")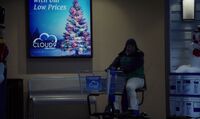 Sandra mentions to Mateo and Cheyenne that during the tornado, Jerry was hit in the head by a mailbox and is in a coma. She reads Harry Potter books to him and he's off the breathing tube. ("Grand Re-Opening") When talking to Jonah, Sandra mentions that Jerry's feeding tube is infected. ("Brett Is Dead") Carol tells Kelly she has a plan to get Jerry back. ("Part-Time Hires") Sandra tells Glenn and Dina that Jerry has a vegetal growth on his teeth and that she reduced her shifts at work to care for him. Later, she's angry that the health plan Jonah and Amy created won't pay for Jerry's care. ("Health Fund") Sandra thought Jerry came out of his coma and winked at her but it was a muscle spasm due to low folic acid. Later, she gets good news that Jerry is out of his coma. Since no one is sober enough to drive her to the hospital, she takes a store scooter. ("Christmas Eve")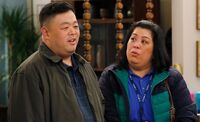 Jerry attends the Golden Globes Party at Amy's house with Sandra. He's recently woken from a coma and it becomes apparent that he's been rushed out of the hospital by Sandra as he can barely speak or perform basic functions. He's the only one who understands Kelly's confusing game and says he met God who is black. ("Golden Globes Party") Sandra tells several staff that Jerry is an amazing hider and that the rails are coming off the toilet. ("Local Vendors Day") Sandra tells the staff that Jerry's family attended his catheter removal and his Mom held his penis. ("Gender Reveal")
As Sandra and Jerry shop, Carol interrupts and they tell her they are moving in together. Seeing Jerry shopping alone, Carol fawns over him and makes excuses to lift her shirt up several times, revealing her breasts. At a toxic workplace meeting, Carol still wants Jerry back so Dina and others pressure Sandra into a coin toss to decide who gets him, which she loses to Carol's delight. Sandra breaks the news of her losing the coin toss and says that he's with Carol now. Jerry says that he will always love her and he learns Carol won't let them be friends. ("Toxic Work Environment")
During a snowstorm, Jerry arrives at the store front, having been ordered by Carol to bring him vape juice. Sandra's happiness at seeing him turns into sorrow as Carol rebukes Jerry for bringing the wrong type of juice. Later at Coffee & Bakery, Sandra and Jerry catch up. As the staff sit in a circle and tell how they lost their virginity, Sandra doesn't want to tell her story and says it happened with someone in the circle while looking at Jerry. Laying next to a tent that Carol and Jerry are in, Sandra can't stand to hear Carol scolding Jerry and gets up. Dina won't let anyone move from their spot so Sandra has to lie back down and listen to Carol. For fun, Sandra put makeup on Jerry and they laugh until Carol arrives and insults Jerry and his sister. Dina catches Sandra and Jerry having sex in Glenn's Office. ("Blizzard")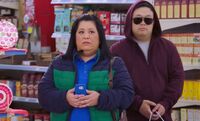 Justine asks Sandra to go to an anti-Valentine's part with her and Carol. As Carol indicates that her boyfriend Jerry is working late, Dina questions why, knowing that Jerry and Sandra have been hooking up behind Carol's back. In private, Dina assures Sandra she won't tell Carol but Sandra's description of her sex with Jerry causes Dina to warn Elias that he'll need to clean up her vomit soon. Sandra receives a large teddy bear with balloons and is caught by Carol and Justine. While trying to explain, Carol sees the card on the bear is from a ridiculous pseudonym, but it's from Jerry. At Coffee & Bakery, Carol and Justine watch with pity as a barbershop quartet sings for Sandra which Jerry also sent for Sandra. Leaving for the day, Justine can't convince Sandra to come to the party and Carol makes fun of her. Behind Sandra in disguise, Jerry emerges. They both profess their hatred for Carol and kiss. ("Lovebirds")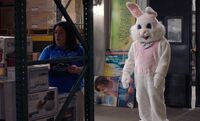 After Amy announces that no Cloud 9 stores will have anyone dressed in a bunny costume, Dina sees one in the store. She unsuccessfully pursues the bunny which is revealed in the Warehouse to be Jerry. Dressed up so he can spend the day with Sandra without Carol knowing about it, Sandra leds him into the Photo Lab to have sex. Later, when Dina spots the bunny on the monitors in the Surveillance Office, she radios Sandra to get the bunny but Sandra pretends she can't see it. ("Easter") Carol sees that Jerry is fooling around on her with Sandra. ("Scanners")
After ICE enter the store, and it's decided to bring as many people in the store to try and slip Mateo out, Sandra calls Jerry. Jerry arrives and while Sandra holds his hands and thanks him, Carol tries to get them in trouble with an ICE agent by lying that they're human traffickers. Sandra tells him that everyone knows about their relationship. Jerry asks Sandra to marry him and she accepts. ("Employee Appreciation Day")
Trivia
Community content is available under
CC-BY-SA
unless otherwise noted.