I'm not confessing to anything, especially not to two minimum wage morons.

Julie is a visitor to Cloud 9 Store 1217. She is attractive and assertive. She is portrayed by actress Natasha Leggero.
Character History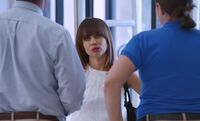 At the Beauty counter, Dina is stalking who she thinks is a shoplifter named Julie. Dina sees her put lipstick in her purse and moves in to apprehend her, assuming that Julie had swiped the tube of lipstick from the store table instead of realizing the possibility that the lipstick tube was Julie's own, which it was. Dina starts grilling Julie in an enclosed room. She dumps out the contents her purse and points out the lipstick which Julie says she brought into the store. Dina then plays the security footage which has been corrupted, much to her anger. About to let Julie go, Dina changes her mind when Julie personally insults her. Dina brings Amy in to act as "bad cop" who then grills Julie. Eventually, security footage is found that shows Julie is innocent. She plans to have Dina fired but Glenn plants a Barney DVD in her purse. She's caught by security and makes a deal with Glenn, that in exchange for not reporting Dina to corporate, Glenn won't press charges on the DVD. She leaves the store in a huff. ("Shoplifter")
Trivia
Community content is available under
CC-BY-SA
unless otherwise noted.