He's jelly of your peanut butter.

Justine Sikowicz is an employee at Cloud 9 Store 1217. She is a sales associate and and tries to show that she is adventurous, but she isn't. She was one of the six employees who was fired when the store was hit by a tornado but was re-hired. She is portrayed by actress Kelly Schumann.
Character History
Justine is first seen auditioning for a role in Dina's Olympics closing ceremony. After saying she is a good singer, Dina asks her to sing Car Wash and then cuts her off after she sings two words. Dina tells her she came into too early and she is a horrible singer. ("Olympics") She's in the Break Room as Dina announces drug tests and Cody tries to leave. She asks Dina if the drug test will show drinking too much wine. Dina tells her she isn't an alcoholic and to stop bragging. ("Spokesman Scandal")
After Dina accuses Sandra of sleeping with district manager Jeff Sutin, Sandra lies that she is and starts spinning stories. Justine is in the Break Room listening and asks Sandra if she sleeps with Jeff in his hotel. Later, she is in a group of staff watching Sandra flirt with Jeff. ("Rebranding") Justine is in the Break Room when Glenn announces that the store's computer is down and only cash can be accepted. At the lunch with the ladies from work, she keeps suggesting she and they do wild things but she doesn't really do them. ("Ladies' Lunch")
After Sarah overhears Mateo telling Amy that he is in a relationship with Jeff and Sandra was lying about seeing Jeff, she gossips. Later in the Break Room, Justine, Marcus and Myrtle are talking about Sandra. Amy and Cheyenne make the situation worse by inadvertently adding more lies culminating in that Sandra is pregnant. Later, Justine is in the Break Room after Glenn's low blood sugar attack, when Glenn accuses Jeff of abandoning Sandra, Jeff tells everyone he is gay and Dina reveals she's having sex with Garrett. ("Wellness Fair") She's in the Break Room watching the video on Mateo's last day and later when Dina is getting suggestions for a moniker for her and Garrett's relationship. ("Mateo's Last Day")
Justine attends Cheyenne's wedding and angers Bo for taking too much shrimp. She's later seen trying to dance with some young guys. ("Cheyenne's Wedding") She attends the staff meeting when Glenn talks about the raccoon but everyone wants to know who is going to be laid off and the meeting where Glenn asks the employees to decide who should be laid off. When Carol suggests all the sluts be fired, Justine hopes this doesn't include her and Dina tells her it doesn't and stop trying to be interesting. She's among the group who ride out the tornado in the Stock Room with Glenn and survives but is one of the six employees who are laid off. ("Tornado")
Amy tells Dina that Justine is complaining that there is a "liquid" raccoon smell in the women's room. ("Brett Is Dead") On Emma's first day at work, Justine comforts Garrett after she thinks Dina broke up with him and invites him to wine club. She slips on a wet floor Emma didn't finish drying and falls on her face. Amy tells Jonah that Justine may need her jaw wired shut. ("Part-Time Hires") On the day the store is robbed, Justine is seen in a neck brace and nose setter and thinks the parking lot buddies being picked are romantic partners. Mateo sarcastically offers to be her buddy as he thinks robbers will kill her first. She's also part of the the after-work trivia group Amy wants to join. ("Workplace Bullying")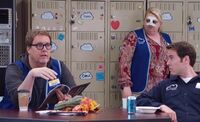 Justine is in the Break Room as many staff opine what is the best home remedy. She is part of the employees who listen to Jonah's pitch to create a health fund and she contributes. A number of staff are discussing looking forward to receiving health care and praise Jonah's efforts. Justine mentions she had to get her face fixed at a vet. Justine is at the meeting where Amy and Jonah try to fix the fund. She is in Group A (who need to pay less), and as the plan becomes hopelessly complicated, Marcus proposes that the fund be restricted to those that can pass "Ninja Warrior" type tests. He pares this down to jumping on a table and Isaac takes him up on the challenge. Justine says she'll sleep with Marcus if Isaac can do it and she watches Isaac crash into a vending machine. ("Health Fund")
During the party around the cocoa urn, Justine says she had lots of friends in high school (which no one believes) and then offers crushed Adderall to be sniffed off her boobs. ("Christmas Eve") Amy shows Justine one of Kelly's Instagram videos which Justine laughs at and then fakes that it's lame to match Amy's reaction. They then see Kelly is having breakfast at her place with Jonah and realize they are in a relationship. ("Viral Video") Justine tries unsuccessfully to park her car to attend Amy's party. She ends up eating and falling asleep in her car and blocking a lane of traffic. ("Golden Globes Party") Justine is in the Break Room as Marcus leads the staff in classifying mythical and real creatures and as Jonah and Kelly disagree over the existence of angels. She believes that a man who can find the G-spot is a myth and, says Jonah is jealous that Kelly has seen an angel. ("Angels and Mermaids")
Justine is in the Break Room as Mateo gives Amy "gay man tough love" and he rates her a "3". Justine says she cleans up on "twos" and asks if she's rated the same as Amy. She watches Amy's confrontation with Marcus and Tate and when it appears Amy is promiscuous, she says Amy's thirsty. ("Groundhog Day") After Mateo is hurt at work, Justine mentions that she received $1000 as compensation when her nose was broken. ("Safety Training") Justine and the staff watch a video on a loop of Amy kissing Jonah and she says it never gets old. When Corey teases Amy and Jonah that he can leave them alone with a bed, they go along with the teasing which annoys Justine but they end up accidentally kissing which she runs off to tell everyone. Pastor Craig tells Justine he loves her which she tries to reciprocate. When it's revealed that Amy and Jonah had crushes on each other, she calls it "amazing". She's in the group of staff pondering whether Jonah should be with Amy or Kelly. ("Amnesty")
Justine attends the going away party for Jeff who is leaving for Target. In the store, Glenn tells Amy, Justine and Mateo he's worried as Jeff knows all the store's secrets. In the Break Room, Amy catches Dina showing Justine a picture of the man she tried to set up with Amy. Justine enthusiastically wants to go on the double date but when Amy sees the black and white picture, she changes her mind and accepts over Justine's protests. After Glenn treats Jeff rudely, Jeff tries poaching staff to work at Target. Justine says she likes to call Target, "Targ-ay". ("Target") Justine, Marcus and Sandra watch Laurie work and Justine calls her a bitch. Later in the Break Room, she's part of the debate whether it is sexist to call a woman a bitch when she's being one. ("District Manager")
At "Local Vendors Day" in the store, Glenn notices Jerusha isn't selling much so he tells several staff to buy one of her items. He later asks some staff if he's pressured them to buy things. Justine relates how she felt pressured to buy cookies from his kids and as a result she experienced credit card fraud. She's in the Break Room when Amy talks about not understanding Alex's Spanish (she says "mas tequila" is the only Spanish she knows) and when Glenn yells at everyone to buy Jerusha's items or he'll fire them. ("Local Vendors Day")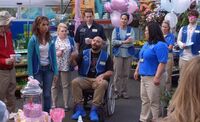 Justine watches the ultrasound of the baby Dina is carrying for Glenn and Jerusha and makes a crude joke. Kelly assigns her to balloons for the gender reveal party and she tries to steal Sandra's task. She's at the party. ("Gender Reveal") In the Break Room, after learning Amy is pregnant, Justine invites her on a Gossip Girl bar crawl. Dina tells her no one comes on her crawls because she's unpleasant to which Justine counters that she's unpleasant in bed. Later as Amy tells Cheyenne how Alex took the pregnancy news, Justine says they should hang out more and call each other "slut" in a fun way. She watches the staff video and says it's so good it could be on YouTube. ("Aftermath")
Justine doesn't react as Amy hands out work assignments while making sexual entrendres. Later, she's one of the staff gathered by Amy as she announces she likes sex. At the sexual harassment meeting, Justine discusses her favorite sexual position and asks if Jonah had an orgasm during the sex tape with Amy. ("Back To School") After Justine believes she hasn't been invited to Amy's baby shower, she invites Sarah and Sayid to a pool party but says Amy can't come. Later, she, Cheyenne and Sandra meet with Amy to plan the shower and she says her gift will be writing Amy's name on rice. She attends the baby shower and sits beside the male stripper after he's done dancing. ("Baby Shower")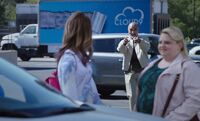 As Amy lies to Dina that she and Jonah are carpooling, Cheyenne and Justine overhear. Justine wants in on the pool and suggests carpool karaoke which Sayid repeats when he learns of it. As Amy and Jonah wonder if others can tell they are dating, they see Justine eavesdropping so they start mock fighting. At the toxic workplace meeting, Carol and Sandra fight over Jerry with Justine siding with Sandra and Janet with Carol while Jonah thinks Jerry should decide. Dina and others pressure Sandra into a coin toss, which she loses to Carol's delight. As Cheyenne presents her comprehensive carpool plan, Justine doesn't want to be part of it as she cries in her car at lunch. ("Toxic Work Environment")
Justine is dressed as a chili pepper for Halloween and Mateo manipulates Gary into complaining about her costume being racist so she'll be eliminated from the costume contest. She's in the Break Room as the staff agree that a costume is racially appropriate if the culture is honored. Allowed to compete, she lauds Mexicans by reciting people and events from the Mexican War of Independence. ("Costume Competition") As Glenn and Dina announce there are headed to the hospital, Justine asks if she should call Glenn is any celebrities come to the store. Justine asks Garrett for the congratulation cards and puts pressure on him to write something hilarious. In the Break Room, Garrett tries getting the staff to come up with a baby card message from everyone. Sayid suggests a benign message which Justine doesn't agree with because she says she's sleeping with a lot of the staff. ("Delivery Day")
Justine is among the staff at the store front as Glenn and Dina explain the new Cloud 9 policy of making small talk with the customers. Later, she's in the Break Room as a number of the staff say how they're lying to their parents and calls Jonah a psycho. She says that she tells her parents she eats at a pizza place with friends but is actually eating alone. When Amy and Jonah tell some staff they're in a relationship, Justine isn't surprised and is more interested in helping Sayid find his pen. ("New Initiative") Justine tries to help Dina find a new vocation and, when Amy orders too many ice pops, she tries to help sell them by sucking on one suggestively. ("Shadowing Glenn")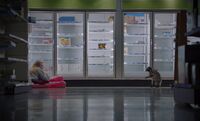 Justine is one of the staff that Glenn gathers in the Break Room and breaks the news that they're all stuck in the store for the evening. She's part of the staff that sit in a circle and tell how they lost their virginity and suggests they play Spin the Bottle. Setting down to sleep for the evening, she and a raccoon stare at each other. At Coffee & Bakery, she's grossed out when Marcus relates that the most embarrassing way he was injured was slipping in the shower on his poop. Later, she watches as Marcus does poorly at identifying drinks while blind-folded. ("Blizzard")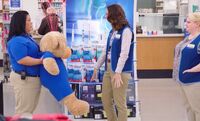 Justine asks Sandra to go to an anti-Valentine's part with her and Carol. As Carol indicates that her boyfriend Jerry is working late, Dina questions why, knowing that Jerry and Sandra have been hooking up behind Carol's back. Sandra receives a large teddy bear with balloons and is caught by Carol and Justine. While trying to explain, Carol sees the card on the bear is from a ridiculous pseudonym. She and Justine believe that Sandra sent herself the bear but pretend it's from a legitimate valentine. At Coffee & Bakery, Carol and Justine watch with pity as a barbershop quartet sings for Sandra. Leaving for the day, Justine can't convince Sandra to come to the party and Carol makes fun of her. ("Lovebirds")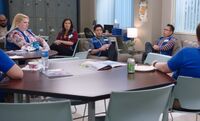 After meeting the new, inept store manager Blaine, Justine complains about him and is disappointed Amy didn't take the job when it was offered to her. ("Minor Crimes") As a floor worker, Glenn asks what he should work on and Justine assigns him to clean up a disgusting mess. At Coffee & Bakery, Glenn makes light of getting mayo on his shirt while cleaning up. While Justine laughs, Garrett tries to make Glenn angry by pointing out all the money he's losing by not being manager anymore. Glenn doesn't care and his continued quips frustrate Garrett and make Justine laugh so hard she pees her pants. ("Salary")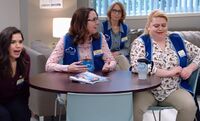 After Amy announces more cuts to staff hours, Justine considers being a surrogate. She and Dina look at the tweets critical of the store, secretly made by Amy and Jonah. In the Break Room, as Luanne shows evidence that a staff member tweeted disparaging pictures of the store, she and Carol laugh at how few safe guards the tweeter took. She repeatedly compliments Sandra, annoying Mateo. ("CLOUD9FAIL") In Break Room, discussion of unions involving Marcus, Justine, Sayid and others results in Dina shutting down the room. At the union meeting with Robin Green, Justine gives an inane word association to "union." ("Sandra's Fight")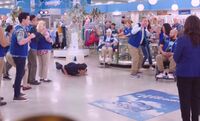 Justine listens to Amy announce "Employee Appreciation Day" and asks if she should take her clothes off for the free massages. She watches Dina accidentally smash the holographic Myrtle with a t-shirt cannon. She watches the anti-union video starring MC Cool Cloud and is surprised that Sandra broke the "coin flip" and is sleeping with Jerry. After ICE enter the store, in the Warehouse, trying to come up with a plan for Mateo, she quotes from the ICE website. After it's decided to bring as many people in the store to try and slip Mateo out, she lies that all her friends are models who live in Manhattan and can't get there. She watches Mateo being driven away by ICE agents. ("Employee Appreciation Day")
Community content is available under
CC-BY-SA
unless otherwise noted.