Oh hooray a rental. I just made $12.

Kathy is a realtor from Glenn's church. She is portrayed by actress Brooke Dillman.
Character History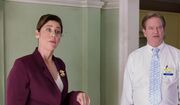 After seeing Bo and Cheyenne fight in Cloud 9 Store 1217, Glenn talks to Bo and finds out they are living in Cheyenne's mother's basement. Glenn says he knows a realtor (Kathy) who can show him some places. Kathy shows them a rental home that has new carpeting and a washer/dryer. Bo was hoping for something grander but says he'll take the house. Kathy asks Glenn to co-sign the rental agreement which he initially baulks at as he has his own family to care for. After hearing Bo regret not being able to watch his child grow up in the house, Glenn agrees to co-sign. Kathy sarcastically says she's thrilled as she just made $12. ("Dog Adoption Day")
Community content is available under
CC-BY-SA
unless otherwise noted.