He took me to the edge of his balcony once and he asked, "Are you afraid?" And I said, "Yes." And he said, "Good. That's how I feel with you."

"Ladies' Lunch" is the thirteenth episode of Season Two of Superstore, and the twenty-fourth episode of the show overall.
Summary
Dina kidnaps Amy for lunch with the girls, Jonah and Garrett invent a game, Sandra meets someone.
Plot
In the Break Room, Glenn gets the staff's hopes up by waving a wad of money and then tells them cash is all they can accept at the store that day as the computer system is down. Dina notices Amy is absent and when staff speculate why, Glenn says it's for personal reasons. As they guess the reason, Glenn corrects them and finally spills that she's in marriage counselling. Amy arrives late and gives an excuse to a silent room. Cheyenne starts laughing nervously and Amy guesses that everyone knows about her counselling. After the meeting, both Jonah and Sandra try to comfort Amy which she doesn't want.
Having heard about Amy's marriage counselling, Carol calls Amy's husband Adam and leaves a voice mail even though she has no relationship with him. Dina catches Amy in the Break Room and invites her to a ladies' lunch which Amy refuses. At customer service, several employees are discussing Amy's situation and Marcus indicates that if Amy's marriage ends, he has "dibs" on her which Jonah protests as offensive. Business at the store is very slow (due to cash only) so Garrett and Jonah starts shooting a muffin wrapped in tape into shopping baskets and carts. As Amy and Sandra are loading a dresser into a delivery truck, Dina closes the door on them and kidnaps Amy for a ladies' lunch.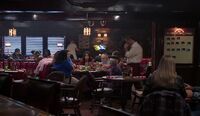 The restaurant Dina has chosen for Amy's lunch is The Charhouse, a very old school steakhouse. Cheyenne, Sandra, Carol, Justine and Myrtle also come. Dina lays down ground rules for conversation and as they order drinks, Amy makes it apparent she's in a hurry to end lunch. Jonah and Garrett develop their "taped muffin" game and hit Mateo with the muffin. He tattles to Glenn but they get them both interested in the game which now includes blockers and banking shots off mannequins. At the lunch, Amy asks how Cheyenne's relationship is with Bo and about Sandra's (fake) relationship with Jeff Sutin. Sandra tells some very convincing relationship details that captivates everyone.
The taped muffin game has now turned into a running, full contact game with improvised equipment. Glenn scores a basket and Marcus teases Jonah about liking Amy which becomes confrontational. (♫ Wiz Khalifa – We Dem Boyz ♫) At lunch, Amy wants to leave and says the lunch is depressing and awkward. Dina is discouraged and admits this is the first time she's tried to organize such a lunch. Amy feels guilty, comes around and asks the waiter for another round of drinks. Getting drunk, the ladies play a game of "Kill, Bang, Marry". Dina admits she had sex with Garrett but the ladies think it is a big joke. At the taped muffin game, Don pushes Mateo into Glenn who crashes into a glass table which gives him a concussion.
At the lunch, Sandra goes to the bar to get a drink but is ignored by the bartender. A man named Jerry tries to help get her service and then offers her the seat next to him. Amy talks about her marriage and is hopeful it will work out. However, she admits she is not good at change – she's had the same hair style since high school. The taped muffin game comes to a conclusion with a single jump shot playoff to decide which team will win. The shooters are Jonah and Marcus who tells Jonah that the winner gets Amy. Jonah loses and yells at Marcus that no one gets Amy. Jerry and Sandra really hit it off until Carol interrupts them and mentions Sandra's (fake) boyfriend Jeff. Sandra walks away crushed and Carol moves in on Jerry. The ladies sans Myrtle are on stage jumping and singing karaoke. Sandra is barely moving and looks sadly at Carol dancing with Jerry. (♫ Simple Minds – Don't You Forget About Me ♫)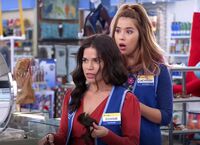 Cheyenne and Amy walk into the store a bit drunk and notice the mess from the taped muffin game. Marcus approaches Amy and while leering at her says he'll be around. A drunk Dina and a concussed Glenn have an inane conversation. Jonah warns Amy that she might hear something about him wanting to "win" her and that it's not the case. When he finds out she is drunk he rebukes her and says she should go home. Myrtle enjoys a hot dog at the deli after just eating a huge steak. (♫ Isley Brothers – Who's That Lady ♫) Instead of going home, Amy and Cheyenne go to the beauty counter where Cheyenne gives her a hair trim. Amy takes the scissors and cuts a big chunk from her own hair much to Cheyenne's surprise and delight.
Cast
Main cast
Featured cast
See also
Also see Season Two minor employees.
Running Gags
References
Trivia
Quotes
"Yeah, but if the marriage goes pffft I call dibs on Amy."— Marcus
Gallery
Video
v

•

e
Superstore Season Two Episodes
  
"Olympics"
August 19, 2016
Directed by: Ruben Fleischer - Written by: Jonathan Green

Amy gets the opportunity to meet her childhood idol; Glenn struggles to balance his excessive patriotism; Jonah discovers a secret about Mateo's past; Dina works to create a memorable closing ceremony. (Viewers: 9.67 million)
  
"Strike"
September 22, 2016
Directed by: Victor Nelli, Jr - Written by: Jackie Clarke

A full-fledged strike ensues when a group of Cloud 9 employees walk off the job to protest the firing of Glenn. Jonah tries to help Amy negotiate with corporate; Garrett meets a gorgeous woman on the picket line. (Viewers: 5.45 million)
  
"Back to Work"
September 29, 2016
Directed by: Michael McDonald - Written by: Eric Ledgin

A workplace accident threatens Amy's plan to impress the district manager; Glenn tries to come off as a strict boss; Jonah tries to help Dina win over the co-workers she betrayed in the strike. (Viewers: 4.39 million)
  
"Guns, Pills, and Birds"
October 6, 2016
Directed by: Matt Sohn - Written by: Matt Hubbard

Jonah is assigned to the gun section of the store and refuses to sell to anyone he deems suspicious. Glenn tries to buy the store's entire stock of morning-after pills. (Viewers: 5.18 million)
  
"Spokesman Scandal"
October 13, 2016
Directed by: Ken Whittingham - Written by: Gabe Miller

When the company's spokesperson is accused of a crime, Glenn begins to worry he should know more about his employees; Amy and Jonah challenge each other to a series of dares; Cheyenne annoys Garrett and Sandra with her baby talk. (Viewers: 4.39 million)
  
"Dog Adoption Day"
October 20, 2016
Directed by: Betsy Thomas - Written by: Josh Malmuth

Cheyenne and Bo fight, prompting Amy and Glenn to give them advice in very different forms; Mateo and Jonah oversee dog adoption at the store; Garrett taunts Dina when she refuses to adjust his time card. (Viewers: 4.18 million)
  
"Halloween Theft"
October 27, 2016
Directed by: Alisa Statman - Written by: Karey Dornetto

After an apparent theft, Dina launches a store-wide investigation interrupting everyone's Halloween plans; Jonah and Cheyenne attempt to bond; Garrett tries to defend himself in Dina's theft probe. (Viewers: 4.21 million)
  
"Seasonal Help"
November 10, 2016
Directed by: Geeta V. Patel - Written by: Jackie Clarke

Glenn hires Amy's husband, Adam for extra help during the holidays; Jonah and Garrett grow frustrated with the seasonal temps; Glenn looks for the perfect store Santa. (Viewers: 5.19 million)
  
"Black Friday"
November 10, 2016
Directed by: Victor Nelli, Jr - Written by: Eric Ledgin

The staff comes down with food poisoning; Jonah documents the day with home video; Glenn's disposition changes; Mateo and Cheyenne discover a lucrative Black Friday side business. (Viewers: 3.79 million)
  
"Lost and Found"
January 5, 2017
Directed by: Jay Chandrasekhar - Written by: Sierra Teller Ornelas

Amy walks away with a huge wad of cash from the lost and found bin and is pressured to spend the money various ways; Dina and Garrett deal with their fling; Glenn tries to stave off staff depression. (Viewers: 4.43 million)
  
"Rebranding"
January 12, 2017
Directed by: Bill Purple - Written by: Matt Hubbard

VP Rex brings a rebranding and is part of Jonah's past, Dina hunts a snitch, Cheyenne hides discounted products. (Viewers: 4.33 million)
  
"Ladies' Lunch"
February 2, 2017
Directed by: Todd Biermann - Written by: Vanessa Ramos

Glenn accidentally tells the employees the real reason Amy has been late to work lately. Meanwhile, Dina tries to cheer up Amy by kidnapping her for a "ladies' lunch". Jonah and Garrett invent a game to pass the time, tricking Glenn and Mateo in the process. Cheyenne helps Amy take a fearless step with a dramatic new look. (Viewers: 3.99 million)
  
"Valentine's Day"
February 9, 2017
Directed by: Tristram Shapeero - Written by: John Kazlauskas

A well-intentioned Amy and Glenn get caught up in the Valentine's Day spirit, quickly learning what happens when you try and force love. Meanwhile, Jonah goes undercover to try and catch a serial shoplifter and ends up getting closer to her than Dina would like; Mateo begins to unravel as Sandra's relationship with Jeff takes a new turn. (Viewers: 3.54 million)
  
"Super Hot Store"
February 16, 2017
Directed by: Michael Spiller - Written by: Joe Barrasas

A store-wide heater malfunction magnifies angry tensions between Amy, Jonah and the Warehouse employees after both sides refuse to clean up a spill; Dina and Garrett get close. (Viewers: 3.67 million)
  
"Wellness Fair"
February 23, 2017
Directed by: Alex Reid - Written by: Owen Ellickson

Amy sees Mateo out on a secret date with Jeff; Glenn resents Jonah for outshining him on the store's Wellness Fair; Dina tries to prove Amy faked being sick; many relationship secrets are revealed. (Viewers: 3.51 million)
  
"Integrity Award"
March 16, 2017
Directed by: Linda Mendoza - Written by: Gabe Miller

Jonah accompanies Amy on a trip to help her mom and dad move out of her childhood home. Glenn desperately wants to win the new Cloud 9 Integrity Award but starts to worry that Garrett has a better chance of winning. Dina tries to take advantage of Mateo's relationship with Jeff to fix problems in the store and Cheyenne gets caught up in Glenn's self-serving campaign. (Viewers: 4.17 million)
  
"Mateo's Last Day"
March 23, 2017
Directed by: America Ferrera - Written by: Jonathan Green

When Mateo faces complications with his transfer to a Cloud 9 Signature store, he becomes desperate to resolve his undocumented status. Amy helps Glenn battle an Internet troll, Jonah and Cheyenne try to give Mateo legal counsel, and Dina and Garrett take issue with corporate over their relationship. (Viewers: 4.15 million)
  
"Glenn's Kids"
April 6, 2017
Directed by: Ruben Fleischer - Written by: Sierra Teller Ornelas

Glenn invites all of his kids to the store causing disorder among the employees. Jonah develops a romantic interest in Glenn's 25-year-old daughter, and Amy gets caught in the middle. Garrett, Dina and Cheyenne struggle to keep track of one of the toddlers and Mateo tricks the kids into working for him as he grapples with life after Jeff. (Viewers: 3.08 million)
  
"Spring Cleaning"
April 20, 2017
Directed by: Geeta V. Patel - Written by: Josh Malmuth

Amy and Garrett embark on an investigation as they sift through abandoned photos during the store's spring cleaning. Jonah goes out of his way to befriend Glenn in hopes of gaining his approval in dating his daughter. Cheyenne's fiancé Bo starts working at the store for some fast cash, taking advantage of Dina and Mateo's store knowledge. (Viewers: 3.15 million)
  
"Cheyenne's Wedding"
April 27, 2017
Directed by: Michael Weaver - Written by: Vanessa Ramos, Bridget Kyle, Vicky Luu

It's Cheyenne and Bo's dream wedding, but not everything goes according to plan. Relationships unravel as Amy and Jonah confront their feelings. Glenn tries to change Jeff's mind after learning of upcoming layoffs, Dina talks her way into the wedding party and Mateo dodges Jeff throughout the wedding. (Viewers: 2.77 million)
  
"Tornado"
May 4, 2017
Directed by: Matt Sohn - Written by: Justin Spitzer

Everyone in the store is on edge as Glenn tries to figure out which employees to lay off. Jonah struggles with the fallout of an admission he made to Amy, Garrett and Dina spar, and Mateo forms alliances to keep his job. A tornado warning goes into effect at the worst possible time, forcing the staff into uncomfortable groups. (Viewers: 2.91 million)