I'm not like, a monster.

Laurie Neustadt replaced Jeff as district manager and oversees Cloud 9 Store 1217. She is very bossy and business-like. She is portrayed by actress Jennifer Irwin.
Character History
Laurie is introduced to the staff in the Break Room by Glenn. Laurie is very business-like and curtly says she'll be at the store all day to look for efficiencies and tells the staff to get back to work. At Coffee & Bakery, Laurie asks for Amy's help with the personnel files. When Myrtle comes up, Amy jokingly insults her so Laurie indicates Myrtle will be fired. She also asks if
Marcus' IQ is low. Glenn tries to convince Laurie to not fire Myrtle without success. Glenn wants to wait until end of day to tell Myrtle. Amy and Jonah convince Laurie to not fire Myrtle if they can find enough savings to make up Myrtle's salary. Laurie approaches Dina with a question on the shrink reports. Dina grabs a heavy box of weights in order to hide her pregnancy and refuses to put it down. When Laurie ignores Dina's discomfort, Dina says she has to go to the bathroom but Laurie tags along while Dina continues to carry the box.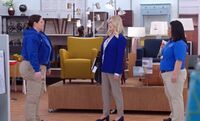 Amy and Jonah enter the Break Room and tell the staff they need to take the coffee machine in order to save money so that Laurie won't fire Myrtle. Marcus calls Laurie a bitch which leads numerous staff to posit whether it is sexist to call a woman a bitch who is acting like one. Laurie approaches Cheyenne, Garrett and Mateo about Mateo's very high UPM score. Garrett suggests to Laurie that Mateo should demonstrate his checkout technique to the staff. Amy and Jonah present the savings they've found to Laurie but despite impressing her, Laurie still wants Myrtle fired. Dina, now padded to look fat, interrupts Sandra talking to Laurie. Laurie says Dina looks different which she takes offence to. Leaving the store, Amy curses about Laurie to Jonah. ("District Manager")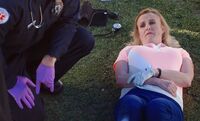 After Jonah finds out Amy wants a raise, he convinces her to be aggressive when asking Laurie. They try calling Laurie but are told by her assistant Skye that she's not available. After finding out from one of Laurie's social media accounts that she is playing golf, they pursue her on the golf course and Amy accidentally hits Laurie with a golf cart. While being attended by a paramedic, Amy asks for a raise from the incredulous Laurie. ("Lottery")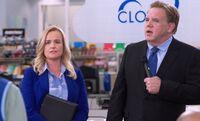 In the Break Room, Laurie goes over the agenda for the town hall which includes Glenn speaking and live streaming to every Cloud 9 store in the world which concerns Glenn. She also goes over forbidden topics which Jonah objects to. Amy asks why Myrtle can't be asked about at the town hall and Laurie's response leaves everyone suspicious that something is being withheld as to why Myrtle was fired. At Coffee & Bakery, Amy distracts Laurie by asking if she's a lesbian while Jonah searches through Laurie's bag for her phone. Amy mentions several prospects for Laurie to which Laurie says nothing until Jonah finds the phone. Laurie introduces a very nervous Glenn to Neil, Cloud 9's CEO and tells Neil that Glenn is great. Amy and Jonah try to get into the town hall but Laurie won't let them. After they delivery an incriminating email on Cloud 9's ageist policy to Jeff and he challenges Neil with Myrtle's situation, Laurie subtly informs Neil that Myrtle was an experienced employee let go due to performance issues. ("Town Hall")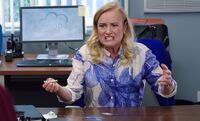 After Glenn steps down as store manager, he hopes Amy will replace him but is doubtful given Laurie's dislike of Amy. Laurie arrives in the store and catches Cheyenne and Garrett watching a video on their phone. She rebukes them and makes them put their phones away in their lockers. Amy's attempt to impress Laurie falls flat and Laurie informs her that she already has a new manager. Dina forces Laurie to give Amy an interview and in Glenn's Office, Amy lists her qualifications but Laurie ignores her, watches a video on her phone and confirms Amy isn't getting the manager's position. Laurie introduces the new manager, her young son, Blaine who immediately shows his immaturity. After Blaine shows her and Dina that he doesn't understand what inventory is, Dina tells Amy to complain about his hiring to corporate. Instead, Amy seeks out Laurie in Glenn's office and catches her snorting cocaine.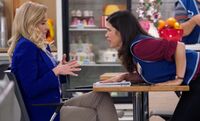 Later in the store, Laurie tells Amy that she'd like to make her manager. Only wanting the job based on her merits and saying she won't tell anybody about Laurie's cocaine use, Laurie thanks her but doesn't give her the job. At the café, Amy tries to appeal to Laurie about being better suited as manager than Blaine without success. When it becomes clear that Laurie won't make Amy manager unless blackmailed, Amy does so and swears at her. Having gotten the job, Dina puts a poor picture of Amy as the store manager up on the wall and calls her "boss." ("Minor Crimes") Called by VP Claudia Lankow on speaker phone, Laurie is asked to choose between shutting down Bel-Ridge or Ozark Highlands. About to pick Ozark, she hears Amy is on the call. Amy subtly blackmails Laurie about her cocaine addiction so she chooses Bel-Ridge. ("Sandra's Fight")
Trivia
While searching through Laurie's phone, Amy and Jonah discover she is a Jane Austen fan. ("Town Hall")