One time my mom got a new boyfriend and they left me in
PetSmart
.

Leo is a visitor to Cloud 9 Store 1217. He is one of Glenn and Jerusha's foster children. He is portrayed by actor Jayson Maybaum.
Character History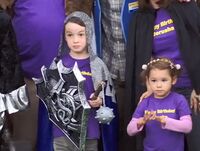 When manager Glenn brings his kids to work, Leo is seen in the Break Room where he draws a penis on the back of Mateo's head. He, Zoe and T'Oliver watch Jonah do a magic trick, Marcus do a bad Batman impression and then after saying that Mateo is working too slow, they start to do Mateo's job for him while he tells them about breaking up with Jeff Sutin. This includes finishing a display and cleaning under shelves where Leo finds Mateo's keys. Later, Mateo is having pizza with the three kids and he says they don't understand what it is like to lose someone. Leo puts this into perspective as he tells Mateo how his Mom abandoned him in a PetSmart. Mateo responds that only Leo knows what he is going through. He's at the Sturgis family photo which is a homage to the movie Willow. Leo is dressed as a knight. ("Glenn's Kids")
Community content is available under
CC-BY-SA
unless otherwise noted.