"Local Vendors Day" is the eighteenth episode of Season Three of Superstore, and the fiftieth episode of the show overall.
Summary
When local small businesses set up shop inside Cloud 9, Glenn tries to help his wife Jerusha sell her handmade needlepoint, despite Jonah's concerns that he's pressuring his employees. Meanwhile, Amy doesn't feel Latina enough when a guy flirts with her in Spanish, and Garrett tries to uncover the truth behind a beer vendor's product.
Plot
At the store front, Glenn announces "Local Vendors Day", where small business owners can set up shop in the store. He remarks on a vendor selling needlepoint who Dina points out is Glenn's wife Jerusha. Not wanting to show bias towards her, Glenn denies she's his wife. Jerusha goes along with the ruse and Glenn calls her a "beautiful stranger". The staff start to kid Glenn that he has an open marriage and when it's explained to him what this means, they jokingly threaten to tattle to her that he's cheating resulting in Glenn shouting at Jerusha to not answer her phone. Garrett and Jonah browse vendor's tables but Garrett isn't impressed with any. He sees an artisanal beer table which he pans until he sees the cute proprietor Jess. Jonah teases him that he's interested in Jess which Garrett denies. Alex walks into the store on a delivery and waves at Amy which Dina and Cheyenne see. Amy tells them she's been on a few dates with Alex.
An older man at an ATM has to constantly use his body to shield the keypad while typing in his passcode due to a younger man who keeps trying to see what he is entering in. (♫ Britney Spears - If U Seek Amy ♫) Jerusha presents Dina with a needlepoint of her as a stork which Dina bluntly refuses to accept. Marcus is selling "boob cheese" made of human milk which he tells Mateo he mainly sources from stealing baby bottles. Glenn notices Jerusha isn't selling much so he tells several staff at the café, especially Sandra, they should buy one of her items. They are reluctant but he pressures them until they go over. Garrett tries a sample of Jess' beer which he says tastes like Bud Light. She says his palate needs to adjust. As Sandra buys an armload of Jerusha's scarfs, Jonah accuses Glenn of pressuring the staff by virtue of his position as store manager. Glenn doesn't agree and walks away angry.
Amy discusses a burrito vendor with Alex which results in him kidding her that he'll have to take her "Latina card" as she shows some ignorance where burritos are from. This leads Amy to ask Cheyenne, Dina and Mateo to describe her. They quip many pejoratives until she points out she's Latina which they don't see her as. Glenn asks some staff if he's pressured them to buy things. Sandra, Kelly and Justine all recall past events that led to hardship due to Glenn's pressuring. He vows to never pressure them again. Amy speaks to Alex in basic Spanish and when he replies in English, she kids him. Alex replies rapidly in Spanish and poses a question to Amy to which she replies "no" without understanding what he's said. Garrett has Jonah try one of Jess' samples and he believes it's Bud Light too. Garrett won't admit to caring about Jess despite Jonah teasing him.
Jerusha's sales plummet requiring Glenn to comfort her. He promises that sales will pick up. Alex continues talking rapidly in Spanish to Amy and when she replies "si" to a question, he exclaims in English that he is looking forward to "it". He walks away and it's apparent Amy doesn't know what she's agreed to. In the Break Room, Amy discusses her conversation with Cheyenne, Dina and Mateo. They aren't helpful in translating what Amy thinks Alex said. Jonah is asked if he speaks Spanish and when he finds out Amy is dating Alex, he appears uncomfortable. Garrett tells Jess that Jonah thought her beer was Bud Light too and that he'd respect her if she was ripping people off but she continues to deny it. Glenn secretly gives a customer $200 to buy items from Jerusha but the customer goes to the wrong table.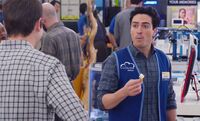 In Break Room, Jonah overcompensates and repeatedly says how great Alex is. Cheyenne asks why Amy won't admit to Alex she didn't understand him but she doesn't want to appear less Latina. The staff question Amy's racial dating preferences and don't believe her when she indicates she doesn't have any. Jonah arranges a double date with Kelly, Amy and Alex. A local vendor, Burrito Brian, eats a slice of pizza with gusto. (♫ Chi-Lites - Have You Seen Her? ♫) In the store, Jonah checks out Alex while Marcus rues spending his savings on creating "boob cheese". Jonah encourages him so Marcus gives him a sample and looks at Jonah expectantly. Jonah feels obliged to take a bite, fakes liking it which turns into surprise when Marcus admits he's grossed out by the cheese.
In the Break Room, Glenn asks the staff "as a pal" if anyone wants to buy something from Jerusha. Everyone turns him down flatly. Glenn yells that everyone has to buy something or he'll fire them. Everyone leaves in a rush except Sandra who tries to finish her lunch which Glenn throws in the garbage. Jess tells a customer details about how she makes her beer until Garrett interrupts and yells out it's Bud Light. The customer leaves and in private, Jess admits to Garrett that she is passing off Bud Light as craft beer. Garrett appreciates the honesty and then to her amazement, asks Jess out. Alex asks Amy if she's OK going out that evening and starts speaking in Spanish. Amy admits she didn't understand what he said. He indicates he wanted to take her to a BBQ place and she lies that she understood what he said earlier in Spanish about his family. Jerusha has sold all her items and she exits the store with Glenn's admiration. All the staff are seen wearing her hats and scarves.
Cast
Main cast
Featured cast
See also
Also see Season Three minor employees.
Running Gags
References
Trivia
Coffee & Bakery makes an appearance.
The translation of what Alex says starting at the 9:50 mark is "I'm so relieved. Look, there's a guy here. I don't know what his name is but he's very animated. He often sounds like a cat going meow, meow, meow. Do you know who he is? Anyways Amy...". The implication is that he is talking about Jonah especially as there was a deleted scene with Alex and Jonah (see picture in the Gallery).
The translation of what Alex says starting at the 11:45 mark is "I want to take you to a place I go. We'll be treated like family. There's a guy you're going to like. When I go there, the people know me and say hey, how's it going, how you doing? They're my people. Can I give you a call?".
The translation of what Alex says starting at the 20:10 mark is "But what will happen when we're on the way, a little music, a little ambience, the breeze blowing in the car..." before Amy cuts him off.
Glenn mentions in "Golden Globes Party" that Jerusha has a knack for finding an animal that represents someone's personality and his is a Labrador. This is likely the reason for Glenn wearing a dog tie when Jerusha's crafts are sold at the store.
Goof 1: Jess' green table is across from "Burrito Brian's" and beside (but in front of) a bald, bearded man's yellow table who is selling birdhouses. However, as Amy talks to Alex, both Burrito Brian and the bald man's tables are seen down the aisle but Jess' table is gone.
Goof 2: As Marcus talks Jonah into trying his boob cheese, an elderly man is behind Marcus talking to Jess. The man appears and disappears several times especially noticeable at 17:39 and 17:41 into the episode.
Quotes
"Yeah, well it's been a lot of trial and error. You know, if you don't get the consistency just right, you get boob yogurt and that's just gross."— Marcus
Gallery
Video
v

•

e
Superstore Season Three Episodes
  
"Part-Time Hires"
October 12, 2017
Directed by: Todd Biermann - Written by: Josh Malmuth

Emma gets a job at the store and Amy asks Jonah for parenting advise. Garrett and Dina argue over who broke up with whom, a cute construction worker flirts with Mateo, Cheyenne and Carol for store perks; Kelly has a rough first day. (Viewers: 4.33 million)
  
"Workplace Bullying"
October 19, 2017
Directed by: Tristram Shapeero - Written by: Bridget Kyle and Vicky Luu

After an attempted robbery, tensions arise between Dina and Jonah. Glenn has a tough time firing a store security guard and Amy discovers her coworkers have been hanging out without her. (Viewers: 4.20 million)
  
"Sal's Dead"
October 26, 2017
Directed by: Geeta V. Patel - Written by: Gabe Miller

A dead body is discovered in the store on Halloween, throwing Glenn and Dina into a panic and confusing the shoppers. Amy and Garrett get into big trouble using a dating app on Jonah's phone, Mateo is transformed in more ways than one by Cheyenne. (Viewers: 4.61 million)
  
"Health Fund"
November 2, 2017
Directed by: Victor Nelli, Jr - Written by: Jackie Clarke

As Mateo turns to stranger and stranger home remedies for an ear infection, Amy and Jonah decide to offer an alternative to Cloud 9's terrible health insurance plan. Glenn enlists Dina to help him get medical attention for his own embarrassing condition. (Viewers: 3.54 million)
  
"Christmas Eve"
December 5, 2017
Directed by: Todd Biermann - Written by: Eric Ledgin

Trying to prove how wild she can be, Amy turns a boring Christmas Eve at the store into a holiday adventure. Jonah and Garrett's roommate issues boil over and Glenn tries to prove to Mateo that Christmas is more than just fine. (Viewers: 4.41 million)
  
"Viral Video"
January 4, 2018
Directed by: Ken Whittingham - Written by: Jonathan Green

After an employee posts a controversial video online, Dina enlists Cheyenne to help police the rest of the staff's social media accounts. Amy learns something about Jonah that drives her to desperately pursue Instagram views, and Glenn suspects Mateo of rewards card fraud. (Viewers: 3.90 million)
  
"Golden Globes Party"
January 11, 2018
Directed by: Victor Nelli, Jr - Written by: Vanessa Ramos

When Amy throws a party to prove how great she's doing post-divorce, she's forced to enlist Dina and Jonah's help, and Dina ends up making the ultimate sacrifice. Glenn and his wife Jerusha are forced to conduct some personal business at Amy's home. (Viewers: 3.85 million)
  
"High Volume Store"
January 18, 2018
Directed by: Jay Hunter - Written by: Owen Ellickson

When Jeff announces that the store could be getting an upgrade, Amy, Jonah and Dina set out to discover the pros and cons. Cheyenne accidentally volunteers to be a surrogate mother for Glenn's baby and tries to get out of it. (Viewers: 3.71 million)
  
"Angels and Mermaids"
January 25, 2018
Directed by: Michael Spiller - Written by: Justin Shanes

Amy finds herself caught in the middle of a conflict between Cheyenne and her ex-convict mom, Brandi. A personal agreement between Glenn and Dina gets heated when Glenn brings in a lawyer. When Jonah finds out that Kelly believes in angels, Garrett's perfect weekend plans of having the apartment to himself are threatened. (Viewers: 4.22 million)
  
"Groundhog Day"
February 1, 2018
Directed by: Jaffar Mahmood - Written by: Sierra Teller Ornelas

Still fresh from her divorce, Amy doesn't feel ready to start dating again. But when Mateo tries to set her up with his loser cousin, she gets determined to show everyone she can do better and breaks some hearts in the process. Dina takes advantage of her pregnancy to scam Glenn into accommodating her every whim. (Viewers: 3.46 million)
  
"Video Game Release"
March 1, 2018
Directed by: America Ferrera - Written by: Jackie Clarke

When gamers invade the store for the release of a hot new video game, Jonah tries to help Amy secure herself a copy of the game, which takes them on an unexpected adventure. Mateo helps Garrett make a good impression on one of his heroes. Glenn and Sandra try to stand up for themselves with customers and end up instigating a breastfeeding "nurse-in." (Viewers: 3.38 million)
  
"Safety Training"
March 8, 2018
Directed by: Rebecca Asher - Written by: Bridget Kyle and Vicky Luu

When Mateo gets injured, Jonah tries to help him avoid Cloud 9 compensation for fear of his immigration status being revealed. Meanwhile, Amy attempts to convince everyone that she likes Kelly. (Viewers: 3.37 million)
  
"Amnesty"
March 15, 2018
Directed by: Keith Powell - Written by: Eric Ledgin

Glenn and Dina offer amnesty to all the employees for any bad things they confess so Garrett and Cheyenne try to decide how to take advantage of it. Meanwhile, Jonah and Amy try to defuse an awkward situation that has the whole store gossiping. (Viewers: 3.93 million)
  
"Target"
March 22, 2018
Directed by: Daniella Eisman - Written by: Jonathan Green and Gabe Miller

When Jeff leaves Cloud 9 to work at Target, Garrett leads Glenn to believe that he's poaching other employees to go with him. In return Glenn tries to poach employees from Target. Amy goes on a double date with Dina and, Kelly and Jonah discuss moving in together. (Viewers: 3.85 million)
  
"District Manager"
March 29, 2018
Directed by: Alex Reid - Written by: John Kazlauskas

Laurie, the new district manager, visits the store and decides to make some cuts to save money by firing Myrtle. Amy and Jonah plead with her to not fire anyone and search for other ways to make up the money. Mateo struggles to prove his skills on the cash register. (Viewers: 2.94 million)
  
"Local Vendors Day"
April 5, 2018
Directed by: Geeta V. Patel - Written by: Josh Malmuth

When local small businesses set up shop inside Cloud 9, Glenn tries to help his wife Jerusha sell her handmade needlepoint, despite Jonah's concerns that he's pressuring his employees. Meanwhile, Amy doesn't feel Latina enough when a guy flirts with her in Spanish, and Garrett tries to uncover the truth behind a beer vendor's product. (Viewers: 3.17 million)
  
"Lottery"
April 12, 2018
Directed by: Ben Feldman - Written by: Vanessa Ramos

As lottery mania sweeps the store, Dina incentivizes the employees to sell as many tickets as possible. Jonah helps Amy track down the new district manager to lobby for a raise. (Viewers: 3.08 million)
  
"Gender Reveal"
April 19, 2018
Directed by: Tristram Shapeero - Written by: Lauren Ash

The store hosts a gender reveal party for Glenn and his wife Jerusha, just as Dina is freaking out at the realities of having to deliver a baby. Amy receives some unsettling news. (Viewers: 2.76 million)
  
"Aftermath"
April 26, 2018
Directed by: Ryan Case - Written by: Justin Shanes and Owen Ellickson

Amy and Jonah deal with the consequences of their kiss. Glenn and Dina enlist Garrett's help to win the store a visit from Cloud 9's CEO. (Viewers: 2.85 million)
  
"Town Hall"
May 3, 2018
Directed by: Matt Sohn - Written by: Justin Spitzer

As the store prepares to host a company-wide Town Hall meeting, Amy and Jonah are forced to put their conflicts aside and rally their co-workers to confront the CEO. Glenn struggles with the pressure of speaking to a global audience. (Viewers: 2.97 million)