Sure, but I'm not leaving until we figure this out.

Luanne works in the Cloud 9 corporate office in Human Resources. She is portrayed by actress Chrissy Metz.
Character History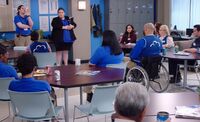 Luanne introduces herself to the staff in the Break Room after it's discovered that tweets that reflect badly on Cloud 9 (secretly done by Amy and Jonah) were made by an employee of the store. Showing evidence to back it up, the staff can't believe how few safeguards the tweeter took. While Jonah shifts uncomfortably, Amy tries to get Luanne to back off but she indicates she's not leaving until the identity of the tweeter is found. To get a confession, Dina lies that the guilty party won't be punished but Luanne says the employee will be fired.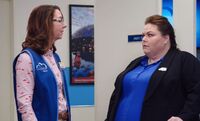 In the Surveillance Office, Luanne and Dina look at video to find a time match when staff were using their phones and the tweets were sent. However, many staff were using their phones so they can't find the culprit. As Luanne switches to video of the Break Room, Dina says the video there is before the tweets but she sees it was Garrett who released her beloved birds on Valentine's day, never to be seen again. In Amy's office, Luanne tells Amy and Jonah websites the culprit visited on his phone, which match Jonah's interests. Amy and Jonah both lie that many staff could have done so. Carol arrives and exacts her revenge on Sandra by lying that Sandra told her that she is the tweeter. After firing Sandra, on her way out of the store, Luanne finds a valuable baseball card in the recycling bin. ("CLOUD9FAIL")