You won't have to kill them. We have a service that comes in. I'm dating the injection guy. Yeah, he's great.

Lydia is a visitor to Cloud 9 Store 1217. She works at the Ozark Animal Rescue Shelter. She is portrayed by actress Dana Gourrier.
Character History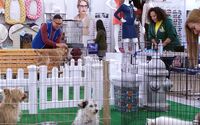 Glenn arranges for a dog adoption day at the store and Mateo and Jonah volunteer to run the station. They meet Lydia and are shocked to learn that the dogs that aren't adopted will be euthanized. Lydia also says she is dating the guy that gives the injections to the dogs. She asks where the stamps and dryer sheets are sold and leaves. Jonah and Mateo use many ploys and manage to get all the dogs adopted. Lydia returns and is happy the dogs are adopted but also sad that she won't get to see the injection guy. She says she'll be an adult and text him. ("Dog Adoption Day")
Community content is available under
CC-BY-SA
unless otherwise noted.