That sounds heavenly!

MC Cool Cloud is the Cloud 9 cartoon mascot who is seen in training videos and on advertising materials where he takes on various personae. He's been the company's cartoon mascot since at least the 1980's.
Character History
After Amy refuses to work a salsa booth and another Latina employee Carmen does so, Amy is put off by Carmen faking a stereotypical Mexican. Later when Mateo does the same thing, Amy tries to show how wrong this is by mimicking stereotypical Asian mannerisms just as an Asian family walks by. As a result, the staff are forced gather in the Break Room to watch a 60 minute training video on racial sensitivity starring the "Corporate Woman" in which MC Cool Cloud talks to her. He's also featured prominently in signs for the Pharmacy and Señor Cloud salsa. ("Shots and Salsa") He's featured in a sign for Chuppah. ("Wedding Day Sale")
On Valentine's Day 2016, Glenn and Amy try to set up the eldest employee in the store Myrtle with another elderly employee, Arthur. They don't realize that Arthur has been sexually harassing Myrtle and after meddling in the situation, Myrtle files sexual harassment charges against them all. This results in district manager Jeff visiting the store and showing the staff a training video on sexual harassment starring "Corporate Woman". MC Cool Cloud apologizes to her for making her uncomfortable. ("Valentine's Day") He's featured in a sign for the store's "Wellness Fair". ("Wellness Fair")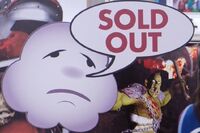 He's seen in a background sign as the store is under construction. ("Part-Time Hires") He's featured in signs for Gary the Groundhog and SuperCloud spring water. ("Groundhog Day") He's also featured in a sign for the release of the video game "Barbarian's Gate" ("Video Game Release"), Missouri lottery ("Lottery"), as a farmer ("Local Vendors Day") and on Mother's Day 2018. ("Aftermath")
He's seen in a "how's your day going?" sign ("New Initiative") and a climate change sign. ("Cloud Green") In May 2019, MC Cool Cloud is in an anti-union video where he's praised by Cloud 9 employee Ashley, who is pregnant with his child. ("Employee Appreciation Day")
Trivia
Garrett indicates that the actor who did the voice of MC Cool Cloud committed suicide in 1994. ("Shots and Salsa")
He also appears in the Training Video "Glenn's Bad Idea" where he's seen in a training video from the 1980's.
The original Cloud 9 cartoon mascot was "Chief Saves-a-lot." ("Sandra's Fight")
Gallery
Community content is available under
CC-BY-SA
unless otherwise noted.