"Mannequin" is the fourth episode of Season One of Superstore, and the fourth episode of the show overall.
Summary
Amy pranks Jonah with a mannequin, Cheyenne considers putting her baby up for adoption so Glenn and Dina compete.
Plot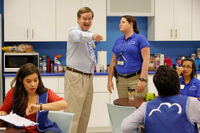 The staff are enjoying a rest in the Break Room and Jonah says he feels like he is fitting in. However, he manages to unintentionally insult Garrett's disability and implies Amy looks pregnant. As Cheyenne talks about how hard it is to work while pregnant and that she became pregnant because she couldn't get a ride to planned parenthood, Jonah offers her a ride in the future which prompts Glenn to express his abortion views. This starts an argument with Dina which Jonah watches, wishing he'd never started talking.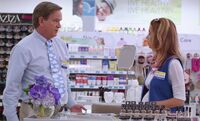 In the store, Garrett and Amy look at a mannequin which they think looks like Jonah. Jonah thinks it looks like Tom Cruise so they tease him about his ego. A boy wraps another boy up in a garden hose. (♫ Blue Öyster Cult - Burnin' For You ♫) Cheyenne confides to Amy that she doesn't know if she's ready to be a mom and is considering adoption. Glenn overhears, offers to adopt her baby and walks away excited. In the Break Room, the staff have dressed the mannequin to look like Jonah complete with vest and name tag. They affect Jonah's mannerisms and sayings with the mannequin and though he tries to join in the fun, it falls flat. Glenn calls Jerusha about adopting Cheyenne's baby which Dina overhears. Dina approaches Cheyenne about adopting her baby.
After Jonah calls Amy the "responsible one", she re-doubles her efforts to prank him and to show she is fun. She starts by taking the mannequin and posing it with bananas in a manner Jonah described earlier. She continues dressing the mannequin in various costumes and poses. (♫ M.O.P. - Ante Up ♫) These become increasingly insulting until the mannequin is seated on a toilet reading a magazine. Glenn and Dina battle over who will adopt Cheyenne's baby. Amy plans her next prank and leaves shift assignments to be done by Garrett who hands it to Mateo. Jonah finally snaps and carries the mannequin into the Stock Room and tries to destroy it in a compacter. (♫ Birdman - Dark Shades ♫)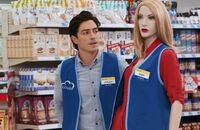 Mateo is using his new-found power to assign everyone who has crossed him to the freezer. Carol asks where Amy is which gets her freezer duty. In Glenn's Office, Glenn has invited Cheyenne and Bo to get to know him better and not so subtly shows them pictures of his children. Bo wants money for the right to adopt. An alarm sounds and Glenn has to leave. In the Stock Room, Jonah has over-loaded the compacter which has tripped the alarm. Glenn sees the mannequin legs sticking out and freaks out thinking Jonah has put a person in. At the café, Bo and Cheyenne interview Dina and Glenn to determine who would be the best foster parent. Amy tries to get Jonah to admit he destroyed the mannequin because her fun pranks got to him. He refuses and tries a feeble prank with a blonde mannequin.
The interview continues with inane questions being asked. Glenn ends up teaching Bo and Cheyenne a few things. Garrett catches Amy dressing up another mannequin and points out that things are falling apart in the store without her direction. He calls what she is doing a "work flirt" which she takes exception to. Glenn and Dina try to one-up each other in the interview and their arguments cause Bo and Cheyenne to realize neither would be good for their baby. Garrett and Amy catch Jonah in the Break Room dressing up a sex doll that looks like Amy. The doll is partially naked and Jonah looks like a pervert. The situation is worsened when other employees come upon the situation. Garrett says that rumors get started this way.
A man with his pants down sits on the store display toilet the mannequin was on. (♫ Rockwell - Somebody's Watching Me ♫) Glenn and Dina have come to a compromise - they'll share custody. They tell Cheyenne this and say that others will help so the child will be the "store baby". Cheyenne has decided to keep the baby which frustrates Dina. In the parking lot, Jonah catches Amy and shows her a return receipt for the sex doll. He says he knows why Amy was dressing up the mannequins - it was an initiation. Amy is relieved Jonah doesn't think she was flirting with him and says he passed. Bo and Cheyenne are in the maternity section and find a crib they like. Bo describes what life will be like for the baby in his unique style.
Cast
Main cast
Featured cast
}}
See also
Also see Season One minor employees.
Running Gags
Amy's name tag: Amy wears a different name tag in every episode. For this one it's "Sheila".
Crazy Customers and music: For all customer interludes and music see Mannequin (music).
Glenn's tie: Large cartoon clouds.
Rhyme time: Garrett flirts with a female associate by saying "What it do, boo?".
References
Trivia
Quotes
"Jonah, I'd prefer if you didn't offer to shuttle our employees to the abortion clinic."— Glenn
Gallery
v

•

e
Superstore Season One Episodes
  
"Mannequin"
January 4, 2016
Directed by: Victor Nelli, Jr. - Written by: Jonathan Green and Gabe Miller

Amy pranks Jonah with a mannequin who resembles him, Cheyenne considers giving her baby up for adoption, Mateo uses newly acquired power to exact revenge. (Viewers: 6.02 million)
  
"Shoplifter"
January 11, 2016
Directed by: Ruben Fleischer - Written by: Jackie Clarke

Dina tracks a shoplifter, Amy brings her daughter Emma to work even though it isn't allowed so Jonah helps out. (Viewers: 5.38 million)
  
"Secret Shopper"
January 18, 2016
Directed by: Alex Hardcastle - Written by: Lon Zimmet

Amy feels competitive when Glenn publicly congratulates Jonah on his superb employee test results. Cloud 9 employees are on their best behavior in anticipation of a secret shopper. (Viewers: 5.66 million)
  
"Color Wars"
January 25, 2016
Directed by: Andy Ackerman - Written by: Jack Kukoda

The store is divided into two sales teams competing for $100 each, Jonah meets Amy's husband Adam. (Viewers: 4.93 million)
  
"All-Nighter"
February 8, 2016
Directed by: Christine Gernon - Written by: Eric Ledgin

After working overtime to put up new signs, the staff are locked in the store. They find unique ways to amuse themselves and bond in the process. (Viewers: 5.19 million)
  
"Demotion"
February 15, 2016
Directed by: Linda Mendoza - Written by: Matt Hubbard and Lon Zimmet

Dina asks for a demotion in order to date Jonah, Amy and Glenn deal with finding a replacement. (Viewers: 3.09 million)
  
"Labor"
February 22, 2016
Directed by: Beth McCarthy-Miller - Written by: Owen Ellickson

Cheyenne is having her baby in the store but won't stop working because Cloud 9 doesn't offer paid maternity leave. To help her Jonah proposes a walkout. (Viewers: 4.68 million)