No. Fencing sucks!

Mike is a visitor to Cloud 9 Store 1217 and would like to purchase a rifle. He is portrayed by actor John O'Brien.
Character History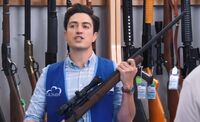 Disgruntled that Amy makes him work the gun counter, Jonah reacts by turning away customers. However, when Mike approaches Jonah to buy a rifle, he is calm and friendly. Jonah is about to give him the rifle when Mike reveals that he's just been laid off from work. Mike calmly says he's upset about being fired and his former employer is going to regret it which causes Jonah to deny him service. Mike tries to explain that he's said he's upset because no one at his employer knows how to run the payroll software. Jonah still refuses to sell him the rifle and suggests Mike take up fencing which Mike says sucks. Denied service, Mike seeks out Amy and crowds her while she's on the phone with Adam. He then complains about Jonah to her. ("Guns, Pills, and Birds")
Community content is available under
CC-BY-SA
unless otherwise noted.