Lisa
, you didn't just bag groceries, you bagged my heart.

Miles was an associate at Cloud 9 Store 1217 who began working at the store in April 2015. He is portrayed by actor Jeremy Howard.
Character History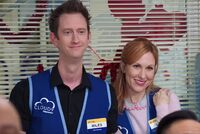 On Valentine's Day 2016, Miles grabs the store microphone from Garrett and starts professing his love for fellow employee Lisa. He's prepared a dance flash mob marriage proposal. Much to his dismay, Lisa was in the bathroom and he had to repeat his proposal when she got back. Later in the Break Room, after the employees had watched a training video on sexual harassment, Glenn protests the video's message and says without workplace romance, Miles and Lisa wouldn't have met and their future kids would never have been born. Lisa reveals to Miles that she doesn't want children, while he very much does. Their relationship is in some doubt and its status is unknown. ("Valentine's Day")
Trivia
Five minutes into Black Friday, Glenn mentions that the beer tower display was knocked down on top of Miles and he had to leave work. ("Black Friday")
Community content is available under
CC-BY-SA
unless otherwise noted.