When I was a teenager, I crashed my father's Hudson Super and blamed it on a Chinese.

Character History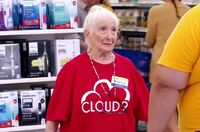 Myrtle is first seen working at the jewelry counter. Jonah asks her if she's seen Amy. Myrtle looks confused, says "Amy" and trails off. ("Shoplifter") Myrtle is part of "Team Red" during the store sales competition. She stares down an obese "Gold Team" member in a little shirt, high fives Sandra and once the competition is done, she's seen at the party in the Break Room asking (for the sixth time) who won. She then repeatedly hits the teddy bear piñata and asks if it's working. ("Color Wars")
A customer won't leave the store at closing time so Amy asks Myrtle to break out her hysterectomy story. Myrtle participates in the impromptu fashion show with a bike wheel when everyone is locked in the store. ("All-Nighter") She interviews for the position of assistant manager and tells a story of how she crashed her Dad's car and blamed it on a Chinese person. ("Demotion") She attends Steve's seminar on why unions are bad and is in the Break Room as Jonah tries to convince everyone to form a union. She brings a teddy bear to Cheyenne as she's giving birth and walks out to get Glenn his job back (though she gets lost and Jonah has to help her). ("Labor")
In the store's Olympic opening ceremony, Myrtle is tasked to light the cauldron but instead lights a stack of toilet paper causing a large fire and a panic. ("Olympics") Myrtle is part of the strike. Her demand is that the store be closer to her house. She points out to Amy and Jonah that the port-a-potty needs to be cleaned (it's a garden shed). On the picket line, she's sleeping in a lawn chair and a fellow striker checks her pulse to make sure she's still alive. As employees return to work, Amy says their skills can't be replaced but Myrtle points out that it's easy to find replacements. ("Strike")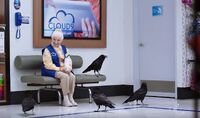 At the morning Break Room meeting, Myrtle says she doesn't want to sell rice. When Jonah invites Amy to watch basketball, Myrtle says she is free. Later, she is seen enjoying feeding the crows that have invaded the store. ("Guns, Pills, and Birds") At Halloween, Myrtle is wearing bunny ears and takes a shine to a man wearing a Grim Reaper costume. Dina forbids staff from leaving the store due to a suspected theft and she has Myrtle guard the doors. Amy, Glenn and Mateo distract her by rolling a red ball in front of her which she chases. ("Halloween Theft")
On election day, Marcus bullies Myrtle into voting for the candidate Amy and Jonah have picked and carries her to the voting station in the store. ("Election Day") Myrtle takes an instant dislike to seasonal worker Opal because Opal is older than her. She bets that Opal will be the first to quit and later Myrtle tries to push over a ladder Opal is on. ("Seasonal Help") At the end of Black Friday, Myrtle is asleep on a chair and Glenn asks if someone will check if she is alive. ("Black Friday") Myrtle is trying to unwrap her scarf, is at the lost and found draw and gets a baseball hat with #SLAY on it. She's in the souped-up Break Room having a coffee and playing darts. ("Lost and Found")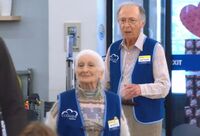 Myrtle is at the staff meeting where Glenn reveals Amy is in marriage counseling. She's on those that attends the ladies' lunch at The Charhouse where the Waiter jokes with her that he needs to see her ID. She orders a 60oz steak which is an eating challenge, if she finishes it all, it's free. Later at the lunch, the waiter tries to bus her steak and she slaps his hand. She's seen waving her fork as the ladies sing karaoke and back at the store, is enjoying a hot dog. ("Ladies' Lunch") Amy and Glenn assign elderly employee Arthur to work with Myrtle in hopes they will hit it off. Arthur ends up sexually harassing Myrtle and she files a complaint against them all. ("Valentine's Day") Myrtle calls Sandra a maniac when lies are told concerning her relationship with Jeff Sutin. ("Wellness Fair")
Myrtle attends Cheyenne's wedding and Garrett convinces her that Bo is gay because of his flamboyant suit. ("Cheyenne's Wedding") She attends the staff meeting when Glenn talks about the raccoon but everyone wants to know who is going to be laid off and the meeting where Glenn asks the employees to decide who should be laid off. When the tornado hits, Myrtle hasn't taken shelter and is in the center of the store. She's seen holding onto an over-turned basketball net and is blown horizontally. She isn't seen after the storm, but she did survive. ("Tornado")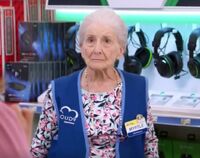 Myrtle is seen helping prepare the store for the re-opening. When Amy emphasizes speed over quality in order to get the store ready in time, Myrtle offers "slow and bad" work. Later, Amy chooses Myrtle over Jonah to help her unload a truck. ("Grand Re-Opening") Myrtle attends the memorial service for Brett. Jonah tries to find out about Garrett's past from Myrtle but she describes an affair she thought she was having with Ozzie Smith in 1987 when the Cardinals were in the World Series. ("Brett Is Dead") On the day the store was robbed, Amy holds a draw for staff to partner up when leaving at night but rejects Myrtle being her partner. Jonah ends up being Myrtle's partner who she maligns in front of him and some staff. Amy approaches Sandra, Roger and others about an after-work activity and Myrtle suggests bowling. They respond with such great need and creepiness that Amy backs out and makes an excuse that she forgot that Emma has a "thing". Myrtle watches Dina and Jonah fight. ("Workplace Bullying")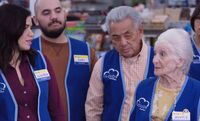 Myrtle is among the staff at the store front as Dina mentions the release of "Barbarians Gate 3". She points out a bug in the first release of Donkey Kong where the ape had a penis. Later in the Break Room as the staff discuss the "nurse-in", she opines that in her day, a woman who reveals her breast in public is a whore. ("Video Game Release") Myrtle is part of the staff Glenn puts through safety training including how to mop and lift boxes. Myrtle opines that "Caution - Wet Floor" signs are put out on the holidays. ("Safety Training") In Glenn's Office, Myrtle admits to Dina and Glenn that she stole gum and her story continues with an explosion at a factory her uncle worked at. ("Amnesty")
Jonah comments that many people think women make better bosses than men. He makes an analogy to Ginger Rogers and Fred Astaire which angers Myrtle who challenges Jonah to name movies Rogers was better than Rita Hayworth in. As Amy and Laurie review the personnel files, Amy jokes about how little Myrtle does resulting in Laurie wanting Myrtle fired. Glenn tries to give Myrtle a perfect last day but Myrtle wants her dead husband back and isn't impressed with a local weatherman Glenn has come to the store. Glenn discovers that Myrtle always wanted to drive a Cloud 9 Delivery Truck so he gets her into the driver's seat of one. She crashes the truck into Glenn's SUV and turns the truck onto its side. Proclaiming it the best day ever, Glenn then fires her. ("District Manager")
Myrtle appears in the store as a customer to play the lottery. She tells Glenn that her new job is collecting cans for which she has to get up at 3:00am. He offers her $30 for the cans and she hopes she wins the lottery as she's living in a motel and running out of money. ("Lottery") She becomes a rallying point for the staff in the unfair treatment of Cloud 9 employees when Amy and Jonah discover that she was fired unfairly due to her age. She's mentioned as a forbidden topic at the town hall by Laurie, her voice is heard on the phone in the Warehouse as Amy and Jonah make plans to reveal the company's unfair policy at the town hall and her situation is raised by Jeff to Cloud 9's CEO at the town hall. ("Town Hall")
Jeff tries to win favor with the staff by introducing a virtual Myrtle greeter which malfunctions. ("Back To School") On Halloween, virtual Myrtle greets the customers and dares them to buy batteries, which are on sale, and briefly has a devil face. ("Costume Competition")
Seeing Myrtle eating ketchup packets at Coffee & Bakery, Amy offers her a job as her assistant which Myrtle enthusiastically accepts. In Amy's office, Jonah learns that Myrtle has been made her assistant. Dispatching Myrtle to give announcement to Garrett, Amy effuses about her salary and asks Jonah to pass the contract corporate faxed over and says he can take a look at it. When he indicates the papers are the announcements, Amy realizes Myrtle took her contract to Garrett. Myrtle encounters the store greeter hologram of herself and does what the hologram says. ("Salary")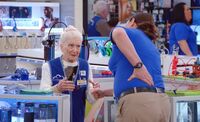 Amy shows the staff scanners that customers can use to pay for items. Myrtle and Glenn wonder if machines are taking their jobs and the staff's hours are cut back. In the Warehouse, the staff divide into two teams, "Team Soup" led by Jonah, which Myrtle is on, and "Team Yogurt" led by Garrett. Cheyenne notes that Jonah's team is all white people, Myrtle makes a racist remark and the teams file out. As Dina listens to Myrtle relate that without more hours, she won't be able to buy her medication and will die, Dina breaks down and says she'll find Myrtle some. ("Scanners")
Trying to show he's a good guy, Garrett brings Myrtle her shawl. However, Glenn doesn't see Garrett's gesture so Garrett tries to take the shawl back which Glenn interprets as Garrett being mean. Later, the Myrtle hologram runs out of battery power. ("Sandra's Fight") Myrtle listens to Amy announce "Employee Appreciation Day" and watches Dina accidentally smash her holographic greeter with a t-shirt cannon. ("Employee Appreciation Day")
The employees at Cloud 9 mourn the loss of fellow employee Myrtle. Jonah is shocked to discover that Myrtle left him $1,000. Feeling guilty about having the money, Jonah gives it to Glenn to use for funeral costs, but learns he's giving all the money to his pastor (who asserts he can help ensure Myrtle will get into heaven). Meanwhile, Dina reunites with her father, thinking that he has changed, but soon discovers he's still the same guy. Also, Cheyenne ropes Mateo into a pyramid scheme.}}
Trivia
Dina mentions that the store has had a death pool on her for 20 years. ("Seasonal Help")
Myrtle started working at the store in 1987.
She was part of an extortion scheme (a badger game) which she had to cut her way out of. ("Brett Is Dead") *
She has the highest salary of any sales associate due to her longevity. ("District Manager").
She has never been Employee of the Month ("Myrtle").
The actress who portrayed Myrtle, Linda Porter passed away on September 25, 2019.
Quotes
"The whole world's going gay."— Myrtle, "Cheyenne's Wedding".
"It's just that if I lose my hours, I can't afford my arthritis medication, and without my arthritis medication, I can't open the bottle for my heart medication, and then it just spirals after that and then I die."— Myrtle, "Scanners".
Gallery