Uh, I hate war.

Nick was an employee at Cloud 9 Store 1217. He is a temporary seasonal worker. He is quiet and sensitive. He is portrayed by actor Peter Banifaz.
Character History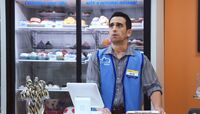 Nick is first seen in the Break Room as manager Glenn welcomes all the temporary seasonal workers to the store. Glenn calls him "Reggie". He then crashes a "Go Back" cart into some Christmas decorations. Jonah and Garrett devise a betting pool to see which temp worker will quit first. Garrett starts probing which temps he might be able to get to quit and settles on Nick after he finds out that Nick hates being away from his son. In order to push Nick into quitting, Garrett announces on the P.A. a song that is dear to him as it reminds him of his dad. He then plays Cat's in the Cradle, a sad song about a father who wasn't there for his son because he was too busy working. Unfortunately for Garrett, the temp Jonah has picked, Isaac, quits first and Jonah wins the pool. ("Seasonal Help")
Community content is available under
CC-BY-SA
unless otherwise noted.