Your brain doesn't make you a woman. Breasts make you a woman.

Nikki is a visitor to Cloud 9 Store 1217. She is very attractive, is an activist but is bigoted. She is portrayed by actress Sarah Dumont.
Character History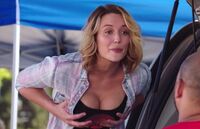 Nikki is first seen when the staff go on strike in support of getting manager Glenn Sturgis his job back. She has joined the picket line in support of the staff even though she doesn't work for Cloud 9. Garrett is attracted to her, introduces himself and he and Nikki bond over their mutual interest in the video game "Dead Chaser 4". As other non-Cloud 9 protesters join the picket line, they have their own agenda. Some protesters want to prevent transgender people from using the bathrooms in the store. Nikki joins their protest and Garrett sees she is a bigot. He initially decides not to ask her out but she is so unknowingly provocative, that he tells Jonah he's going to have sex with her a number of times and then try and change her views. She is last seen getting into her jeep with Garrett. ("Strike")
Community content is available under
CC-BY-SA
unless otherwise noted.