I'm not crying. I don't even like you!

Noam was an employee at Cloud 9 Store 1217. He was born in 2004 and impressionable. He is portrayed by actor Christian Alexander Garcia.
Character History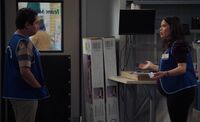 Isaac introduces Noam to Jonah, calls him "J-Bone" and tells Noam to see Jonah for sexual advice. Marcus asks how sex with Amy was and goads Jonah into admitting it was good which results in them dancing lewdly in front of Noam. Noam asks Glenn if he's supposed to stop kids from getting high from sniffing markers. Amy gathers the staff and says she's not embarrassed about the sex tape and announces she likes sex which Glenn supports and impresses upon Noam. In the Stock Room, Noam approaches Amy, expresses admiration for her speech and then asks if she'd like to "do it". She declines and he runs away crying. Noam hides in a pup tent and Cheynne and Dina try unsuccessfully to get him to come out. As Amy discusses the issue with Glenn, Dina calls the staff to a harassment meeting and has the tent containing Noam dragged there. The meeting turns into a discussion on Amy and Jonah's sex tape and Noam falls asleep in the tent. ("Back To School")
Community content is available under
CC-BY-SA
unless otherwise noted.