"Part-Time Hires" is the third episode of Season Three of Superstore, and the thirty-sixth episode of the show overall.
Summary
Emma gets a job at the store and Amy asks Jonah for parenting advise. Garrett and Dina argue over who broke up with whom, a cute construction worker flirts with Mateo, Cheyenne and Carol for store perks; Kelly has a rough first day.
Plot
In the Break Room, Glenn welcomes Amy's daughter Emma as the newest part-time employee. Cheyenne plays a video presentation of Emma that Glenn narrates. (♫ Elton John - Your Song ♫) Emma is embarrassed and questions Amy who had nothing to do with providing the pictures. Glenn says he keeps copies of all photos employees have developed at the store. Everyone applauds and exits as Glenn also announces that Kelly has started working at the store. She tries to introduce herself but is ignored. In the store, Mateo asks a construction worker about Scott as Cheyenne watches. Mateo plans to bump into Scott when he comes into the store.
Jonah tries to converse with Emma until Amy orders Emma to clean up the dressing rooms. Emma groans as she leaves which prompts Jonah to warn Amy that if she's tough on Emma, this will make her ex Adam the "good guy". Jonah relates that when his parents divorced, he became closer to his Dad due to his niceness. Amy believes it is her role as a parent to instil disciple in Emma. A customer stocks up on behind the counter Pharmacy items. (♫ Chaka Khan - Sweet Thing ♫) At customer service, Dina tells Garrett that she hasn't been having sex with him as she's dealing with her anxiety issues and seeing a shrink. Garrett offers to take a break from their relationship which she accepts.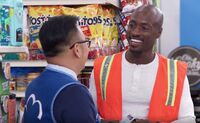 Kelly asks Mateo for advice but he sees Scott and shoos her away so he can flirt with Scott. Amy discovers that Emma and Adam have been spending a lot time together which prompts jealousy and a movie invitation which Emma declines due to plans with her Dad. Amy runs to Jonah for advice and agrees she needs to be nicer until Emma likes her better than Adam. In the Break Room, Cheyenne, Glenn and Justine try to console Garrett as they heard from Dina that she dumped him. He's outraged and says it was a mutual decision. They shake their heads sadly at him. Amy tries gossiping with Emma until a customer starts yelling at Emma. Amy shouts him down which Emma finds awesome. Scott and Mateo are flirting and on departing, Scott asks for Mateo's employee card so he can use the employee bathroom. Mateo relents and Cheyenne suggests he's being used but Mateo thinks Scott is truly interested in him.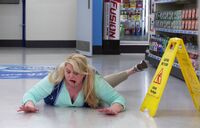 Garrett confronts Dina over her telling everyone she dumped him when he thinks it was he who suggested the break but isn't able to change her opinion. While mopping, Emma shares a secret so Amy lets her leave the floor wet. Justine slips on the wet spot and lands on her face. Amy tells Jonah she's angry with herself for trying to be friends with Emma and that it's OK for Jonah to be strict with her. Scott is disappointed when he asks for Mateo's employee card again and Mateo refuses. In the Warehouse, Carol helps Kelly and then tells her creepy plan to steal Jerry away from Sandra which causes Kelly to recoil. Emma shelves items in the wrong area and won't listen to Jonah so he follows Amy's direction and yells at Emma. Glenn interjects, yells at Jonah and tells him to stay away from Emma while she smiles behind Glenn's back.
Scott helps a reluctant Cheyenne load some ice and without him asking, she says she won't share her employee ID. He turns on the charm and after she sees his sculpted body, Scott enters the employee bathroom and shows Mateo her card. A 3-D printer is shown with a warning sign. (♫ Ace of Base - The Sign ♫) Garrett brings his problem to Jonah who is overly enthusiastic and this results in Garrett turning away. Jonah seeks Garrett out at customer service and apologizes for not being able to help and suggests they plan a roommate movie night over a few beers. Garrett isn't impressed with this plan so over the P.A. system tells everyone it was his idea to break up with Dina and that she's seeing a shrink, which he immediately regrets saying.
Amy shares her concerns about Emma with Glenn. He gets her to realize that Emma's churlish behaviour is normal for a teenager so Amy can go back to being strict with her. Cheyenne and Mateo watch as Scott is now flirting with Carol who puts her employee card down her blouse to his concern. They wonder why he needs to go to the bathroom so much. Garrett apologizes to Dina who tricks him into getting back together and then she immediately breaks up with him and announces it over the P.A. system. Much to her surprise, Glenn congratulates Kelly on a great first day. He then informs her that she won't be paid for the day as she didn't clock in.
Cast
Main cast
Featured cast
See also
Also see Season Three minor employees.
Running Gags
References
Trivia
Quotes
"Yeah, see, Latino parents are different. We don't really need our kids to like us. We just break their spirit so the world doesn't."— Amy
Gallery
Video
v

•

e
Superstore Season Three Episodes
  
"Part-Time Hires"
October 12, 2017
Directed by: Todd Biermann - Written by: Josh Malmuth

Emma gets a job at the store and Amy asks Jonah for parenting advise. Garrett and Dina argue over who broke up with whom, a cute construction worker flirts with Mateo, Cheyenne and Carol for store perks; Kelly has a rough first day. (Viewers: 4.33 million)
  
"Workplace Bullying"
October 19, 2017
Directed by: Tristram Shapeero - Written by: Bridget Kyle and Vicky Luu

After an attempted robbery, tensions arise between Dina and Jonah. Glenn has a tough time firing a store security guard and Amy discovers her coworkers have been hanging out without her. (Viewers: 4.20 million)
  
"Sal's Dead"
October 26, 2017
Directed by: Geeta V. Patel - Written by: Gabe Miller

A dead body is discovered in the store on Halloween, throwing Glenn and Dina into a panic and confusing the shoppers. Amy and Garrett get into big trouble using a dating app on Jonah's phone, Mateo is transformed in more ways than one by Cheyenne. (Viewers: 4.61 million)
  
"Health Fund"
November 2, 2017
Directed by: Victor Nelli, Jr - Written by: Jackie Clarke

As Mateo turns to stranger and stranger home remedies for an ear infection, Amy and Jonah decide to offer an alternative to Cloud 9's terrible health insurance plan. Glenn enlists Dina to help him get medical attention for his own embarrassing condition. (Viewers: 3.54 million)
  
"Christmas Eve"
December 5, 2017
Directed by: Todd Biermann - Written by: Eric Ledgin

Trying to prove how wild she can be, Amy turns a boring Christmas Eve at the store into a holiday adventure. Jonah and Garrett's roommate issues boil over and Glenn tries to prove to Mateo that Christmas is more than just fine. (Viewers: 4.41 million)
  
"Viral Video"
January 4, 2018
Directed by: Ken Whittingham - Written by: Jonathan Green

After an employee posts a controversial video online, Dina enlists Cheyenne to help police the rest of the staff's social media accounts. Amy learns something about Jonah that drives her to desperately pursue Instagram views, and Glenn suspects Mateo of rewards card fraud. (Viewers: 3.90 million)
  
"Golden Globes Party"
January 11, 2018
Directed by: Victor Nelli, Jr - Written by: Vanessa Ramos

When Amy throws a party to prove how great she's doing post-divorce, she's forced to enlist Dina and Jonah's help, and Dina ends up making the ultimate sacrifice. Glenn and his wife Jerusha are forced to conduct some personal business at Amy's home. (Viewers: 3.85 million)
  
"High Volume Store"
January 18, 2018
Directed by: Jay Hunter - Written by: Owen Ellickson

When Jeff announces that the store could be getting an upgrade, Amy, Jonah and Dina set out to discover the pros and cons. Cheyenne accidentally volunteers to be a surrogate mother for Glenn's baby and tries to get out of it. (Viewers: 3.71 million)
  
"Angels and Mermaids"
January 25, 2018
Directed by: Michael Spiller - Written by: Justin Shanes

Amy finds herself caught in the middle of a conflict between Cheyenne and her ex-convict mom, Brandi. A personal agreement between Glenn and Dina gets heated when Glenn brings in a lawyer. When Jonah finds out that Kelly believes in angels, Garrett's perfect weekend plans of having the apartment to himself are threatened. (Viewers: 4.22 million)
  
"Groundhog Day"
February 1, 2018
Directed by: Jaffar Mahmood - Written by: Sierra Teller Ornelas

Still fresh from her divorce, Amy doesn't feel ready to start dating again. But when Mateo tries to set her up with his loser cousin, she gets determined to show everyone she can do better and breaks some hearts in the process. Dina takes advantage of her pregnancy to scam Glenn into accommodating her every whim. (Viewers: 3.46 million)
  
"Video Game Release"
March 1, 2018
Directed by: America Ferrera - Written by: Jackie Clarke

When gamers invade the store for the release of a hot new video game, Jonah tries to help Amy secure herself a copy of the game, which takes them on an unexpected adventure. Mateo helps Garrett make a good impression on one of his heroes. Glenn and Sandra try to stand up for themselves with customers and end up instigating a breastfeeding "nurse-in." (Viewers: 3.38 million)
  
"Safety Training"
March 8, 2018
Directed by: Rebecca Asher - Written by: Bridget Kyle and Vicky Luu

When Mateo gets injured, Jonah tries to help him avoid Cloud 9 compensation for fear of his immigration status being revealed. Meanwhile, Amy attempts to convince everyone that she likes Kelly. (Viewers: 3.37 million)
  
"Amnesty"
March 15, 2018
Directed by: Keith Powell - Written by: Eric Ledgin

Glenn and Dina offer amnesty to all the employees for any bad things they confess so Garrett and Cheyenne try to decide how to take advantage of it. Meanwhile, Jonah and Amy try to defuse an awkward situation that has the whole store gossiping. (Viewers: 3.93 million)
  
"Target"
March 22, 2018
Directed by: Daniella Eisman - Written by: Jonathan Green and Gabe Miller

When Jeff leaves Cloud 9 to work at Target, Garrett leads Glenn to believe that he's poaching other employees to go with him. In return Glenn tries to poach employees from Target. Amy goes on a double date with Dina and, Kelly and Jonah discuss moving in together. (Viewers: 3.85 million)
  
"District Manager"
March 29, 2018
Directed by: Alex Reid - Written by: John Kazlauskas

Laurie, the new district manager, visits the store and decides to make some cuts to save money by firing Myrtle. Amy and Jonah plead with her to not fire anyone and search for other ways to make up the money. Mateo struggles to prove his skills on the cash register. (Viewers: 2.94 million)
  
"Local Vendors Day"
April 5, 2018
Directed by: Geeta V. Patel - Written by: Josh Malmuth

When local small businesses set up shop inside Cloud 9, Glenn tries to help his wife Jerusha sell her handmade needlepoint, despite Jonah's concerns that he's pressuring his employees. Meanwhile, Amy doesn't feel Latina enough when a guy flirts with her in Spanish, and Garrett tries to uncover the truth behind a beer vendor's product. (Viewers: 3.17 million)
  
"Lottery"
April 12, 2018
Directed by: Ben Feldman - Written by: Vanessa Ramos

As lottery mania sweeps the store, Dina incentivizes the employees to sell as many tickets as possible. Jonah helps Amy track down the new district manager to lobby for a raise. (Viewers: 3.08 million)
  
"Gender Reveal"
April 19, 2018
Directed by: Tristram Shapeero - Written by: Lauren Ash

The store hosts a gender reveal party for Glenn and his wife Jerusha, just as Dina is freaking out at the realities of having to deliver a baby. Amy receives some unsettling news. (Viewers: 2.76 million)
  
"Aftermath"
April 26, 2018
Directed by: Ryan Case - Written by: Justin Shanes and Owen Ellickson

Amy and Jonah deal with the consequences of their kiss. Glenn and Dina enlist Garrett's help to win the store a visit from Cloud 9's CEO. (Viewers: 2.85 million)
  
"Town Hall"
May 3, 2018
Directed by: Matt Sohn - Written by: Justin Spitzer

As the store prepares to host a company-wide Town Hall meeting, Amy and Jonah are forced to put their conflicts aside and rally their co-workers to confront the CEO. Glenn struggles with the pressure of speaking to a global audience. (Viewers: 2.97 million)