God hates the sin but loves the sinner.

Pastor Craig is a visitor to Cloud 9 Store 1217 and is from Life's Works Church, where Glenn attends. He is portrayed by actor Bashir Salahuddin.
Character History
Pastor Craig is first seen in the Break Room where Glenn has brought him to give a sermon and take care of the souls of the staff who Glenn sees as needing saving. He tells everyone God hates sin but loves sinners. He approaches Sandra and asks about her wanting to kill Carol which she admits to. He sympathizes with her frustration but when Sandra goes into detail on how she plans to kill Carol, he is shocked. He finishes his session which Glenn is disappointed with and asks about a tire gauge. As the staff argue with Glenn about past offences, Pastor Craig says everyone makes mistakes and looking at Amy and Jonah, that all have lust in their hearts. They deny any lust so he counters that he senses something going on with them. As they both awkwardly try to explain the attraction away, he smiles knowingly. ("Amnesty")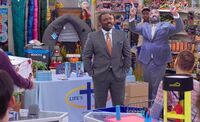 In the store, Glenn re-introduces Pastor Craig to Amy and Mateo, who he's really trying to impress. Saying Craig is setting up a booth to hand out plants for Earth Day, Amy asks Glenn to get permission from her next time. At Pastor Craig's booth, Amy finds that Craig is reading a book he's written about God to customers which Glenn is enthusiastically supporting. Taking Glenn aside, Amy unsuccessfully tries to get Glenn to see it's not appropriate but so excited to help Craig, Glenn ignores her and rushes off. Sandra tells Amy that Pastor Craig is selling his book in the store. Finding Craig in full sermon mode discouraging materialism to a group of customers, with Dina in tow, Amy tells Craig to stop. Saying Glenn gave him permission, Dina wants to get Glenn to cause more conflict. Amy asserts that she's the manager and tells Craig to leave. Leading the customers in prayer and disparaging Amy with a Bible quote, Craig points out his church's donation website and leaves. ("Cloud Green")
Community content is available under
CC-BY-SA
unless otherwise noted.