You don't really have an off switch, do you, Penny?

Penny is a seasonal employee at Cloud 9 Store 1217. She is very energetic and demonstrative. She is portrayed by actress Eden Sher.
Character History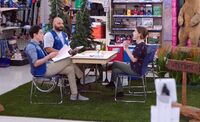 After manipulating Glenn into allowing them to interview the candidates for the last seasonal hire position, Garrett and Jonah interview Penny first. She's very bubbly and energetic and tells them that she has another job offer but turned off by her, they pass. After many bad interviews, they regret not hiring her. Even though Penny has accepted her other job offer, Garrett and Jonah convince her to work at the store which they say is like a family. They immediately regret hiring her as she goofily sings and dances while working which embarrasses them when Glenn sees her. While doing go-backs, Penny makes train noises which Garrett finds annoying. A young man, Lonnie, asks if he can apply for a position but being all taken, he's turned away. Acting polite and honest, Garrett and Jonah want to hire him, especially as Penny passes by mimicking a robot. They fire Penny who has a hard time accepting it and won't let go of her work vest. ("Maternity Leave")
Community content is available under
CC-BY-SA
unless otherwise noted.