Would you like to take a picture for Stratus magazine?

Photographer takes pictures for the Cloud 9 magazine "Stratus". He is persistent and focused. He is portrayed by actor Josh Fadem.
Character History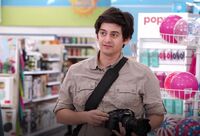 At the morning meeting, Glenn announces that a reporter from Cloud 9's magazine will be coming to do an article on the store. Cynthia is the reporter and arrives with a photographer. He immediately targets Garrett as Stratus loves to show disabled employees on the magazine cover. When the photographer first talks to Garrett, he doesn't speak leading the photographer to think Garrett is deaf. Anytime Garrett is in a shot, he gives the finger so the picture will be unusable. Finding Garrett too elusive, he gives up. Glenn asks him for a picture but he isn't interested. Seeing this, Garrett offers to pose if Glenn can be in the shot. The picture makes the magazine cover but Glenn's face is covered by a sticker. ("Magazine Profile")
Community content is available under
CC-BY-SA
unless otherwise noted.